Click above to view video market report from Ray White Eastern Rural's Wyatt Wrigley.
Yarding 6014 Change -2335
Numbers reduced from the high of the previous week to 6014 head, and included in the lineup were 344 head from NSW, and 1169 from far Western Queensland, with the remainder from the usual supply area.
A fair panel of buyers was present and similar to other markets most were operating very selectively with all classes selling to a cheaper trend.
Lightweight yearling steers returning to the paddock averaged 11c to 20c/kg less. Medium weight yearling steers to feed lost 13c, and heavyweights to feed averaged 10c to 11c/kg cheaper.
However losses of 30c to 50c/kg was fairly common across the yearling heifer classes. Heavy grown steers and bullocks averaged 25c to 34c/kg cheaper.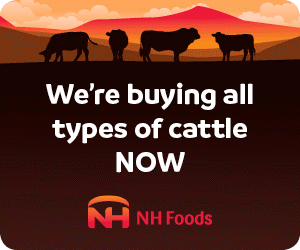 A large selection of cows experienced price reductions of 30c to 50c/kg. Steer calves returned to the paddock made to 256.2c to average 240c/kg. Lightweight yearling steers sold to restockers at an average of 232c with sales to 258.2c, and the lesser quality lines 175c/kg.
The largest sample of medium weight yearling steers to feed averaged 231c and made to 265c, and some better lines averaged 248c/kg. Heavyweight yearling steers to feed averaged from 252c to 261c with a few to 268.2c/kg. Lightweight yearling heifers were well supplied and made to 178.2c with the largest sample averaging 147c, and some drought affected lines averaged 89c/kg. Medium weight yearling heifers to feed averaged 159c with sales to 186.2c, and local trade lines averaged 171c/kg.
Heavy grown steers made to 240.2c to average 239c, and a few certified grainfeds made to 244.2c, with a small sample of bullocks at 241.2c/kg. Medium weight plain condition cows sold to restockers at an average of 113c, and medium weight 2 scores to processors averaged 119c/kg.
Good heavy cows mostly sold around 175c with a couple to an isolated 200c/kg. Heavy bulls made to 220c/kg.
To view full NLRS market report click here
Grant Daniel Long report                                                                                                                   
The overall yarding was back compared to the large yarding of last week.
The ongoing dry weather is seeing the market heading one-way each week.
Top cows made 194.2c with young bullocks selling to 245.2c.  The weaner market was very tough with steers making 240c and heifers 198c.
Prime Quotes
Heifers up to 400kg – Lowest 62c/kg, highest 186.2c/kg, Av 159.3c/kg
Heifers over 400kg – Lowest 152.2c/kg, highest 246.2c/kg, Av 179c/kg
Cows up to 400kg – Lowest 20c/kg, highest 118.2c/kg, Av 103.4c/kg
Cows 400kg to 500kg – Lowest 78.2c/kg, highest 175.2c/kg, Av 138.4c/kg
Cows over 500kg – Lowest 115c/kg, highest 200c/kg, Av 153.2c/kg
Steers & bullocks – Lowest 150c/kg, highest 234.2c/kg, Av 216.3c/kg
Steers & bullocks – Lowest 211.2c/kg, highest 244.2c/kg, Av 239.1c/kg
Store & Feeder Quotes
Steers 200kg to 280kg – Lowest 81.2c/kg, highest 258.2c/kg, Av 232.1c/kg
Steers 280kg to 400kg – Lowest 159.2c/kg, highest 237.2c/kg, Av 226c/kg
Feeder steers 400kg+ – Lowest 150c/kg, highest 268.2c/kg, Av 252.5c/kg
Heifers 200kg to 320kg – Lowest 62c/kg, highest 178.2c/kg, Av 147.4c/kg
Heifers 320kg to 370kg – Lowest 106.2c/kg, highest 186.2c/kg, Av 150.6c/kg
Feeder heifers over 370kg – Lowest 76.2c/kg, highest 246.2c/kg, Av 159.3c/kg
Highlights
Droughtmaster  X cows sold by PJ & FE Brownhalls  of Cunnamulla to processors 193.2c, 571kg, $1103
Droughtmaster bulls sold by LH & KM McMaster of Bungunya to processors 219.2c, 745kg, $1633
Santa X young bullocks sold by AW9 Pastoral of St George to processors 240.2c, 584kg, $1402
Charbray steers sold by Castle Livestock Pty Ltd of Kumbia to feedlotters 268.2c, 469kg, $1259
Charolais X steers sold by Southwest Grazing of Moonie to re-stockers 247.2c, 372kg, $920
Charbray heavy heifers sold by J Tattam of St George to processors 220c, 500kg, $1100
Limousin X feeder heifers sold by D.S.H.S Bunya Campus of Dalby to feedlotters 183.2c, 355kg, $650
Charolais X ylg steers sold by A & J Hyland of St George to re-stockers 240.2c, 336kg, $807
Hereford X heavy weaner heifers sold by Beau Park Pastoral Co of Kumbia to re-stockers 172.2c, 291kg, $502
Source: NLRS, Ray White Eastern Rural, Grant Daniel Long