Click above for video market report from Ray White Eastern Rural's Peter Bird
Yarding 4629 Change 1632
Export buyer attendance was good and not all were operating, however there was a return of a feeder operator in the yearling heifer section.
Rainfall in parts of the supply area resulted in stronger restocker activity.
Steer calves averaged 60c better, and lightweight yearling steers improved by 13c/kg, with the lesser quality lines experiencing no change. Medium weight yearling steers to feed lifted in price by 17c, and heavyweights gained 9c/kg.
However all classes of yearling heifers sold to a much dearer market to average from 24c to 43c/kg better.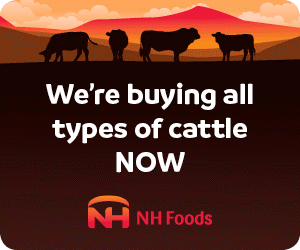 A small sample of heavy grown steers and bullocks gained a few cents. Cows were well supplied and plain condition cows averaged over 40c dearer, while the good heavy cows improved by over 30c/kg.
Steer calves made to 300.2c with a good sample averaging close to 290c/kg. Lightweight yearling steers returning to the paddock made to 288.2c with a large selection averaging 265c, lesser quality lines mostly sold around 180c/kg. Medium weight yearling steers to feed made to 288.2c to average 266c/kg. Heavyweights to feed averaged from 256c to 261c with some to 273.2c, and local trade lines made to 273.2c/kg.
Lightweight yearling heifers to processors averaged 172c, and backgrounders average 178c and made to 236.2c/kg. Medium weight yearling heifers to feed averaged 217c and made to 254.2c/kg. Heavyweights to feed averaged in the high 220c range with some to the trade making to 270c/kg,
Heavy grown steers and bullocks to export slaughter averaged in the 250c range with some heavy grown steers reaching 264.2c/kg. Medium weight poor condition cows averaged 144c, and medium weight 2 scores averaged 175c/kg. Good heavy cows made to 231.2c in pen lots with a large sample averaging 218c/kg. Heavy bulls made to 259.2c/kg.
To read full NLRS report click here
Grant Daniel Long report
A total of 4629hd of cattle were yarded in Dalby today, with GDL yarding 1741 of these.
The market this week was stronger across the board for quality cattle.
Most of GDL's cattle this week were sourced from Kingaroy, Meandarra, St George and the local areas.
There has been some good rainfalls around the local area within the last week and hopefully we will see more rain by the end of the week.
Next week GDL will offer 1600 predominantly Ultra Black No.8 Heifers on A/C Georgina Pastoral Co. These heifers are extremely quiet, due to being on the stock route for the past four months.
Prime Quotes
Heifers up to 400kg – Lowest 64.2c/kg, highest 255c/kg, Av 208.2c/kg
Heifers over 400kg – Lowest 180c/kg, highest 270c/kg, Av 227.1c/kg
Cows up to 400kg – Lowest 70c/kg, highest 174.2c/kg, Av 119.8c/kg
Cows 400kg to 500kg – Lowest 100c/kg, highest 194.2c/kg, Av 175.5c/kg
Cows over 500kg – Lowest 178.2c/kg, highest 231.2c/kg, Av 190.8c/kg
Steers & bullocks – Lowest 160.2c/kg, highest 234.2c/kg, Av 213.2c/kg
Steers & bullocks – Lowest 220.2c/kg, highest 264.2c/kg, Av 226.2c/kg
Store & Feeder Quotes
Steers 200kg to 280kg – Lowest 118.2c/kg, highest 288.2c/kg, Av 265.5c/kg
Steers 280kg to 400kg – Lowest  210c/kg, highest 283.2c/kg, Av 254.4c/kg
Feeder steers 400kg+ – Lowest 234.2c/kg, highest 273.2c/kg, Av 256.2c/kg
Heifers 200kg to 320kg – Lowest 64.2c/kg, highest 238.2c/kg, Av 192.8c/kg
Heifers 320kg to 370kg – Lowest 167.2c/kg, highest 255c/kg, Av 237c/kg
Feeder heifers over 370kg – Lowest 180c/kg, highest 270c/kg, Av 220.2c/kg
Highlights
Charolais bulls sold by B & S Barron of Kumbia to processors 257.2c, 980kg, $2520
Hereford X cows sold by DAFF/Tick Fever Centre of Dalby to processors 215.2c, 693kg, $1492
Brahman X cows sold by PJ & CC Trebbin of Durong to processors 224.2c, 578kg, $1296
Angus heifers sold by K & J Holzheimer Trust of The Gums to processors 223.2c, 630kg, $1406
Santa X feeder heifers sold by Sutton Beef No. 2 of Glenmorgan to feedlotters 240.2c, 352kg, $846
Angus X young bullocks sold by AS Bouchier of Glenmorgan to processors 258.2c, 714kg, $1844
Shorthorn X young bullocks sold by Tregona Grazing Trust of Meandarra to processors  256.2c, 626kg, $1604
Santa feeder steers sold by GM & JA Bodkin Pty Ltd of Surat to feedlotters 264.2c, 325kg, $858
Angus ylg steers sold by Moogoon Pty Ltd of Goondiwindi to re-stockers 286.2c, 245kg, $701
Angus ylg heifers sold by B & P Clayton of Kingaroy to processors 224.2c, 256kg, $575
Sources: NLRS, Ray White Eastern Rural, Grant Daniel Long