Click above for video market report from Ray White Eastern Rural's Wyatt Wrigley
Yarding 5027 Change 398
Numbers increased by close to 400 head to 5027, and included in the larger line up was a big consignment of 1730 head of well presented yearling heifers.
Export buyer attendance was good, along with the usual feeder operators, and a larger number of restockers were in attendance plus a large contingent of onlookers.
Prices generally improved across all classes, with light weight yearling steers returning to the paddock, lifting in price by 15c/kg.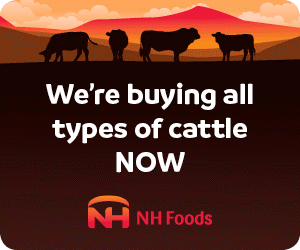 Medium weight yearling steers to feed improved by 10c, and heavy weights gained 22c/kg. Light weight yearlings improved the most to average from 37c to 45c/kg better. Medium and heavy weight yearling heifers to feed increased by 28c to 38c/kg.
A relatively small selection of bullocks averaged 37c/kg dearer.
All categories of cows lifted in price, with the heavy classes 17c to 27c/kg better. Steer calves made to 322.2c to average 301c, and heifer calves averaged 190c with sales to 250.2c/kg.
Light weight yearling steers returned to the paddock at an average of 280c, with the occasional pen reaching 302.2c, and poor quality lines averaged 210c/kg. Medium weight yearling steers to feed made to 288.2c to average 275c/kg. Heavy weight yearling steers to feed averaged 282c and made to 285.2c/kg. Good quality light weight yearling heifers were well supplied and buyers appreciated the standard on offer and paid to 279.2c for a run of 325 head, with over 1,400 head averaging 255c/kg. Medium weight yearling heifers to feed averaged 251c and made to 282.2c/kg. Heavy weights to feed averaged 267c and made to 270c/kg. Bullocks made to 295.2c to average 290c/kg.
Medium weight poor condition cows sold to restockers at an average of 136c, with sales to 165c/kg. Medium weight 2 scores to processors averaged 183c/kg. A large sample of good heavy cows averaged 235c, with pen lots reaching 253.2c/kg. Heavy bulls made to 257.2c/kg.
To read full NLRS report click here
Grant Daniel Long report:
A total of 5027 HD of cattle were yarded in Dalby today with GDL yarding 2977 HD.
Prices across the board were stronger especially in the kill markets. One of the highlights for GDL was 1600 heifers from Georgina Pastoral Co. with the lead topping at 278.2c/kg for 269kg, $750.
Prime Quotes
Heifers up to 400kg – Lowest 152.2c/kg, highest 257.2c/kg, Av 245.4c/kg
Heifers over 400kg – Lowest 240c/kg, highest 266.2c/kg, Av 255.8c/kg
Cows up to 400kg – Lowest  56.2 c/kg, highest 140c/kg, Av 123.6c/kg
Cows 400kg to 500kg – Lowest 120c/kg, highest 220.2c/kg, Av 198.6c/kg
Cows over 500kg – Lowest 152.2c/kg, highest 253.2c/kg, Av 205.7c/kg
Steers & bullocks – Lowest 80c/kg, highest 242.2c/kg, Av 188.2c/kg
Steers & bullocks – Lowest 212.2c/kg, highest  291.2c/kg, Av 284.5c/kg
Store & Feeder Quotes
Steers 200kg to 280kg – Lowest 150c/kg, highest 302.2c/kg, Av 280.5c/kg
Steers 280kg to 400kg – Lowest 236.2c/kg, highest 296.2c/kg, Av 275.2c/kg
Feeder steers 400kg+ – Lowest 240c/kg, highest 289.2c/kg, Av 278.2c/kg
Heifers 200kg to 320kg – Lowest 132.2c/kg, highest 230c/kg, Av 199.3c/kg
Heifers 320kg to 370kg – Lowest 168.2c/kg, highest 279.2c/kg, Av 231.5c/kg
Feeder heifers over 370kg – Lowest 180.2c/kg, highest 270c/kg, Av 257.6c/kg
Highlights
Santa X steers sold by CW, EM & LM Hartwig of Wandoan to processors 294.2c, 635kg, $1868
Droughtmaster cows sold by Mungalla Stud of Taroom to processors 241.2c, 563kg, $1359
Santa bulls sold by Undaban Pastoral Co of Dirranbandi to processors 255.2c, 950kg, $2424
Heavy Droughtmaster heifers sold by AJ & SJ Wenham of Meandarra to processors 255.2c, 606kg, $1548
Angus feeder steers sold by DWM & SA Cameron of NSW to feedlotters 295c, 378kg, $1117
Santa X weaner steers sold by CT & A Houston of NSW to feedlotters 296.2c, 272kg, $808
Angus light weaner steers sold by Moogoon Pty Ltd of Goondiwindi to re-stockers 320.2c, 204kg, $655
Ultra Black heifers sold by Georgina Pastoral Co off the stock route after 4 months to backgrounders 278.2c, 269kg, $750
Bonsmara Cows & Calves sold by RE & CT Huth of Cecil Plains to re-stockers $1260
Sources: NLRS, Ray White Eastern Rural, Grant Daniel Long