Video market report from Ray White Eastern Rural's Peter Bird
Yarding 5954 Change 27
Numbers remained virtually unchanged to remain relatively high at 5954 head, and the trend of large supply of cows continued.
The usual panel of buyers was present and operating. Steer and heifer calves returning the paddock eased 8c to 12c, and restockers and background buyers operated selectively on the light weight yearling steers, and average prices eased by 14c/kg, with only top quality lines in demand.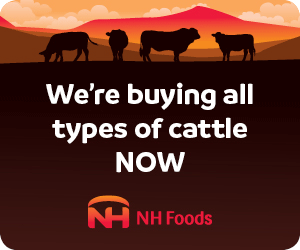 However, a good quality line up of yearling steers weighing 280-330kg improved in price. Medium and heavy weight yearling steers to feed experienced only quality related price changes.
Light weight yearling heifers to restockers or background received very little change in price.
Heavy grown steers and bullocks averaged 7c to 13c/kg better. Cows were well supplied and good heavy cows averaged 4c/kg dearer, while the medium weights sold to within a few cents either way of the previous sale.
Steer calves made to 254.2c to average 231c, and heifer calves made to 200c ,with mixed sex calves averaging 171c/kg. A large selection of light weight yearling steers averaged 240c, with a few pens reaching 268.2c/kg. Yearling steers weighing 280-330kg sold to restockers at 259c, with sales of 284.2c/kg. Medium weight yearling steers to feed averaged 260c, and heavy weights to feed averaged 284c and sold 292.2c/kg. Heavy weight yearling steers to the trade made to 317.2c to average 302c/kg.
A large number of light weight yearling heifers sold to restockers or backgrounders at an average of 208c, with sales to 240.2c/kg. The largest numbers of medium weight yearling heifers to feed averaged 233c, and the better lines averaged 247c and made to 266.2c/kg. Heavy weight yearling heifers to the trade made to 302.2c, with most close to 274c/kg.
Heavy grown steers made to 301.2c and the bullock portion made to 308.2c to average 305c, and grown heifers made to 290.2c/kg. Full mouth bullocks made to and averaged 279.2c/kg. Medium weight poor condition cows averaged 136c, and the better 2 scores average 171c, making to 180.2c/kg. Good heavy cows made to 218.2c, a large number close to 208c/kg. Heavy bulls made to 287.2c/kg
To view full NLRS report click here 
Grant Daniel Long report:
Dalby yarded just under 6000 hd today with GDL yarding 2434.  The market was generally stronger across the board with lill cows topping at 216c to average 170c. Weaner heifers were generally a tad weaker across the board.
Prime Quotes
Heifers up to 400kg – Lowest  180.2c/kg, highest 288.2c/kg, Av 241.6c/kg
Heifers over 400kg – Lowest 206.2c/kg, highest 302.2c/kg, Av 273.9c/kg
Cows up to 400kg – Lowest  70c/kg, highest  157c/kg, Av  114.7c/kg
Cows 400kg to 500kg – Lowest  71.2c/kg, highest 200.2c/kg, Av 185.2c/kg
Cows over 500kg – Lowest  174.2c/kg, highest 218.2c/kg, Av 195.5c/kg
Steers & bullocks – Lowest 206.2c/kg, highest 276.2c/kg, Av 269.2c/kg
Steers & bullocks – Lowest  266.2c/kg, highest 279.2c/kg, Av 271.2c/kg
Store & Feeder Quotes
Steers 200kg to 280kg – Lowest 180.2c/kg, highest 268.2c/kg, Av 240.2c/kg
Steers 280kg to 400kg – Lowest  140.2c/kg, highest 287.2c/kg, Av 260.2c/kg
Feeder steers 400kg+ – Lowest 245.2c/kg, highest  303.2c/kg, Av 283.2c/kg
Heifers 200kg to 320kg – Lowest 104c/kg, highest 240.2c/kg, Av 207.2c/kg
Heifers 320kg to 370kg – Lowest 140c/kg, highest 236.2c/kg, Av 225c/kg
Feeder heifers over 370kg – Lowest 180c/kg, highest 288.2c/kg, Av 254.2c/kg
Highlights
Charolais X cows sold by Warrowa Partnership of Moonie to processors 215.2c, 675kg, $1452
Charolais X steers sold by Gibson Partnership of Dalby to processors 279.2c, 781kg, $2181
Simmental heifers sold by DRD Pastoral Co of Wandoan to processors 290.2c, 730kg, $2118
Angus feeder heifers sold by AN & YE Watts of Millmerran to feedlotters 266.2c, 377kg, $1004
Angus X feeder steers sold by P & J Cavanagh of Isisford to feedlotters 286.2c, 436kg, $1247
Simmental ylg steers sold by GT & CE Patteson of Kingaroy to feedlotters 270.2c, 239kg, $646
Charolais ylg heifers sold by EJ Brauer of Tara to feedlotters 230.2c, 284kg, $654
Sources: NLRS, Grant Daniel Long, Ray White Eastern Rural