Will the strong performance of cattle prices continue in 2016?
It is a question we will be tackling with in-depth analysis in coming days on Beef Central, but we also want to know what our readers think.
In 2015 the benchmark Eastern Young Cattle Indicator shot up by 211c from 376c in January to 587c by the closing sale in December.
We want our readers to have a stab at where they think it will close at the end of 2016.
If your answer is the closest you'll win a handy prize – not to mention the bragging rights that go with having predicted the EYCI 12 months out!
Tell us what you think in the comment box below, on our Facebook page or by emailing your guess with your name to admin@beefcentral.com – and while not necessary, reasons for given answers are welcome as well.
If you're looking for some guidance, you could do worse than base your answer on how you think the market will perform in the next few weeks for the remainder of January.
A recent analysis conducted by Meat & Livestock Australia's market intelligence unit highlighted a striking correlation between the performance of the EYCI for the month of January and its performance of the EYCI for the remainder of that year.
The old adage 'as January goes, so does the year' appears to apply in this instance, MLA says.
The analysis (see table below) shows that the year-on-year performance of the EYCI for January (i.e. averaging higher or lower) has been reflected 78% of the time in the annual year-on-year change of the EYCI.
That is, the year-on-year EYCI movement for January has been roughly matched by the year-on-year EYCI movement for the ensuing year on 14 occasions out of the past 18 years (as far back as year-on-year comparisons can be made for the EYCI).
"Interestingly, if there was a positive year-on-year change in the EYCI for January, the likelihood of the annual average being in the same direction actually increased to 90%," MLA states.
"Furthermore, of the four years when the January direction was different to what the annual average became, three of the January changes were negative, but the year eventually became positive (2003, 2010 and 2014).
"In short, despite the plethora of forces working for and against the Australian cattle market, if history is to repeat itself, we may only need to wait a few weeks to get a strong clue as to how the market will fare in 2016. There will of course be seasonal variance, but by and large, it may well be an indication of whether or not the annual average cattle prices in 2016 will be higher or lower than 2015."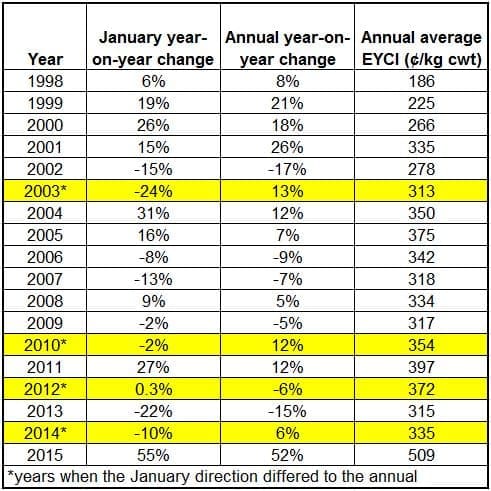 Tell us where you think the EYCI will close in 2016 in the comment box below, on our Facebook page or by emailing your guess with your name to admin@beefcentral.com