CHINA'S rapidly expanding influence as a key export customer for Australian beef is being reflected in growing pricing distinctions between HGP treated and non-treated cattle in the market.
The China export market is limited to HGP-free beef, and for the first time last month, China assumed the mantle as Australia's single largest export customer, taking a record 28,214t of Australian beef. Click here to view Beef Central's July monthly exports report.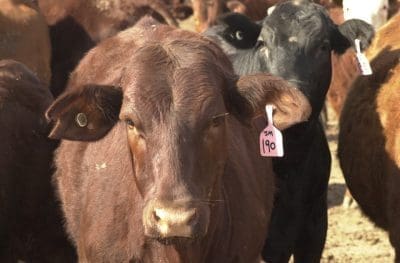 For the seven-month calendar year to date, China has now taken 146,244t of Australian beef, a spectacular 65pc rise on the same period last year.
That dramatic change is starting to impact considerably on cattle pricing signals issued by Australian export beef processors. The current market premium for HGP-free 100-day grainfed cattle is 35-40c/kg carcase weight, worth $120-$140 a head on a typical 350kg grainfed carcase. One company's grid this week was offering forward prices of 600c/kg for standard 100-day grainfed, and 640c/kg for HGP-free – believed to be record prices on both.
Some other export processors are quoting HGP-free premiums worth less than 35c/kg, but conceded they were missing out on some cattle as a result.
Premiums on grassfed slaughter cattle for no-HGP are nowhere near as high as grainfed (10c/kg in one multi-site processor's offers), but the production sacrifice on grass is nowhere near as great.
The 100-day grainfed price premium referenced above is distinct from HGP-free cattle that are managed under EU or certified Organic programs, where implants cannot be used, and refers only to use, or non-use, of the pill.
Several processor livestock managers agreed that the grainfed HGP-free premium was currently at an all-time high, having spent long periods earlier at around 15-25c/kg. While some processor grids have carried distinctions for HGP for some years, others have only more recently added a differential.
China's momentum is a key part of that. Just how much impact is a point of conjecture, with some supply chain stakeholders saying it was 'overwhelming', while others say it is just one of a range of factors in pricing signals over implant use.
Several pointed out that HGP-free branded beef programs were growing in other export markets as well, but all recognised China's growth as a core reason.
The nation's largest dedicated grainfed processor, Kilcoy Global Foods, on average now allocates a little more than two days each week to HGP-free beef kills. Not that long back, HGP-free occupied perhaps one day per week.
One brand manager said he expected that over time, feedlot operators would elect to feed more HGP-free cattle, for a variety of reasons. All other things being equal, they produced better quality beef, which fitted well with branded beef programs, he said. When that happens, the greater availability of HGP free cattle might see some dilution of current price premiums, he suspected.
"It may be that the supply of HGP-free grows to such an extent that processors no longer need to offer such a large premium, in order to underpin supply," he said. "We've seen similar trends in Angus and Wagyu premiums."
Relaxation in carcase weight tolerences
In any discussion over HGP use, it does not take long for conversation to shift to production sacrifices in average daily gain and feed efficiency.
"Depending on who you talk to, lotfeeders say they need a 30-40c/kg carcase weight premium for HGP-free cattle, to overcome the ADG production sacrifice," one large supply chain manager told Beef Central.
"That figure used to be 30c/kg, but more lotfeeders now suggest it is more like 40c/kg to take HGP out of the system, given current high grain prices," he said.
In one large Queensland grainfed processor's grid offers, it has recently (six months ago) lowered its minimum carcase weight requirement (before discounts apply), from 320kg to 300kg, for HGP-free cattle – in recognition of slower growth rates in cattle without implants. The company's minimum on HGP-treated 100-day cattle remains at 320kg.
Weight, breed type important
"We tell feedlot suppliers considering an HGP-free 100-day program there are two important requirements: the right type of animal and the right entry weight," an experienced grainfed supply chain manager said.
"It's the lotfeeders or their customers who do not follow that who have a disaster, and vow they will never feed cattle without implants again. Ideally, Brahman-type feeder cattle need some Euro influence and some hybrid vigour to extract better performance in the feedlot, if they are not being implanted. A straight Brahman is going to struggle, and we'd advise most people to use a pill if they are feeding Brahmans," he said.
Starting weight was equally important. Most grainfed processors chasing HGP-free cattle did not want final carcase weights that were that much less, meaning feeders should ideally be 440-450kg at entry, so they are not producing sub-optimal carcase weights at close-out.
"Anybody inducting 380kg feeders without HGP are going to struggle to make the weight, under 100-day programs," he said.
One of two things happens in those cases: the cattle are killed at their current weight and discounted, or they are fed-on beyond 100-days to achieve the contracted carcase weight.
"It's not at all uncommon these days for people feeding those HGP cattle to leave them on for an extra 10-20 days, but that comes at considerable production cost," he said.
With the current uncertainty over EU quota access from one month to the next, more EU-eligible (HGP-free) beef is also ending up in alternate HGP-free markets, including China, one grainfed supply chain said.
For the first time this year, Brisbane Show's carcase competitions included both HGP-treated and non-treated 100-day grainfed competitions.