IN WHAT is described by stock agents and livestock transporters as a 'rare event', consignments of slaughter cattle are heading out of the Alice Springs region bound for processing in Western Australia's southwestern corner.
The epic uplifts are being done in three stages:
from properties of origin to Alice Springs;
Alice Springs to Kalgoorlie, via the Great Central road through the Gibson Desert and Warburton (1935km alone, including 900km of dirt); and
from Kalgoorlie quarantine yards to processors near Perth.
Cattle are normally spelled two days in Alice Springs before departure, and several days at Kalgoorlie.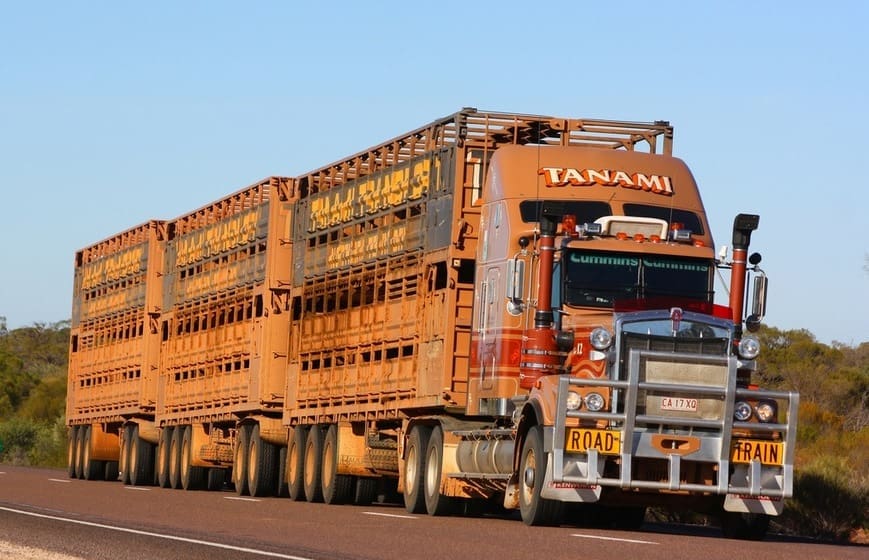 One mob of 12 decks was consigned recently from Pine Hill Station, due north of Alice Springs, and a second mob is yet to be despatched, from Lucy Creek, to the northwest, closer to the Queensland border. Both consignments are understood to include steers and females.
Other consignments have been put together, Beef Central understands.
Tanami Transport's Mark Castagna said while there were occasional consignments of mickey bulls and lighter cattle out of Central Australia destined for live export out of WA, it was very rare for slaughter-type cattle to make the trip.
Beef Central's inquiries suggest the transport cost on the Alice-Kalgoorlie leg alone is about $152 a head, for heavier cattle. Total transport cost could reach $200-$250 a head, depending on weight.
One of the WA processors taking the Central Australian cattle is Western Meat Packers, near Margaret River.
The long-distance sourcing exercise perhaps best illustrates the state of cattle supply in Western Australia, where there has been a gradual decline in beef herd size over the past ten years, caused by drought, heavy live export demand and other factors.
Ivan Rogers, chairman of the WA Beef Council, said slaughter cow prices in WA had spiked recently.
"Other classes of cattle have separated too, but not as great as manufacturing beef, which just skyrocketed," Mr Rogers said.
Good, heavy cows reached 250-260c/kg liveweight in WA markets earlier this month, and fair average quality lighter cows +200c, before settling perhaps 10-15c in the past week.
That's equivalent to close to 500c/kg on a better quality cow dressing at somewhere better than 50pc. By comparison, this week's heavy cow SEQ direct consignment price quoted in Beef Central's weekly Eastern States kill report was 395-405c/kg dressed. The difference, west-to-east, on those two figures could be as much as $260 on a 250kg dressed weight cow.
Mr Rogers thought the Central Australian cattle may have been bought when the WA cow market was at its recent peak, but that relative price window might now have closed.
"The Kimberley and North Pilbara areas are just starting to move cattle now, so the circumstances that led to those recent Central Australian purchases may now have changed."
Another WA contact quoted a recent sale of a line of grain-assisted trade steers, 414kg liveweight, which sold for 274c/kg live, or close to 490c/kg carcase weight.
"The whole market over here is being driven by lack of supply," Mr Rogers said.
The WA beef herd has declined from about 2.2 million in 2010-11 to 1.88 million in 2013-14, DAFWA reports show. Rates of kill have declined from 463,000 in 2003 to 391,000 in 2013, before rising 5pc last year.
Drought has been a contributor to that, but so too has high demand for live export cattle. Turkey, for example, was offering prices above 200c/kg for feeder steers and heifers back around 2010-11, which many producers responded to. One large-scale WA beef producer who had 2500 heifers earmarked as breeder replacements sold the lot into live export, a local contact sold Beef Central.
WA suffers big swings and seasonal supply in cattle each year, with a shortage of grassfed cattle from the end of March to around October.
Mr Rogers said Harvey Beef, another large WA export processor, had also sourced slaughter cattle out of Central Australia from time-to-time, but probably not for a decade or more.
Feeder cattle were equally hard to source in the west, with Mr Rogers' own Kylagh feedlot near Tammin struggling to find black feeders, despite averaging 272c/kg liveweight for light feeders +350kg in the past fortnight.
So is there a big margin in place, for those WA processors to outlay freight costs in excess of $200 a head to source stock from Central Australia?
"I don't think there is," Mr Rogers said.
"I think it's a desperation issue, and very opportunistic. They either do that, to shore-up cattle supply, or renege on supply commitments to international customers during difficult times of year for supply," he said.
"There's other considerations in winding-back a kill, in losing experienced staff – all of those things are factored into such a decision," he said. "It may be that the processor involved is in fact taking a bath on those Central Australian cattle."
Mr Rogers said such long-distance cattle procurement also presented issues in terms of bio-security.
"We're a BJD-free zone, and the ability to move cattle even out of BJD Protected zones in SA and the NT is still pretty tricky," he said. "Probably the only cattle that can really move are those straight to slaughter (or live export)," he said.
Elders Alice Springs livestock manager Mick Newman agreed that sales from the Central Australian region to WA processors were extremely rare, but not unprecedented.
"Mickey bulls for live export go across reasonably regularly, but slaughter cattle is a very rare thing," he said. "Having said that, a few did sneak over last year, also. It's been happening, just occasionally, for 20 years or more – bit not large amounts – more opportunistic. EG Green used to take a few."
Location presents marketing options
Mr Newman said the recent sales demonstrated just how versatile Central Australia was, in terms of market options.
"It's about 2800km to Perth via the Great Central road, 2100km to Naracoorte in SA; about the same to Roma saleyards in Queensland; as well as Darwin, 1500km to the north for live export. They're still big distances, and we have a big freight bill wherever our cattle go, but there is that flexibility."
Mr Newman said Central Australia generally had had a pretty good summer season, and most places had done well, in terms of putting weight onto cattle.
"We only got the one decent rain event, but it was worthwhile. If we'd picked up a follow-up fall or two, it would have improved it out of sight," he said. "But we're a hell of a lot better off than where we were six months ago."
Western Meat Packers' Andrew Fuda said at certain times of the year when there was a turnoff of cows in Central Australia, purchases could be made out of WA, depending on local price.
He said WMP might have some ongoing interest in sourcing Certified Organic cattle out of the region.
"Wherever we need to go to, to look at slaughter cattle, we will," he said.
He said some of the recent consignments might not be used for immediate slaughter, but held over to fill tight supply spots later in the season.