IN CONTRAST with the previous two years, cattle prices in 2017 have remained relatively stable.
The Eastern Young Cattle Indicator has traded between 610¢ and 670¢/kg cwt since January, and finished yesterday at 641.50¢.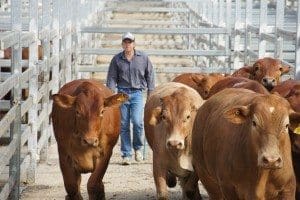 In fact, if cattle prices fail to find another gear and match 2016's winter price rise, the benchmark indicator may dip below year-ago levels for the first time since 2014.
Nevertheless, prices remain historically high and will continue to be underpinned by lack of supply. The physical market continues to be driven by restockers, paying an 8-10pc premium on comparable cattle to feeders and processors in the first half of June – in contrast to next-to-no premium or a discount throughout 2014 and 2015.
US prices providing some support
As illustrated in Tuesday's weekly kill report on Beef Central, some (primarily in Queensland) processor grids have found upward movement in recent weeks and many over-the-hooks indicators are on par with where they were tracking this time last year.
Despite growing beef production, US cattle and beef prices have continued to rally so far this year – the result of a suite of short term domestic factors and reduced imports from Australia and New Zealand.
The US choice cutout (600-900lb) breached 250US¢/lb over the past week, now tracking at a two-year high. Furthermore, on a currency adjusted basis, the US choice fed steer indicator is now trading at a 36pc premium to the Australian saleyard heavy steer indicator – in-line with the historic premium and a stark contrast to the unprecedented discount recorded in the third quarter of 2016.
This reversal in price pressure has provided some relief to the aggressive US competition in key export markets over the past year. However, US futures markets continue to price cattle at a discount to the current rate.
Low female kill
Current cattle slaughter levels are close to the highest for the year – and may again surpass 2016 levels in the second half of 2016 – but remain historically low.
Driving the low kill has been the reduction in female turnoff. In fact, male slaughter across Queensland and NSW last week was 6pc and 10pc above year-ago levels, respectively.
High male slaughter rates are also a reflection of the record number of cattle on feed at the end of the March quarter which have been making their way through to slaughter.
Source: MLA