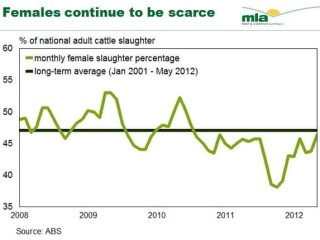 An accelerated turnoff of heavier cattle in October and November is shaping as a key test for cattle markets in the second half of 2012, according to Meat and Livestock Australia's mid-year projections unveiled yesterday.
With seven out of seven climate models pointing to the emergence of an El Nino in late winter/early spring, a drying outlook provides the backdrop behind the latest supply forecasts.
MLA chief economist Tim McRae told an industry briefing in Sydney yesterday that a return to drier conditions after two wet years could provide the impetus for a backlog of heavy, quality cattle to find their way to processors in spring.
"I have no doubt there are a lot of very good quality cattle still out there," Mr McRae said.
"As to when they come in, I think we're going to see a return to the normal year where we have a drier finish… and I think producers will be very conscious to have these very good condition cattle not caught again for that third or fourth year by big rains.
"You might be able to do it for one or two years to hold animals and rebuild, but after a while you need income."
Asked if there was potential for an oversupply to dampen prices, Mr McRae said it was possible but added that there was still time for demand to improve before the bigger numbers arrive.
He conceded though that with the Australian dollar now back above $US 1.03, demand signals at present were "weak at best".
"There is that scenario that we do see cattle come in, and that demand may not be sufficient to handle bigger numbers if we're talking 75,000 head kill weeks," he said.
"But I think the other alternative is that producers have shown in recent years that if they have got the grass they have got the flexibility, and if they don't like the price, the cattle aren't leaving.
"It may push the problem back and delay it for another day but it also gives you time for demand to improve."
Beef production to rise
MLA's expectations on supply have not changed significantly since its last forecast issued in January.
While it still expects adult cattle slaughter in 2012 to exceed 2011, it has revised the expected rise slightly from 2.8pc down to 1.9pc.
Disruptions to processing caused by wet weather and industrial action in the first half of the year are behind the slight revision.
In the medium term MLA expects the expansion of the Australian cattle herd to continue and to push beef production higher in the process.
Female cattle as a percentage of national adult cattle slaughter has averaged around 47pc since 2001. That percentage is basically the level required to keep the national herd in equilibrium.
However the breaking of the drought in many areas in 2010 triggered a powerful swing towards herd rebuilding, which saw female slaughter percentage drop to the low 30pc range.
It has climbed back to the low 40pc range this year, but Mr McRae said there was no doubt producers were still taking advantage of widespread grass and water availability to grow their herds.
The upshot is that 2014 is the year that Australia's cattle industry will start to see full impact of accelerated production from the recent good seasons.
From that year MLA expects to see the national adult cattle kill climb above eight million head for the first time since 2007.
Mr McRae believes the herd will level out at about 31.5 million head in 2015-2016, as the female kill rises above 47pc of national adult slaughter.
"Production-wise we continue to see that production volume ramping up to a point where by 2016 we are looking at 2.4 million tonnes of beef, which from an Australian perspective is a record by a long way."
Total beef and veal production for 2012 is forecast to reach 2.18 million tonnes carcase weight, a rise of 2.5pc.
Feedlot sector
The feedlot industry will find little comfort in the unfolding outlook, with difficult trading conditions expected to remain through the second half of 2012 and 2013.
"Indeed any improvement to operating costs from slightly slower cattle costs and increased grain supplies are expected to be overshadowed by the continuation of tough trading conditions into higher priced beef markets – namely Japan and Korea," MLA's official forecast stated.
"However the continued prevalence of short fed beef for the domestic market will help underpin numbers and current utilisation levels."
For the past 12 quarters, numbers on feed have fluctuated between 710,000 and 790,000 head, representing a plateau after two decades of expansion.
MLA says it is hard to see numbers breaking above the 800,000 head mark this year, with supplies of quality grassfed cattle, including grown steers for Japan and Korea, dominating the market.
"Over the longer term, any expected sustained recovery in export markets should assist numbers on feed," MLA said.
"Additionally, any return to dry conditions over the medium term may help to boost numbers on feed, provided the cost of grain is contained."