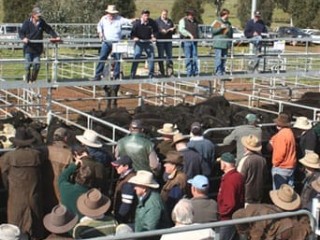 The market for young cattle, which soared to record heights in the final months of 2011, will be put to a solid New Year test this week when the annual round of southern calf sales tees off in Victoria.
About 9000 weaners will be auctioned at Casterton, Hamilton and Wodonga tomorrow, the first of a major annual series of sales that will see more than 70,000 young cattle offered across Victoria and South Australia this month.
Agents and analysts expect the high prices of late 2011 to prevail as widespread grass and water sustains demand from restockers and feeders across large tracts of southern and eastern Australia.
Buyers will be carefully crunching numbers to calculate upper limits, however the combination of grass in paddocks and stronger year-on-year prices for heavy cattle will contribute to hopes that high buy-in prices can be recovered when weight is added.
"The general sentiment around these weaner sales is that they are all expected to be pretty strong again, and it looks like setting up cow-calf producers for another good year income-wise," Meat and Livestock Australia chief economist Tim McRae said.
Elders southern livestock manager Scott Altschwager said overall numbers across the series were likely to be similar to previous years. The major difference this year, however, would be the greater proportion of steers compared to hefiers.
"There will be some retention of heifers, while some people have also secured other options for their heifers, such as the live export trade to Russia," Mr Altschwager said.
"There has been 18,000 heifers go out of the east in the last eight months, so that is going to knock the number of heifers yarded in these sales around."
With young cattle in tight supply across eastern Australia but feed in general abundance, northern restockers are likely to also take an active interest in the southern weaner sales this year.
David Meehan from Corcoran Parker at Wodonga said the agency has received several inquiries from Queensland ahead of this year's sales.
In western Victoria where temperatures soared above 40 degree celcius yesterday, Heath Templeton at Southern Grampians Livestock and Real Estate was anticipating a competitive market when sales open at Hamilton tomorrow.
"All the sales that have been before us have been really strong, up to $2.50/kg plus for lighter cattle," Mr Templeton said.
"Naracoorte sold really well and you would presume we will see the same sort of buyers plus the northern fellas."
In addition to the 17,500 to be offered at Hamilton in six sales over the next week, agents will also sell 11,000 in six sales at Casterton over the same period, while Wodonga will see an estimated 13,500 in three sales from tomorrow to Friday.
Another 5000 weaners will be sold at Naracoorte, SA, this Thursday and Friday, and 11,000 in Mansfield, Yea and Euroa next Wednesday to Friday. Further sales follow in western Victoria in mid January.
The annual Naracoorte weaner sale in mid-December, a useful formguide to the New Year sales, saw 4197 weaner steers average $723 or 238c/kg liveweight. Following is MLA's report from that sale:
A good quality yarding of mainly weaned Angus, Simmental, Murray Grey, Charolais, Shorthorn, Poll Hereford, European and British cross vealer steers sold to solid restocker and feeder competition. The good seasonal conditions assisted in most weaners being medium and heavy weights.
There were 1540 head of EU accredited steers offered, with 46pc being retained in the system, with those and the weaned steers attracting the strongest demand.
Local offers were supported by Mt. Gambier, with one order sourcing 750 head, Penola, Millicent and Adelaide from SA, with Victorian interest from Leongatha, Ballarat, Hamilton, Apsley and Hopkins River. NSW orders from Birregurra, Coonamble and Albury also added to the mix.
The light Angus weaner steers ranged from $695 to $750/head, or an estimated 270¢ to 280¢/kg lwt. The remainder of the lightweights ranged mostly from $470 to $740/head, or 214¢ to 286¢/kg lwt.
The medium weight Angus weaner steers averaged $766/head, or an estimated 246¢/kg lwt after selling to $810/head. The few Murray Greys offered sold closer to $726, as the British cross lines made around $746/head, or around 237¢/kg lwt. The European cross lines reached $780/head, to average $764/head, or close to 240¢/kg lwt. There were also a few Shorthorns that averaged $731/head.
Heavy B muscled Angus weaner steers topped the sale at $905/head and mostly made around $848/head. Dominating the sale were the heavy C2 Angus weaner steers, which made to $895/head, to average $806/head, or an estimated 226¢/kg lwt. The heavy B muscle European cross weaner steers sold to $855/head, with most closer to $809/head, or around 220¢/kg lwt. There were also some C muscle lines that made around $790/head.
The Hereford C2s averaged $842/head and 235¢/kg lwt. The British cross heavy weights made mostly around 221¢/kg lwt or closer to $774/head.