ONLINE commercial cattle sales continued to see a steady rise in offerings this week, with the first signs of some buyer caution evident through the young steer lines, with prices softer and clearance rates below late 2021 levels for the second consecutive week.
With 17,262 head offered across the three main commercial sales on AuctionsPlus this week, PTIC heifers continued to be the largest single category, with 2540 head offered, followed by 330-400kg steers, with 2318 head.
All five young cattle categories registered lower prices this week in c/kg terms, with only the lightest lines averaging higher in dollar per head terms. For the heaviest populated 330-400kg category, prices were down 12c/kg on last week, to average 602c, with an 84% clearance rate for the 2318 head offered. From Charters Towers, Queensland, a line of 252 14-22-month-old HGP-free Brahman and Brahman cross steers averaging 333kg, returned $2010, or 603c/kg.
Steers 200-280kg steers averaged 54c cheaper this week, at 693c, while 280-330kg lines dropped 25c to average 656c. Heavy +400kg steers averaged 541c, down 9c on the previous week.
Heifers mostly contrasted strongly with steer trends. The 200-280kg liveweight category lifted 71c/kg to average 728c – with a 97pc clearance rate for the 811 head offered. 1450 head of 280-330kg heifers sold to steady demand, registering an 80pc clearance, with the category averaging 29c higher at 655c. The outlier among the heifers was the less than 200kg category, which fell almost 200c/kg to average 718c for a small offering of 203 head.
Demand for proven breeding lines continues to be robust. With final prices always largely dependent upon age and bloodline, PTIC cow prices averaged $81 higher this week, at $3120/head – with a 93pc clearance for the 1486 head offered. In contrast, the 2540 head of PTIC heifers sold to comparatively weaker demand from last week, easing $170, to average $3140/head.
From Guyra NSW, a line of 92 PTIC Droughtmaster cross heifers 18-22 months averaging 443kg, returned $3140/head. Joined to Angus bulls, the heifers were offered with extended payment terms of 150 days.
Amazing prices continue to be paid for top-shelf breeders, especially with calves-at-foot. A line of 52 station mated Angus cows and calves from Coolatai, NSW, returned $4580/head this week – selling $980 over their reserve. Joined to Angus bulls, the cows were 3-11 years averaging 666kg. The calves-at-foot ranged from 2-20 weeks averaging 128kg.
Prices as at 2pm, Friday 21 January.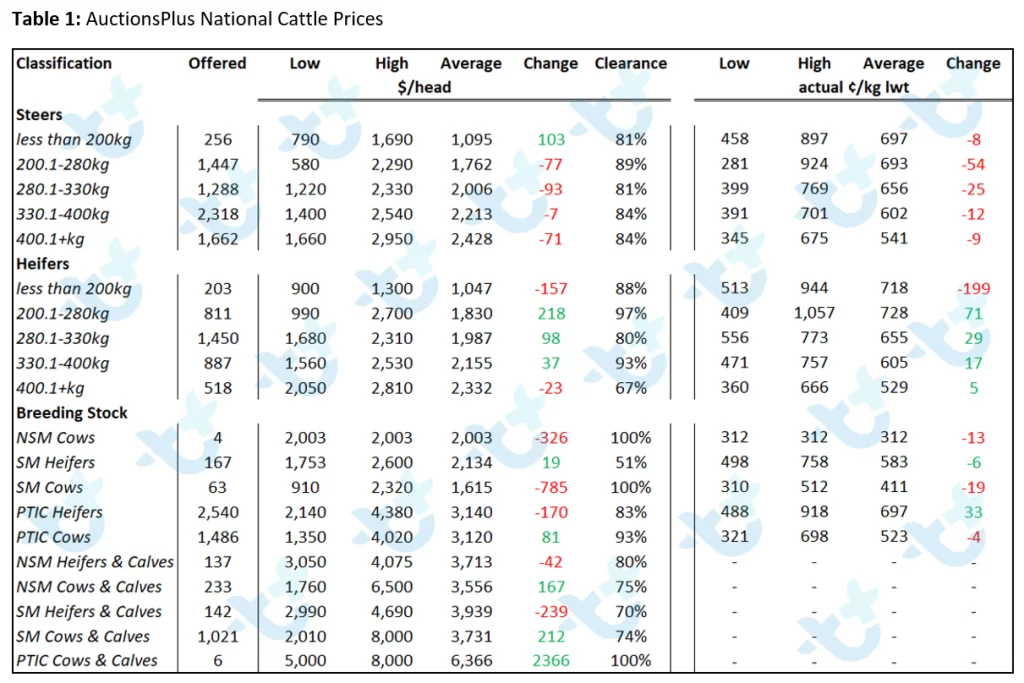 Source: AuctionsPlus