THERE'S been a big shift in pricing distinction in feeder and slaughter markets between Brahman-type cattle carrying some hump and flatback animals, since cattle supply started to improve late last year.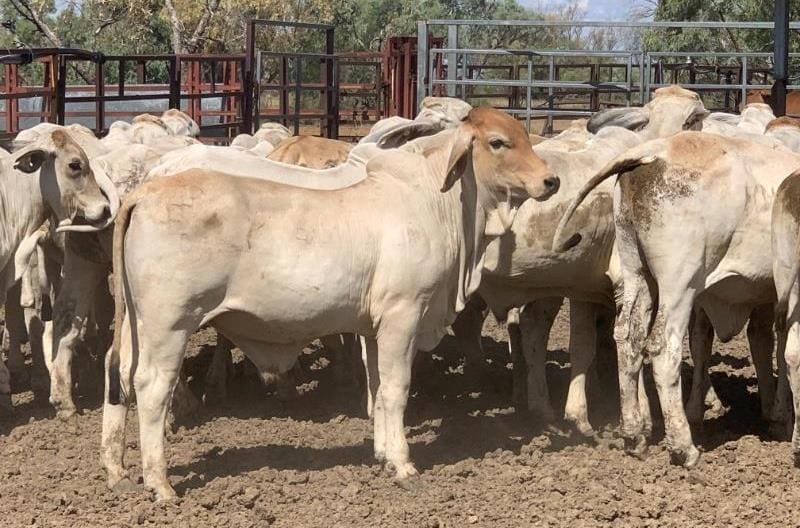 In the feeder market, there's a difference of at least 40c/kg liveweight evident now between Brahman feeders (+50pc content showing some hump) and flatbacks of similar age, weight and condition.
Flatback heavy feeders being sold in Queensland this week were making around 360c/kg, while higher indicus types were between 305-310c and at best, 320c, one supply chain manager said.
Up until the later stages of last year, the price spread between those Brahman types and flatback feeders was often only 10-15c/kg, he said.
This time last year, good flatback feeders were making 540-550c in Central Queensland, and maybe 530c/kg for a run of Brahman types showing some hump.
While all feeder categories have fallen dramatically since around October, the trend on indicus types represents a precipitous drop of around 220c/kg in 12 months, worth almost $1000 on a 450kg steer.
For periods just before Christmas, when the market really started to turn, the spread between flatbacks and indicus types blew out to as much as 50c/kg, Beef Central was told. Bos indicus cattle out of the north were being quoted at 420c/kg, at the time when flatback feeders were still making 470-480c.
Historically, what's happened in the past is that when the Bos Indicus end of the feeder steer market gets hammered like this, one or two grainfed players come out and 'make the space their own,' exploiting the value that's present.
Years ago, NH Foods famously followed this strategy, filling pen after pen at its large Whyalla feedlot near Texas with 'white Angus.'
"While the performance of the Indicus types in the feedlot might not be as good, there is a market there if the price is right," one supply chain manager said yesterday.
Slaughter trend follows suit
A similar price trend is being seen in grainfed slaughter cattle.
Some major Queensland processors now have 20-30c/kg (carcase weight) discounts on generic 100-day grainfed cattle carrying higher Brahman content. That trend started towards the end of last year.
One 100-day grain grid seen this week had Indicus types (based on hump height) at 640c/kg carcase weight – a 20c discount on regular flatbacks. Other companies are another 10c behind that for cattle with some hump, at 630c.
Impact on MSA grading was a reason given for the distinction. It's no secret that while it can be managed through aging, implant use and other factors, indicus content has a significant bearing on MSA eating quality index performance.
One large grainfed supply chain said it was still trying to determine its chosen cut-off point for indicus/hump height in pricing.
What's behind the price spread?
Based on discussions with agents, cattle buyers, processors and others, there appears to be a number of reasons for the change in Bos Indicus feeder pricing.
Firstly, there are a lot more feeder cattle of all types around now, as herd recovery continues. It means feedlot buyers can be more selective.
Last year, as feeder prices soared to record highs due to extreme tight supply, it was often Indicus type feeders or nothing for some operators.
But as Beef Central has reported several times, there has been a distinct 'flight to quality' evident in all grainfed markets this year. Consumers worldwide, evidently, are choosing 'quality over quantity.'
Secondly, live export volume has been particularly flat for the past 12 months, pushing more of these young Bos Indicus types south into feeder and store markets.
Thirdly, some lotfeeding contacts pointed to perceived sub-par performance of Brahman type feeder cattle last year, particularly over the long, wet winter period.
"For those yards feeding more Brahman types due to supply issues last year, they had some disappointing results over the wet winter," he said. "Some said they won't feed any more of those cattle over winter again."
He speculated that some yards may in future take a seasonal approach, perhaps admitting higher Brahman types over part of the year, but avoid then over the winter period in future. To illustrate this, feeders being inducted into yards this week for 100-day programs will be due to close out in the back-half of July.
Supermarket moves?
Complicating matters further is talk that one of the major supermarket groups has applied limits over its 100-day boxed beef purchases (similar to policies around its grainfed contracted cattle), saying it only wants beef from animals assessed with lower hump heights.
Both Coles and Woolworths over the past 12 months have evidently been more active in the general meat market beyond their own contracted cattle arrangements, taking more generic 100-day boxed beef from large grainfed processors to support their programs.
"It makes sense: why would they have strict criteria over Bos indicus content in their contract cattle, and then buy more random grainfed meat out of the market?" one grainfed supply chain manager said.
Flow-on effect
So what happens to Bos indicus influenced feeder types that are now struggling to find a home in a feedyard, for domestic or export-type programs?
A major processor told Beef Central on Tuesday that many are likely to end up in the paddock, given the ongoing access to feed, and the 'poor' prices on offer as feeders.
That could create a mini surge in supply of grassfed export ox around or soon after mid-year, he said.
As all young cattle prices have fallen, live export is again starting to stir, with a sequence of shipments happening in coming weeks out of Townsville and Darwin for both Vietnam and Indonesia. That could help relieve some of the supply pressure on indicus-type feeder pricing.