CATTLE numbers were up, up, up on AuctionsPlus this week, with a total listing of 12,527 head, up 43 percent on the previous week as conditions start to dry out.
Clearer weather and subsiding flood water in parts of the eastern states has allowed both physical and online markets to increase in numbers. Although there was more stock in supply this week, that didn't curb high prices – but the question is how long will the current conditions last?
Young Santa Gertrudis steers from Queensland made huge money in this week's sales.
Two lots of 8-10 month old weaned steers totalling 257 head from Consuelo Cattle Co, Rolleston, QLD averaging 220kg live made 519c/kg to return $1145. Their heavier siblings 289kg, 107 in number, made 467c or $1335 a head.
Another line of 170kg Santa Gertrudis backgrounder steers, 8-9 months from St George, QLD made top dollar of 510c/kg live. These boys will be heading south of the Queensland border to Moree, NSW.
In a breakdown of young cattle sold on Friday, by weight:
Steers less than 250kg sold from 402c to 520c, averaging 462c/kg live; while heifers in the same weightrange sold from 373-419c, averaging of 395c
Steers 250-299kg sold from 370-463c, averaging of 427c, while heifers sold from 345-417c, averaging 381c
Steers 300-349kg sold from 360-435c, averaging 404c, while heifers sold from 364-405c, averaging 376c
Steers 350-399kg sold from 367-415c to average 386c, /kg live, while heifers sold from 346-378c to average 361c
Steers 400kg + sold from 335-379c to average 366c, while heifers 400kg + sold from 306-423c to average 365c/kg live.
Breeding cattle highlights
PTIC female numbers were low this week, especially young lines, but proven breeders made up for the reduction in heifer numbers.
A large line of 493 18-36-month old station mated Brahman heifers from Hayfield Station, Katherine, NT made $1090 or 345c/kg live.
Proven breeders averaged $1733 in this week's sales with a top line of 4-7-year-old PTIC Angus cross females (pictured below) from Walcha, NSW pregnancy tested in calf to Wagyu bulls that made $1920. Two other lines from the same vendor also made impressive money.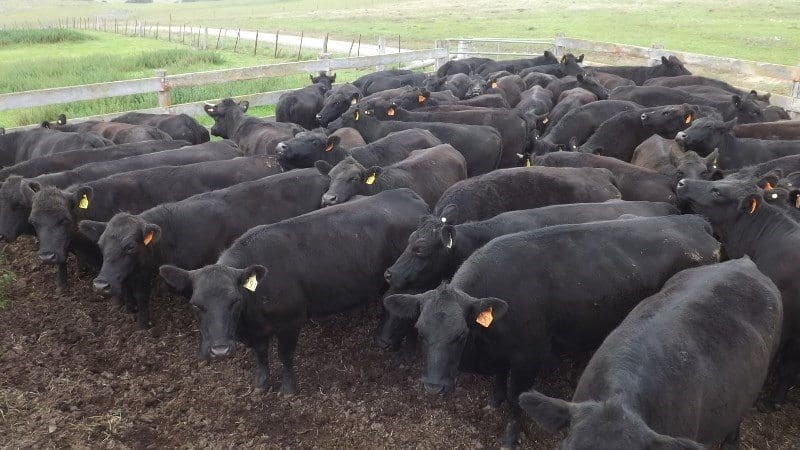 Although PTIC female numbers were down this week, cow and calf numbers were in high supply with numbers strong across all age brackets. First-calvers averaged $2480 with the top priced line selling for $2750.
This was for a line of 24-26 month old Kennys Creek blood Angus heifers and calves hailing from Boorowa, NSW. The unjoined first-calvers had sappy 127kg calves at foot, ready for the bumper spring ahead.
Cows and calves aged 3-4-years also presented well this week with an average price of $2187. Burren Junction, NSW saw the top price for this category with a line of Texas Angus blood rising four-year olds that made $2810. The cows also had 2-3-month old Angus calves at foot which are presenting well, averaging 128kg which are heading south to Belgravia, NSW.
Angus proven breeders from Macorna, VIC made a cracking price of $2900 for 5-year-old cows and calves. These large-framed Banquet-blood cows are PTIC to Banquet Angus bulls and have 5-6 month old, sappy 218kg Angus calves at foot.
Wagyu highlights
Wagyu cattle presented well again this week, with four stand-out lines of heifers from the same vendor, located near Bendemeer, NSW making impressive money.
The 14-15 month old heifers averaged $3798 with the top of the drop, registered Fullbloods averaging 262kg, making $3820.
Mix-sex Wagyu are also proving to crack the market with a line 9-11-month old Wagyu cross Angus steers and heifers from Kempsey, NSW, weighing 187kg making 753c/kg.
12-14 month F1 Wagyu heifers from Glen Innes, NSW weighing 304kg live made 722c/kg and will be heading north to a Darling Downs feedlot.
Overall a fantastic result across all breeds of commercial cattle on AuctionsPlus this week.
On Thursday, the Niindooinbah Spring Female and Bull sale was interfaced on AuctionsPlus. There was very strong bidding online with a total of 289 bids over the duration of the sale. Niindooinbah L48 made the top price of $11,000 and the top priced bull bought online was $8000. The top price for the females was $4000. There was a total of 24 lots bought online with 29 registered bidders logging in.
Click here to access a full summary of Friday's AuctionsPlus results
Source: AuctionsPlus