AFTER several rain-affected weeks of trading, very large lines of cattle offered out of the Northern Territory and North Queensland helped boost listings substantially on AuctionsPlus this week.
A mob of 1080 young Brahman bulls out of Riveren and Inverway Stations in the NT's Victoria River District were sold in one line, attracting strong attention from live export buyers.
Ranging in weights from 290-385kg liveweight and averaging 323kg, the bulls were mostly 4's and 5's, 18-36 months of age. They made 377.7c/kg liveweight, or $1223 a head, in the Phoenix Park yards near Katherine, which substantially reduces their transport cost to Darwin. The fact they were already stationed in an accredited export yard also reduced costs for the buyer.
Riveren/Inverway were bought by Gina Rinehart's Hancock Prospecting from Indonesian owners, JAPFA in July, as outlined in this earlier story.  The fact that these calves were kept as bulls, perhaps reflects the management strategies of the previous ownership, with JAPFA operating its own feedlots in Indonesia. Provided management systems can handle it, leaving males calves entire is a reasonably popular, and perhaps growing option in the NT. Some Indonesian feedlots like entire male cattle for cultural reasons, as well as higher weightgain performance and lack of fat cover (desirable in an Indonesian context) versus steers.
Less successful on Friday's AuctionsPlus sale in terms of delivering an outcome were four large lines of Brahman heifers totalling 925 head, from Hayfield Station near Daly Waters in the NT.
Three lines of station-mated Hatfield heifers totalling almost 500 head were passed in for $1220/head. The heifers averaging about 314kg, and ranged in age from 18-36 months, and had been running in multi-sire herds with Pondrosa, Raglan, Viva and Olive Brahman bulls.
The listing comments indicated that Hayfield had had enough feed available to join and hold the heifers and make them available to the breeder market, instead of the normal channel of simply selling them empty into the live trade. The strategy here appears to have been in trying to tap into the new breeder trade into Indonesia, where 20pc of future consignments will have to be breeding, as opposed to feeder cattle. While the approvals for the trade have officially been made, importers are yet to see the actual permits, which may have dampened interest in this interesting line of station-mated heifers.
They remained unsold at time of publication of this report, but we will keep an eye on the result and report back to readers if a deal is negotiated. It could well be that a market premium now emerges for PTIC or station mated heifers in the north, given the new import requirements. Equally, it might see the spaying knife put away for the timebeing.
Alternatively, these Hayfield heifers could still ultimately find a home further south or east, as the restocking momentum and preference for joined female cattle for that purpose gains momentum.
A further 432 unmated Hayfield heifers offered on Friday, lighter weights averaging 261kg at 18-36 months, were passed in for $920 a head.
Further east, two large lines of NSM Brahman heifers totalling 720 head sold for good money. Both lines were from Stanbroke Pastoral Co's Augustus Downs and Donors Hill south of Burketown in Queensland's Gulf country.,
The first line of 360 Augustus heifers, 357kg at 20-32 months made 323.6c/kg or $1157, while the second mob of 360 from Donors, a little lighter at 315kg, sold for 323c or $1015.
Catalogue doubles in size
Overall last week's AuctionsPlus sales offered 10,054 head, almost double the previous rain-affected week. The inaugural Elders Southern Feature Female Sale also helped boost numbers. With 316 bidders logging-in to Friday's sales, demand certainly met supply, producing a 78pc clearance.
Among the young cattle highlights, a line of 70 EU-accredited Dulverton blood milk-tooth Angus steers weighing 383kg from Coonabarabran, NSW made 417c/kg or $1600.
Yamburgan blood Shorthorn feeder steers 20-22 months weighed 438kg from Cowra, NSW made 360c/kg or $1575 a head.
A line of Angus heifers carrying Bulliac and Carabar genetics sold for 446c/kg or $1255 a head. These young females from Hannaford, QLD weighed 281kg and will make great future breeders or trade feeders.
In Allendale, VIC, well-bred Loughlin Park Angus future breeders, weighing 446kg made 338c/kg or $1510 a head.
In a breakdown of young cattle sold last week, by weightrange:
Steers weighing less than 250kg sold from 431c to 453c, averaging 447c/kg live, up 12c on last week; while heifers in the same weightrange sold from 378c to 434c, averaging of 405c, steady on last week
Steers 250-300kg sold from 388c to 450c, averaging of 422c; while heifers sold from 366c to 447c, averaging 401c, a rise of 15c
Steers 300-350kg sold from 378c to 439c, averaging 408c, a rise of 7c; while heifers sold from 323c to 434c, averaging 397c/kg live, up 46c
Steers 350kg+ sold from 313c to 423c, averaging 388c; while heifers sold from 324c to 431c to average 396c
Heifers 400kg+ sold from 285c to 424c to average 324c/kg live.
Breeding cattle highlights:
Among breeding cattle, PTIC females this week were in high demand by restockers, evident in the strong prices. Young first calvers averaged $1500 with the top priced lot selling for $1805.
These Basin and Stoney Point blood heifers from Kingscote, SA were preg-tested to Kingarth Angus bulls and will end up at Ballarat, VIC where they will drop their autumn calves.
A small line of 3-4-year-old Angus females made $2000. These cows from Hay, NSW are scanned to Wagyu bulls to calve in the summer.
Among proven breeders on offer, a line of Rockingham and Benalkay blood Santa Gertrudis cows PTIC to quality Rockingham Santa bulls from Nyngan, NSW sold for $1800.
Cow and calf units were in high supply this week with all lots averaging an outstanding $2338.
Young cows sold from $1600 to $3260 with Welcome Swallow and Newnam bred cows selling for the top price. The buyer snatched up a good three-for-one deal as the Angus cows were PTIC to Witherswood Angus bulls and also had heavy 232kg Angus calves at foot which can be retained and grown out as future breeders or feeders.
These cows and calves from Benalla, NSW will be making the short trip to Pakenham, VIC.
Angus proven breeders with fresh Francs Angus calves at foot sold for $2820. These 5-6-yearold cows from Waubra, VIC were re-joined to Francs Angus Bulls. Aged 4-11 yearold Angus cows from Euroa, VIC with Black Simmental calves at foot made $2400.
Another record for XB Wagyu
In specialist lines, another record was set for Wagyu crossbred feeders when a line of 41 F2-F4 Wagyu steers estimated at 327kg at delivery from Waterside, near Kogan on Queensland's Darling Downs made $2383 a head or 729c/kg liveweight. The steers, pictured below, were mostly Wally Rea Overflow bloodlines. Aged 20-35 months, they displayed quite wide variance in body weight.
A second line of 37 heifer siblings similar breeding from the same vendor averaging 295kg at delivery made $2013 a head, or 682c/kg liveweight.  Specialist Wagyu feeders took both for longfed programs.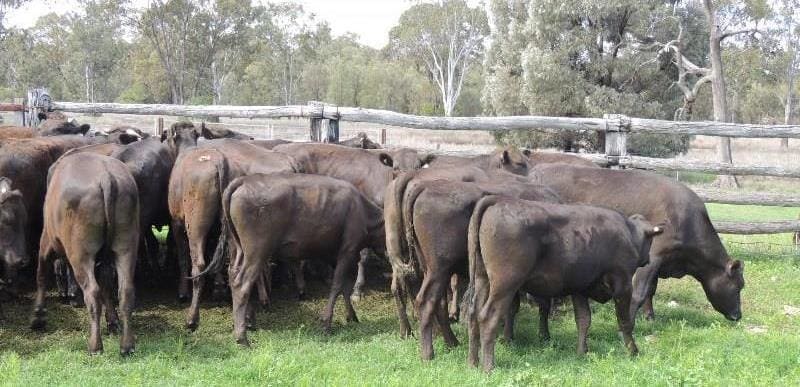 The inaugural Elders Southern Feature Female sale was held on AuctionsPlus last week, offering up 630 head of quality heifers, cows and cows and calves.
The top price was for a line of Bongongo-blood Angus heifers from Coolac, NSW which sold for $2840. These two-year-olds weighed 445kg and had fresh Wagyu calves at foot averaging 71kg.
Limousin heifers from Bruarong, VIC made $2000. These 601kg females were preg tested to Red Angus bulls, due to calve in summer.
Source: AuctionsPlus