CATTLE numbers bucked the recent trend on AuctionsPlus this week, with catalogue numbers totalling 10,679 head, up 45pc or 3309 head on the week before.
The Weaner & Yearling sale commanded confident bidding activity with prices and clearance remaining steady. Victorian buyers were active this week following widespread rain and a slight price correction. Cow and calf units were up by $240 on last week's prices, while light steers experienced a drop of 68c. Feeder steers from Molong, weighing 438kg returned 336c.
NSW continues to produce the highest demand for young PTIC cows & heifers, with all lots selling to NSW buyers. Prices ranged from $810 to $1260 and averaged $1052, $150 down on last week.
Top price among PTIC females went to a line of 33-34 month old Angus heifers from Menangle, NSW. These Wattletop and Kilburnie blood Angus heifers had been joined to Angus bulls, and will head to Camden, NSW.
Grown and mixed age PTIC cows sold from $765 to $1300, averaging $1022. Top price went to a line of 220 five year old Angus cows joined to Angus bulls, from Quandong, VIC. They found buyers in Wangaratta and Whittlesea, VIC.
This week's offering of cows and calves sold from $1010 to $1650, averaging $1397, up $240 on last week. Top price went to a line of Angus cows & calves from Casterton, VIC. The cows were 3-4 years, with 109kg CAF sired by Angus bulls, and found a buyer in Allansford, VIC.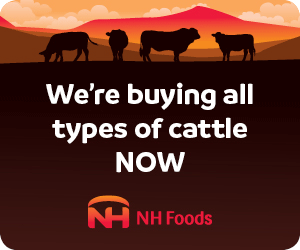 From Eumamurrin, QLD, a line of 69 Angus cows 2-4 years with Angus calves at foot sold for $1010 to a Roma buyer.
Lighter steers under 280kg found an 82pc clearance. Prices ranged from 150c to 292c to average 228c, down 68c on last week. A line of 94 weaned Angus steers 219 kg at 8-9 months from Walcha, NSW found the top price, going to a buyer at Bowna, NSW. From Goondiwindi, QLD, a line of 8-10 month old, 239kg Angus weaned steers made 254c, going to a buyer at nearby St George. From Corryong, VIC, 100 Alpine blood Angus steers 7-9 months averaging 265kg sold for 275c to a buyer in Hamilton, VIC.
Two lines of Red Angus x Belmont Red weaned steers, totalling 168 head, averaging 195kg at 5-6 months from Bluff, Central Qld sold for 253.5c.
Steers in the 280-330kg range were less sought-after this week, selling from 283c to 355c, averaging 315c, up 18c on last week. A line of Angus steers 290kg at 8-9 months from Goulburn, NSW found the top price, going to a local buyer.
Lotfeeders saw value in a number of heavier lines of steers this week, with three lines of Angus steers from Walcha heading into Southern QLD. One of these found a strong price of 346c for steers aged 8-9 months, averaging 290kg.
Lighter heifers under 280kg sold from 143-280c and averaged 231c, holding firm on last week's numbers. Kenny's Creek blood Angus weaned heifers 258kg from Goulburn made the top price, heading to Wagga Wagga, NSW.
From Goondiwindi, QLD, 74 Angus heifers 9-11 months averaging 175kg returned the state's top price of 221cm remaining local.
In a breakdown of young cattle sold this week by weight range:
Steers less than 200kg sold from 237-337c to average 273c; while heifers sold from 186-287c to average 231c
Steers 200-280kg sold from 180-327c to average 288c; while heifers sold from 195-281c to average 243c
Steers 280-330kg sold from 268-355c to average 312c; while heifers sold from 143-262c to average 211c
Steers 330-400kg sold from 264-281c to average 270c; while heifers sold from 191-270c to average 232c
Steers 400+ kg sold from 217-336c to average 277c; while heifers sold from 198-228c to average 213c
Steer Highlights
9 to 11 month old, 180kg, Angus steers from GOONDIWINDI, QLD sold for 337c/$605
9 to 11 month old, 180kg, Angus steers from GOONDIWINDI, QLD sold for 298c/$535
8 to 10 month old, 229kg, Angus steers from GOONDIWINDI, QLD sold for 293c/$670
8 to 10 month old, 233kg, Angus steers from GOONDIWINDI, QLD sold for 283c/$660
8 to 9 month old, 290kg, Angus steers from GOULBURN, NSW sold for 355c/$1,030
8 to 10 month old, 329kg, Angus steers from WALCHA, NSW sold for 347c/$1,140
15 to 17 month old, 438kg, Angus steers from MOLONG, NSW sold for 336c/$1,472
8 to 10 month old, 329kg, Angus steers from WALCHA, NSW sold for 347c/$1,140
7 to 9 month old, 262kg, Angus steers from CORRYONG, VIC sold for 328c/$860
7 to 9 month old, 223kg, Angus steers from CORRYONG, VIC sold for 323c/$720
8 to 9 month old, 321kg, Angus steers from CONARA, TAS sold for 312c/$1,000
9 to 10 month old, 288kg, Angus steers from PARKHAM, TAS sold for 302c/$870
8 to 11 month old, 378kg, Hereford steers from RIANA, TAS sold for 282c/$1,065
10 to 12 month old, 284kg, Angus steers from MANJIMUP, WA sold for 284c/$805
8 to 12 month old, 243kg, Angus steers from CONDINGUP, WA sold for 271c/$660
19 to 22 month old, 469kg, Angus/Friesian steers from MANJIMUP, WA sold for 218c/$1,020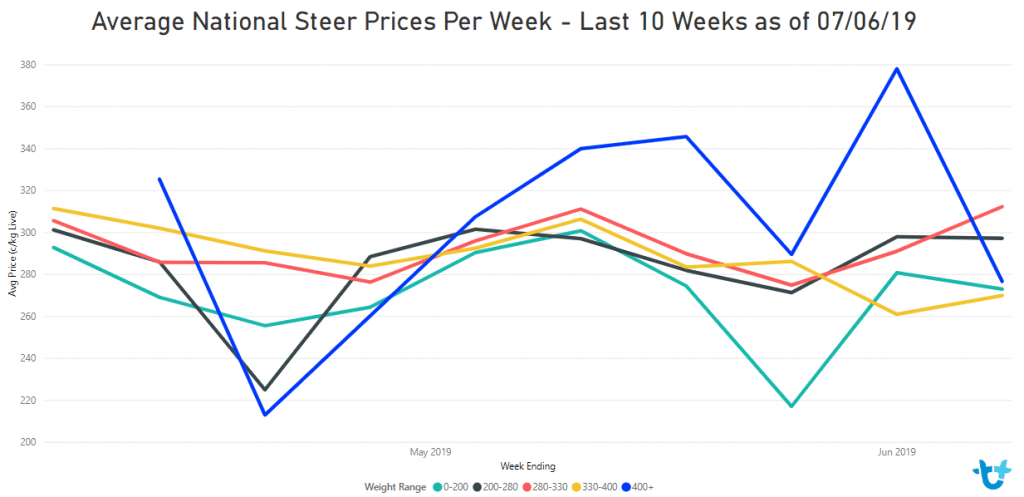 Heifer Highlights
9 to 11 month old, 169kg, Angus heifers from GOONDIWINDI, QLD sold for 222c/$375
9 to 11 month old, 171kg, Angus heifers from GOONDIWINDI, QLD sold for 220c/$375
18 to 31 month old, 280kg, Red Poll heifers from SPRINGSURE, QLD sold for 143c/$400
8 to 9 month old, 253kg, Angus heifers from GOULBURN, NSW sold for 281c/$710
9 to 10 month old, 219kg, Angus heifers from BERRIDALE, NSW sold for 276c/$605
16 to 18 month old, 340kg, Angus heifers from BRAIDWOOD, NSW sold for 271c/$920
30 month old, 385kg, Angus heifers from CONDOBOLIN, NSW sold for 208c/$800
8 to 9 month old, 189kg, Angus/Hereford heifers from OMEO, VIC sold for 253c/$480
18 to 20 month old, 425kg, Angus/Friesian heifers from CUDGEWA, VIC sold for 199c/$845
14 to 16 month old, 335kg, Angus/Friesian heifers from CUDGEWA, VIC sold for 192c/$640
8 to 9 month old, 334kg, Hereford heifers from RIANA, TAS sold for 250c/$835
13 to 14 month old, 353kg, Angus/Friesian heifers from BLUMONT, TAS sold for 244c/$860
8 to 12 month old, 191kg, Angus Cross heifers from BEAUMONT, WA sold for 287c/$550
8 to 12 month old, 240kg, Angus heifers from CONDINGUP, WA sold for 241c/$580
20 to 24 month old, 438kg, Angus/Hereford heifers from MANJIMUP, WA sold for 228c/$1000