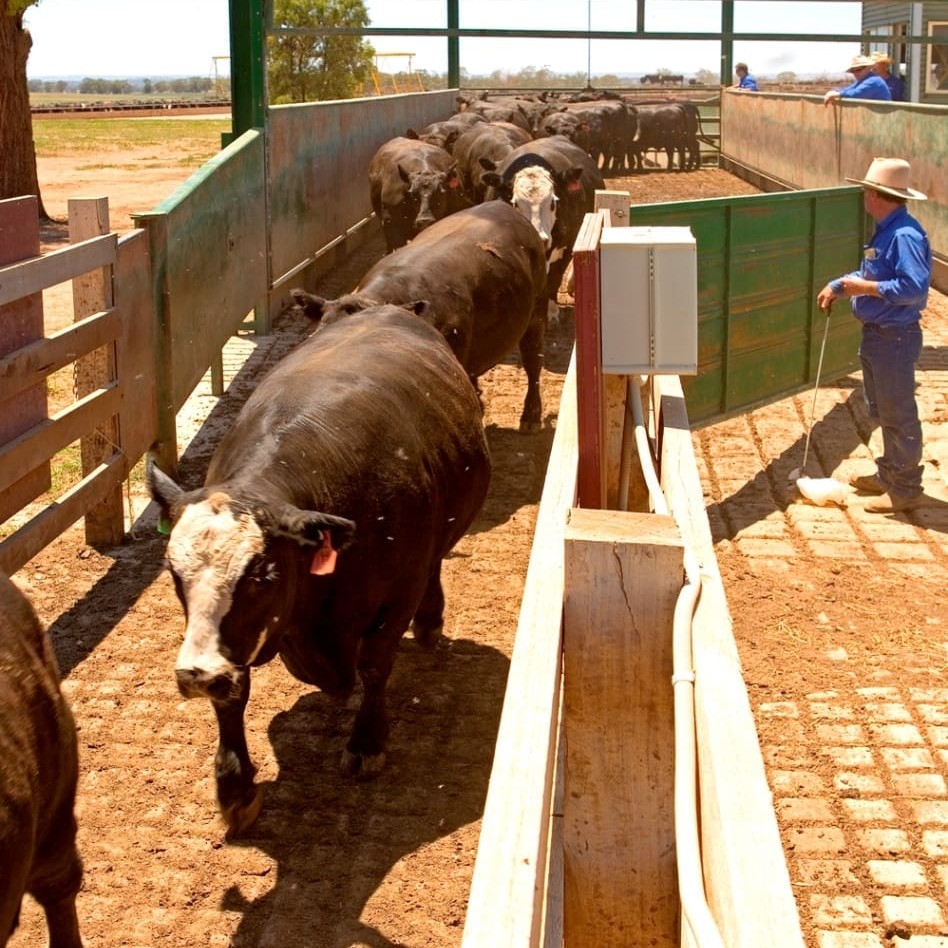 ELECTRONIC marketing system AuctionsPlus has always struggled to attract buyer and vendor participation for slaughter cattle, for a variety of reasons.
But a new AuctionsPlus online selling concept trialled recently called 'Bid the Grid' is showing some positive signs for the future, despite the current market oversupply conditions.
Bid the Grid is the brainchild of Landmark's Brendan Wade, and Landmark has so far held two low-key 'trial' sales using the system, the most recent being a week ago.
While it can be conceded that in Western Australia, processor support for the traditional AuctionsPlus weekly sales for slaughter cattle has been excellent, for a long time, the same cannot be said in Eastern Australia.
Here's an example: a line of heavy slaughter cows average 300kg carcase weight out of the Boyupbrook region made 324c/kg, on farm, when bought by WA processors a fortnight ago.
In contrast, attempts have been made to market slaughter cattle on AuctionsPlus and its predecessor, Computer Aided Livestock Marketing in the Eastern States for years, but with only very limited success.
Fundamentally, the resistance from processors was partly about the accuracy of the CALM assessment, but also because they had to use a generic 'public' grid, which did not necessarily reflect the particular grid specs of each processor, which can vary significantly on a wide range of criteria.
Under the new Bid-the-Grid model, the original CALM-style grid has been modified to allow each processor to apply their own private grids as the basis.
One of the problems with the original grid was that the 'inter-cellular' movement had a maximum difference of 10 percent in value. As readers regularly selling cattle to meatworks will know, it's not uncommon for a processor to have much greater price variance than 10pc, for cattle falling out of spec on a key criteria.
In the new model, larger price variants can be accommodated, in line with each processor's grid.
This is how the Bid-the-Grid process works, under the Landmark model:
Prior to the catalogue being released, each processor puts in their current private 'relativity' grid (not a price grid, just indicating where their premium cell, or cells are and what the discounts are off that premium cell, or cells). An example might be a 'sweet-spot' of 300-360kg, fat 7-22mm, with discounts for age, bruising, weight outliers etc
Each of the participating processors' relatively grids are then overlaid over the assessment of each line of cattle on offer, and software delivers a 'bid factor' for each competing processor. The bid factor basically determines the likelihood of the mob, as described, fitting the grid. A perfect fit would be 100pc, but in some early examples seen during trials, the grid factor has been 95-97pc, with a couple of examples as low as 85pc meeting the spec. The rest are discounted according to the company grid.
The auction starts, with each of the processor buyers seeing his premium price on-screen, as well as his average price. The premium price offer might be 350c/kg, with the average price, if the cattle kill exactly as shown, at 330c. The auction progresses, and every time he bids, those figures change.
Producers are able to assess their own livestock for Bid the Grid – they do not have to be assessed by a qualified AuctionsPlus assessor. There have been a number of lines of grainfed cattle offered in the two trial sales held so far, and their assessment has proven highly accurate.
The first two trial sales held before Christmas and a week or two ago have included both grassfed and grain-finished lines of cattle, centred on the catchment area for Queensland processors.
Some of the feedlot lines were offered for immediate slaughter, while others still had up to 60 days to go to finish their programs, and were being sold for forward delivery. This allows the vendor to lock in a price well in advance of feedlot exit, as a hedge, taking some of the uncertainty out of custom-feeding.
The most recent trial sale a week or so ago offered about 600 cattle, and was designed primarily to let processors 'get their hands on' the model, and gain confidence in its operation. During the sale, one line of 300 Santa steers, 367kg, being fed as 100-day ox on the Darling Downs made 390c/kg, while a lighter 268kg steers, 23 days on feed for a domestic program, made 375c with forward delivery from the end of March to April 7.
Four processors have purchased cattle on Bid the Grid trials so far, with others looking on.
Somewhat surprisingly, given their earlier appetite (or lack of it) for online slaughter cattle marketing, processors have been very pro-active in getting the new Bid the Grid concept moving.
That's primarily because they can now use their own grid, rather than having to try to work with some generic 'public' grid, Auctions Plus general manager Gary Dick believes. Vendor-assessed cattle was probably a second factor.
Landmark has financed some of the development cost of the Bid the Grid concept, and plans to roll-out training among designated staff in each state over the next few months.
The attraction, from an agency perspective, appears to be that in an environment where direct-to-works consignment of slaughter cattle is increasingly common, Bid the Grid provides a channel for agency to still be a part of the transaction, based on a listing fee-for-service basis.
It also provides a service for agency cattle clients that potentially exposes their slaughter cattle to broader market competition, rather than just picking up the phone and talking to the two nearest processors' livestock buyers. Additionally, delivery point can be nominated, meaning a vendor can take a little more control of their marketing, perhaps nominating delivery anywhere from Townsville to Inverell, or being as specific as the southeast Queensland corner.
With the current avalanche of slaughter cattle hitting the market due to drought, it needs to be said that it's hardly the ideal time to be trialling novel slaughter cattle marketing methods like Bid the Grid.
As a result it's unlikely that the platform will gain any significant momentum until the supply/demand pendulum again swings back to more balanced levels. A couple of thousand slaughter cattle sold weekly via Bid the Grid would not seem an unrealistic target, once conditions turn around, however.
There are some very large corporate-scale producers who are keen on the concept, and have signalled that they are prepared to give it a go, when conditions allow. There would be nothing stopping a large pastoral company conducting its own single-vendor Bid the Grid sale, for example.
What do processors think?
A large export processor who asked not to be identified who has bought cattle on the Bid the Grid trials says he is encouraged by what he has seen so far.
"We bought quite a few on the December trial and had a look last week, but they were mostly grainfed cattle, and made a little more money than what we had in our pocket," he said.
"It's another option in terms of selling. I'd say it has a place, particularly in grainfeds, MSA cattle or EU cattle, especially where people might offer them with an extended delivery period," he said.
"It could work for ox and cow, also, but just at the moment it is not an ideal time to evaluate it. The current timing is unfortunate, but over time, it has merit. That fact that we buy them on our grid – that was always the issue with AuctionsPlus and CALM, where there was an assessor accuracy issue – is appealing."
"There's always going to be inaccuracy of you weigh 10pc of 500 bullocks being offered, whereas with this, when you bid your price, if they grade you pay for them, if they don't, the discounts apply. The beauty is that you pay for what you get, and that's why the earlier model never really got off the ground."
"We've said all along that we'd support it in the establishment phase, depending on how it goes."
Tomorrow: Beef Central scrutinises AuctionsPlus throughput over the past 12 months.