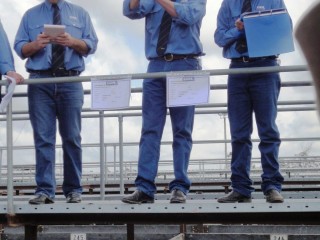 Meat and Livestock Australia's price indicators for heavy steers, medium cows and feeder steers are back to their highest levels in almost six months as ongoing supply issues continue to drive price movements.
National cattle yardings are currently running 11pc below the same period last year, according to MLA's National Livestock Reporting Service.
Processors have made continual incremental increases in direct-to-works rates since early September in an effort flush more killable cattle out of paddocks but the impact on slaughter consignments so far appears to have been minimal.
The main exception was a significant 8pc rise in Queensland processing throughputs last week.
As reported in Beef Central yesterday, some industry sources believe that rise might have been triggered by the $A's return to within sight of parity with the US dollar in the past week, and producers interpreting it as a potential end of the current price cycle.
"They appear to have decided that the grid prices are unlikely to rise further, and in fact could ease again if the dollar should push back closer to parity," one source told Beef Central.
After a sojourn in the mid-to-high US90c range in the past two weeks the $A briefly returned to parity last night on the strength of improved sentiment in Europe, and was trading at US 0.9985c this morning.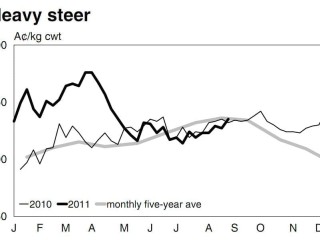 Sources have also reported that the lower dollar has largely failed to reinvigorated significant trade orders for Australian beef from Japan, Korea or the US. In one positive sign on the demand front, however, Australia's beef and veal exports did post an 8pc increase in September year-on-year to 81,965 tonnes swt – the first monthly year-on-year rise since March, according to DAFF data. MLA said a drier month and higher Queensland throughput helped to drive that increase, while numbers remained relatively tight in the southern states.
M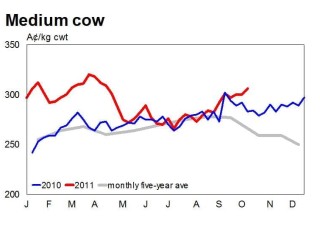 LA added that the deteorioration in global economic conditions could add place further downward pressure on demand for beef.
With demand factors still subdued, supply and quality continue to exerting a strong influence on current price movements.
Spring has triggered an improvement in the quality and weight of prime cattle coming forward nationally, MLA reported this morning.
"The weight and condition of prime yearling cattle improved yet again with the best lines either off crops or supplementary fed," MLA said.
"A fair amount of store drafts were also yarded (in the past week), with producers turning off secondary lines in the wake of the strong restocker presence."
At the close of sales yesterday the MLA NLRS feeder steer indicator was stable on 213¢/kg lwt, the heavy steer indicator was 4c dearer on 199c, and medium cow prices were 3c higher on 153¢/kg lwt. Each indicator is at its highest levels since April.
The Eastern Young Cattle Indicator closed after Tuesday's sales at 398.75¢/kg cwt, which as 2.75c/kg up for the week and 9pc higher than this time last year, according to MLA.
Prime market on fire at Dalby's Beef Galore
Meanwhile, prime cattle prices were particularly strong at the Southern Queensland selling centre of Dalby last Friday where Grant Daniel and Long held its eleventh annual Beef Galore export and trade cattle show and sale.
The market topped at 244c/kg of Limousin cross heifers and recorded a solid overall average of 213c.
Renowned specialist trade cattle finishers Allan Crawford and family from Glenvillan, Kingaroy won six of the 10 championship ribbons, including the prestigious feedlot challenge award for the sixth consecutive year.
They won the award for supreme champion exhibit with a Limousin cross steer finished on 100 days of grain which sold to Fernvale Meats for 238c to return $1691.
Their champion pen of six Limousin cross heifers sold 226c to return $1048/head selling to Nolans Meats.
In all the Crawford family offered 32 head for an overall average of 232c/kg, including the top price pen of Limousin cross heifers selling to 244c/kg to Primo.
Long time supporter, Wilga Kummerow, Taronga, Pittsworth, who earlier won the champion pen of three grain finished steers, sold her Limousin steers for 242c/kg, returning $1065 to Primo.
Mrs Kummerow's draft of 34 head sold to maintain an average of 220c/kg.
Winners of the champion pen of six crop feed steers, and champion pen of three crop feed steers, Neville and Gladys Franz, Wellburn, Jandowae, also enjoyed a good sale.
Their pen of six Limousin steers sold for 210c to Primo, while their pen of 3 Limousin steers sold to 207c to Teys Bros, and their overall draft of 12 steers averaged 209c/kg.
Winners of the award fir champion pen of feeder steers were Rod and Lyn Sperling, Baroona, Bell, with their Charbary yearling steers that sold for 226c/ to Dolly Downs.
The champion single grass feed steer was a Simmental Santa cross exhibited by Leon Franz, Franz Pastoral, Manumbar, Goomeri, which sold for 208c to JBS to return $1372.
John Lyons, Billeroy, St George was the major vendor offering 66 steers to average 204c, while the Harvey Black and family, Nebrean, offered 55 steers to average 222c/kg.