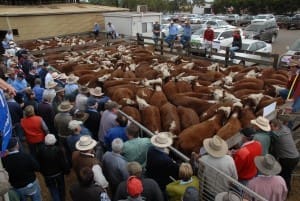 Average cattle prices in 2013-14 have sunk to their lowest level for 16 years, according to ABARES' latest quarterly commodities report.
The weighted average saleyard price of beef cattle in 2013-14 is expected to finish at 294c/kg (dressed weight), the lowest in real terms since 1997–98.
ABARES beef commodity analyst Clay Mifsud said an increased share of lower value cows in total sales, the poorer condition of animals offered in general and a lack of producers in a position to purchase cattle for restocking has exacerbated the downward pressure on cattle prices this financial year.
Despite the fact that export demand for Australian beef and live cattle is strong and is forecast to remain strong into 2014–15, cattle prices are expected to remain under pressure as dry El Nino-influenced conditions perpetuate the high-volume flow of cattle into abattoirs.
ABARES expects the total number of cattle and calves slaughtered in 2013-14 to reach 9.6 million head, the highest level in 26 years.
Slaughter rates next financial year are forecast to ease by 6 percent to 9m head, as strong demand from South East Asia absorbs more cattle exports and results in fewer northern cattle being transported to saleyards and processors in southern Australia.
At the end of this financial year (just two weeks away), ABARES says Australia's beef cattle herd will stand at 25.4 million head.
Expectations of continued dry conditions in 2014-15 influenced by the looming El Nino underpin ABARES forecast that the herd will decrease by another 1pc to 25.1m head at the end of June next year.
The strength of demand from export markets is highlighted by the observation that an estimated 70pc of Australia's beef production in 2013-14 has been sold into export markets, a record high, while just 30pc was sold into the domestic market. Australian beef and veal exports in 2013–14 are reported to have increased by 17 per cent to a record 1.2 million tonnes (shipped weight), reflecting increased demand from the United States, China, the Republic of Korea, South-East Asia and the Middle East.
This growth has offset a decline in exports to our largest market, Japan, where Australian beef continues to lose market share to the United States.
Next financial year, Australian beef and veal exports are forecast to fall by 6 per cent to around 1.1 million tonnes (shipped weight), reflecting lower production.
While seasonal turnoff pressure is set to maintain downward pressure on cattle prices into the second half of this year, export beef prices are expected to increase based on strong international demand versus declining production in Australia and lower supply from some of Australia's major competitors including the United States and New Zealand.
The United States Department of Agriculture (USDA) forecasts US beef exports to fall by 3pc in 2015. Exports from India and Brazil, the world's largest and second largest beef exporters, are expected to rise in 2014–15.
However, these exporters do not have access to three of Australia's major export markets, Japan, United States and the Republic of Korea.
Lower exports to Japan
The ABARES report underlines the negative impact increased US access has had on Australian exports to Japan in the past 12 months.
Australian exports to Japan fell by 6pc in 2013-14 to 282,000 tonnes, the lowest level since 2002–03.
At the same time Japan's total beef imports rose by 3pc to 532,000 tonnes, with US exports to Japan increasing by 31pc.
Australia's share of the Japanese beef import market is estimated to have fallen from 58 per cent in 2012–13 to 53 per cent in 2013–14.
ABARES forecasts Australian beef and veal exports to Japan to fall by a further 4pc in 2014–15 to 270,000 tonnes, as US cuts such as short plate and brisket continue to displace Australian product.
China
Australian beef and veal exports to China are estimated to have increased by 76 per cent in 2013–14 to 162,000 tonnes (shipped weight).
Australia is currently the largest supplier of imported beef to China accounting for around 55 per cent of imports over the first 10 months of 2013–14, followed by Uruguay (23 per cent) and New Zealand (10 per cent).
In 2014–15 Australian beef and veal exports to China are forecast to increase by 3 per cent to 166 000 tonnes (shipped weight).
Local beef production in China is not expected to increase in the coming year, while consumer demand is expected to continue rising.
Supply from other beef exporting nations is expected to help fill the growth in import demand.
ABARES notes that returns from China remain below those for Australian exporters from Japan, the Republic of Korea and the United States.
Click here to read the full ABARES quarterly commodity report for June 2014 on the ABARES website