CONFIDENCE-boosting rain across large areas of eastern Australia drove prices and clearance rates higher across all categories on AuctionsPlus this week.
Cattle numbers remained steady, with a total offering of 5662 head across the three weekly sales.
Weaner heifers averaged 326c this week, up 32c on the week before, and achieved a 96pc clearance for the 949 head offered. North West Slopes & Plains was the largest purchasing region again this week, securing 863 head.
Cow and calf numbers were down slightly, totalling 613 head, but achieving 100pc clearance. Prices ranged from $860 to $2020 and averaged $1363, up $245 on the prior week.
Top price went to a line of station-mated Poll Hereford cows and calves, account SR RF & TJ Saltmarsh, Meander, TAS. These cows were 4-7 years averaging 637kg, and had 4-6 month old calves at foot. Other highlights included a line of 30-month old Angus heifers with calves at foot which sold for $1910, from Euroa, VIC.
From Bundarra, NSW a/c David Family, Glenirie, 68 Santa cows aged 4-7 years, with calves, sold for $1610 to a buyer at Deniliquin, NSW.
PTIC females saw a total of 620 head listed this week, with cows achieving 94pc clearance. Prices ranged from $800 to $2070 and averaged $1645, up $370 on last week.
Top price was achieved by a line of 23 rising three-year-old Angus cows 638kg,from Byaduk, VIC. The cows were PTIC to Chiltern Park bulls and were sold as a run out the gate, with two other lines selling for $2030 and $2050. The same vendor also sold another three lines of PTIC cows, with all lots heading to buyers in South Australia.
Other highlights include a line of 26 Red Angus cows 4-6 years from Tintinara, SA which sold for $1720.
Light steers less than 200kg sold from 323c to 465c this week, and averaged 394c. Top price went to a line of 5-7 month old Angus steers, 139kg, a/c Bald Blair Pastoral Co, Guyra, NSW. Another highlight was 94 weaned Angus steers 154kg from Tenterfield, NSW which sold for 427c.
Prices for steers 200-280kg were up 24c on last week, averaging 329c. Top price of 416c was achieved by 90 Angus weaned steers 210kg from Coonabarabran, NSW.
Heavier steers 280-330kg averaged 304c this week and ranged from 255c to 341c. Top price went to a line of 9-11 month old Angus steers from Cascade Pastoral Co, Adjungbilly, NSW. The steers averaged 323kg, were EU accredited and pure Bongongo blood. In Queensland, 27 Angus cross steers 10-12 months averaging 278kg sold for 322c.
Steers 330-400kg averaged 329c this week and ranged from 280c to 341c, up 9c on last. Top price went to a line of 12-15 month old Angus steers 351kg from Mortlake, VIC. Steers heavier than 400kg averaged 320c and ranged from 274c to 325c. Top price went to 51 Angus steers from Scottsdale, TAS averaging 421kg.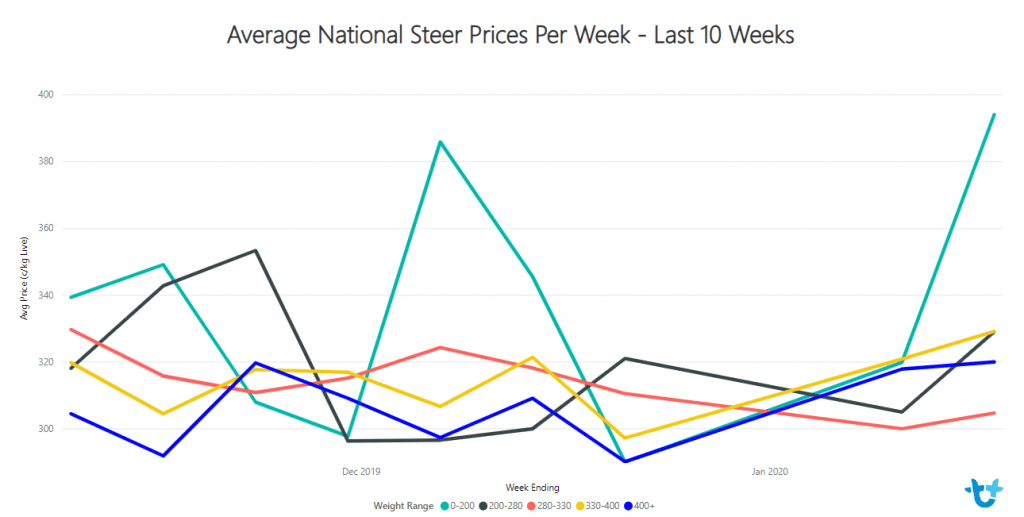 Light heifers less than 200kg sold from 285c to 414c this week and averaged 359c, up 56c on last. Top price went to a line of 5-7 month old Angus heifers from Tenterfield, NSW averaging 154kg.
Heifers 200-280kg sold from 230c to 333c this week and averaged 296c, up 46c on last. Top price was achieved by 62 unweaned Angus heifers 5-7 months averaging 226kg from Braidwood, NSW. Another highlight was 33 unweaned EU-eligible Santa x Hereford heifers 7-9 months averaging 215kg from Woodenbong, NSW which sold for 329c.
Heavier heifers 280-330kg sold from 242c to 287c this week and averaged 268c, up 14c on last. Top price went to 40 Angus feeder heifers from Goomburra, QLD. The heifers were 12-14 months averaging 309kg and are heading to a buyer in NSW.
Heifers 330-400kg also saw a rise in prices this week, averaging 277c, an increase of 19c. The top price of 290c was achieved by 36 Angus cross yearling heifers 16-17 months averaging 396kg from Woodside, VIC.
In a breakdown of young cattle sold this week, by weightrange:
Less than 200kg: Steers sold from 323-465c/kg to average 394c, while heifers sold from 285-414c to average 360c
200-280kg: Steers sold from 337-416c to average 326c, while heifers sold from 230-334c to average 295c
280-330kg: Steers sold from 255-341c to average 305c, while heifers sold from 243-288c to average 269c
330 to 400kg: Steers sold from 280-341c to average 335c, while heifers sold from 266-290c to average 278c
+400kg: Steers sold from 275-325c to average 324c/kg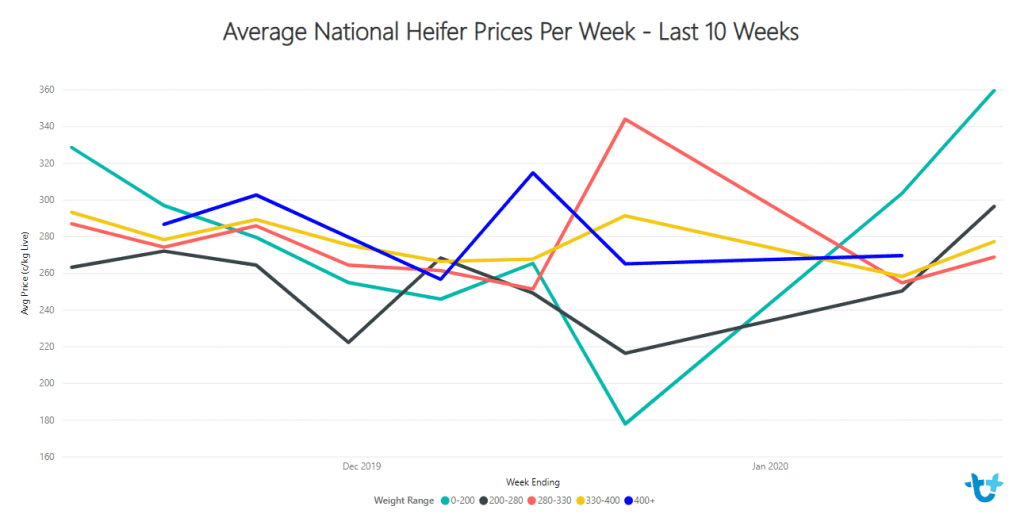 Source: AuctionsPlus