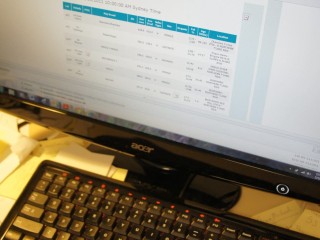 Primary producers are embracing online livestock auctions in unprecedented numbers, with AuctionsPlus on track to record its largest ever annual throughput in 2010-11.
AuctionsPlus general manager Gary Dick said cattle numbers sold through AuctionsPlus in April were higher than any other month in the online auction system's 24 year history.
AuctionsPlus had sold about 150,000 cattle annually for the past three financial years, but was currently tracking 40pc higher than last year with six weeks to go until the end of this financial year.
The story is similar with sheep, with year on year sales currently tracking 8pc higher than last year's record levels when AuctionsPlus sold 2.2 million sheep, making it the largest selling facility for sheep in Australia.
After decades of slow and gradual growth, AuctionsPlus now appears to be reaching the critical mass of users in Australia that computer-based selling and the linked benefits of convenience and speed always promised.
Mr Dick believes there have been several drivers behind the increasing popularity of AuctionsPlus in recent years, including the advent of digital photography and video as an additional back up for written assessors' descriptions. The ability to see animals clearly in colour digital pictures and video had been a breakthrough in driving wider producer confidence in the system and overall uptake, he believed.
"Another thing is that primary producers have become a bit more time poor because they can't get labour," Mr Dick said.
"Everyone is complaining that they can't get labour for mustering right around Australia and all those other jobs that mining have taken people and staff away.
"Farmers no longer have time to spend two to three days driving around the countryside looking for stock.
"With AuctionsPlus they can sit at home and within an hour know whether they have bought some stock or not, and then be back at work."
Rising prices had also assisted with uptake in recent years.
"This system is always running pretty well with industry when price is on the move, which it has been."
AuctionsPlus has recently launched a new technology platform that allows it to handle double the amount of lots it can sell at any one time – 80 lots in a sale compared to 40 previously – and a simplified bidding format.
AuctionsPlus charges flat rate selling fees directly to the selling agent of $5.90 per head for cattle and 59c/head for sheep.