DESPITE being presented in numbers this week, demand on AuctionsPlus for PTIC females declined, with young in-calf breeders averaging less than $1400. Encroaching dry conditions in many grazing areas is a likely factor.
Total cattle listings this week increased to 10,148 head, up 6pc on the week before, with almost 90pc the offering from vendors in NSW or Queensland. While the clearance rate nationally at 50pc was well down in figures seen just a couple of weeks ago, some states did better than others. Queensland and NSW averaged a 51pc clearance, Victoria just 28pc, while South Australia recorded a much higher 81pc. New South Wales bidders appeared to have the deepest pockets this week, with 50pc of all stock listed finding a new home in that state.
PTIC females were abundant in this week's listings, with 2849 head offered throughout all sales. However bidding action was quieter across this category with a 34pc clearance.
Young PTIC breeders made a top of $2200 and averaged $1393. This top price was paid for a line of two-year-old Angus heifers from Camoola Angus, Lang Lang, VIC. In the north, a line 64 Belmont Red heifers from Melvyn, Talwood, QLD made $1475.
Proven breeders outsold their younger counterparts, selling to a $1618 average for a $2090 top. Top price went to a line of six-year-old Angus third-calvers from Mayfield, Blayney, NSW. Among other breeds, a line of 68 Poll Hereford matrons from Gum Creek, Willbriggie, NSW made $1790.
Cow and calves made up a smaller portion of this week's offering, however this didn't dampen some outstanding bidding action on sold stock. In particular, first-calvers averaged $2398 and reached a scorching $2780 top price, for a line of Angus cows with fresh Angus calves at foot from Cowabee, Moss Vale, NSW.
Another line of Angus and Angus cross cows and calves from Karoola East, Guyra, NSW made $2440 – a massive $1040 over their reserve.
Older cows and calves reached a top of $2410 for a $1882 average. The top price was paid for a line of 73 Angus cows with their second calves at foot from Harmony Operations Australia, Dundonnell, VIC. In the north, a line of 76 Brahman 4-10 year old cows from Glenaras Pastoral, Ilfracombe, QLD sold for $1550.
The annual draft of weaner heifers from Speriby North were offered yesterday. The 163 heifers offered over five lots averaged $2188 and topped at $2220. With their high-marbling genetics, these top quality heifers will be well-placed in breeding operations and have found new homes from central QLD to northern NSW.
In a breakdown of young cattle sold this week, by weight range:
Steers less than 250kg sold from 352c to 485c/kg to average 392c (unchanged) ; while heifers sold from 295-390c to average 342c (down 23c)
Steers 250-299kg sold from 331-417c to average 365c (down 17c) ; while heifers sold from 308-471c to average 356c (down 9c)
Steers 300-349kg sold from 321-364c to average 349c (down 25c); while heifers sold from 309-402c to average 353c (up 6c)
Steers +350kg sold for 312c; while heifers sold from 308-312c to average 310c.
In a special Wagyu sale condiucted on Friday, no bids were field on 12 Fullblood PTIC heifers, while a single Fullblood registered PTIC cow carrying quality breeding made $7000. Embryo packages averaged $500/four embryos, and semen straws, $62/10 straws.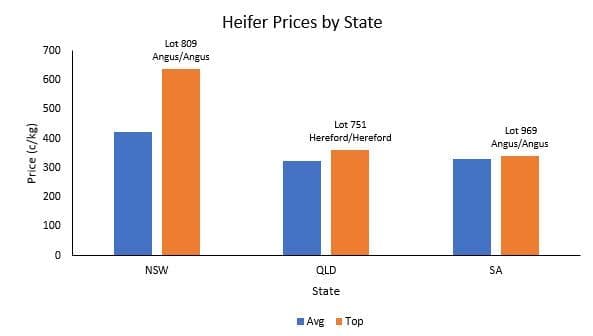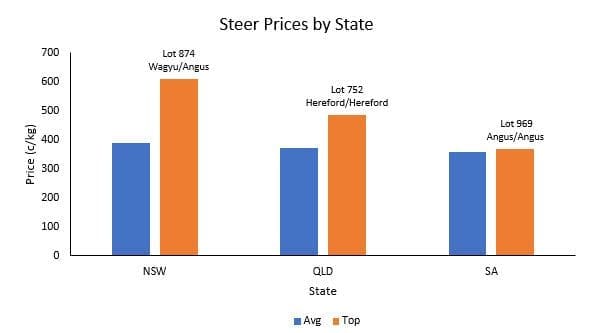 Source: AuctionsPlus