AuctionsPlus trading continued at robust levels this week, with listings jumping another 13 percent to 23,621 head.
While the overall clearance and prices eased, returns for breeding stock jumped significantly, with PTIC cows and heifer categories increasing by $289 and $291/head in value, respectively.
Reflecting trends in the saleyards channel, young cattle made up a substantial portion of the offering, with almost 18,000 head presented. Weaner and yearling steer listings numbered more than 10,000 head listed, representing 44pc of the catalogue. Queensland dominated listings this week, offering 34pc of the total catalogue (see recent report).
Reflecting the excellent seasonal conditions across regions in the south, demand remained strong this week, with cow and calf units achieving a 79pc clearance, selling from $1730 to $4440/head, to average $2908/head.
Top price went to a line of 17 Angus PTIC heifers, with calves-at-foot. The three-year-old heifers averaged 628kg, with 6-8-month-old CAF sired by Speckle Park bulls.
PTIC cows sold significantly dearer this week, ranging from $1650 and $3040/head – to average $2338/head. Top price, from Euroa VIC, was a line of 13 PTIC Angus cows 30-32 months averaging 619kg PTIC to Angus bulls. They will head to Creightons Creek VIC.
PTIC heifers also sold dearer this week, although a low clearance rate was registered. Selling from $1650 to $3410/head, the category averaged $2348/head – a $291 increase on last week. Again, from Euroa VIC, were three lines that achieved top price, including 26-27-month-old Angus heifers averaging 695kg. These polled heifers were PTIC to Angus bulls and will also head to Creightons Creek.
Young cattle
Weaner and yearling heifers accounted for more than 30pc of the catalogue once again this week, matched with strong buyer activity. Light heifers less than 200kg sold from 458c to a top of 810c, averaging 528c, which was back 12c on last week. Top c/kg price went to a line of 3-5-month-old Jersey heifer calves at Burnewang VIC, averaging 84kg.
Heifers 200-280kg sold from 352c to 605c this week – averaging 473c/kg. From Gloucester NSW, top price went to a line of 65 7-9-month-old Angus unweaned heifers, averaging 218kg.
Heifers 280-330kg sold from 355c to 550c to average 452c – an 8c increase on the previous week. From Elong Elong NSW, top price went to a line of 12-14-month-old Hereford Non-Station-Mated future breeders, averaging 292kg.
Feeder heifers 330-400kg sold to a dearer trend, ranging from 389c to 562c, to average 528c, up 76c on last week. A vendor from Gloucester NSW, also secured top price for this category, with 386kg Angus NSM yearling heifers aged 15-16 months.
Heavy heifers more 400kg sold from 358c to 448c, averaging 430c. From Wagga Wagga NSW, top priced lot was a line of 14-20-month-old Angus yearling heifers averaging 422kg.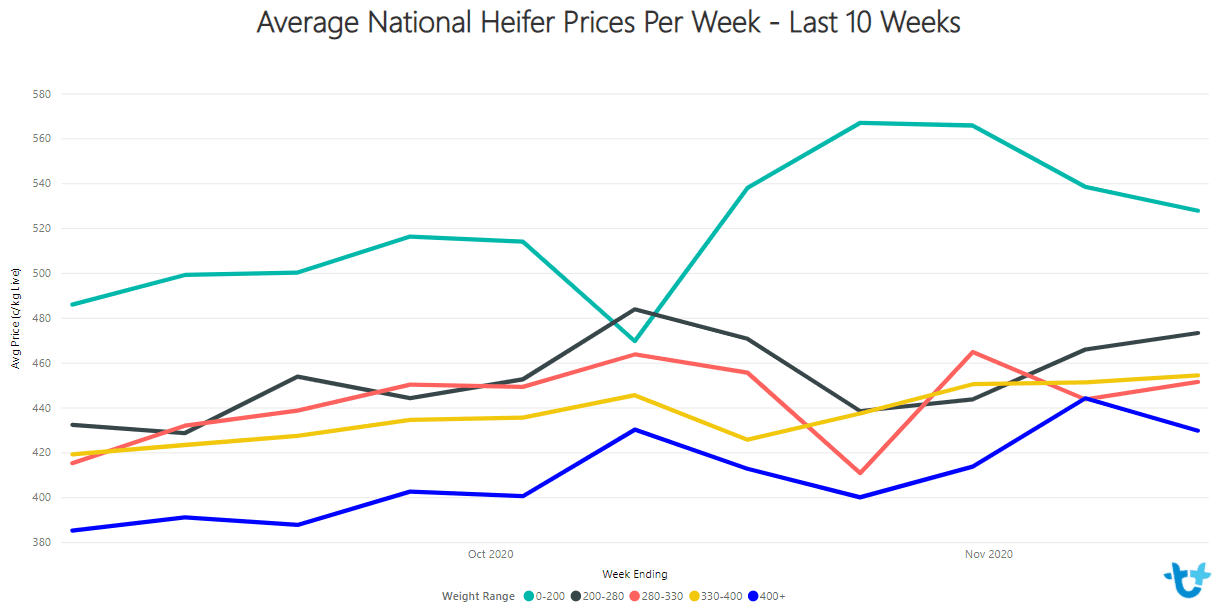 Weaner and yearling steers were the largest category on offer, with more than 10,000 head listed, representing 44pc of the catalogue. Light steers averaging less than 200kg sold from 551c to 805c this week, averaging 647c – a jump of 96c/kg. Top price went to a line of 32 weaned Blonde Aquitaine x Friesian steers 3-4 month averaging 109kg from Yarroweyah VIC.
Steers averaging 200-280kg sold from 403c to 704c this week – falling 19c from the previous week, to average 531c. A line from Cooma NSW, secured top price for the category, with 6-7-month-old Angus and Angus x Hereford weaned steers with Hazeldean blood, averaging 209kg.
Steers 280-330kg also declined slightly this week, down 17c, averaging 479c and selling from 383c to 570c. From Harden NSW, top price was a line of 310kg Angus and Angus cross weaned steers 9-11 months.
Feeder steers 330-400kg eased 84c, to average 465c this week- selling between 284c and 515c. Top price went to a line of 13-15-month-old Angus backgrounder steers averaging 344kg, from Tingha NSW.
Heavy steers more than 400kg averaged 421c, decreasing 12c on last week, to sell from 337c to 460c. From Molesworth VIC, a line of 14-16-month-old 447kg Angus and Angus x Hereford steers secured top price.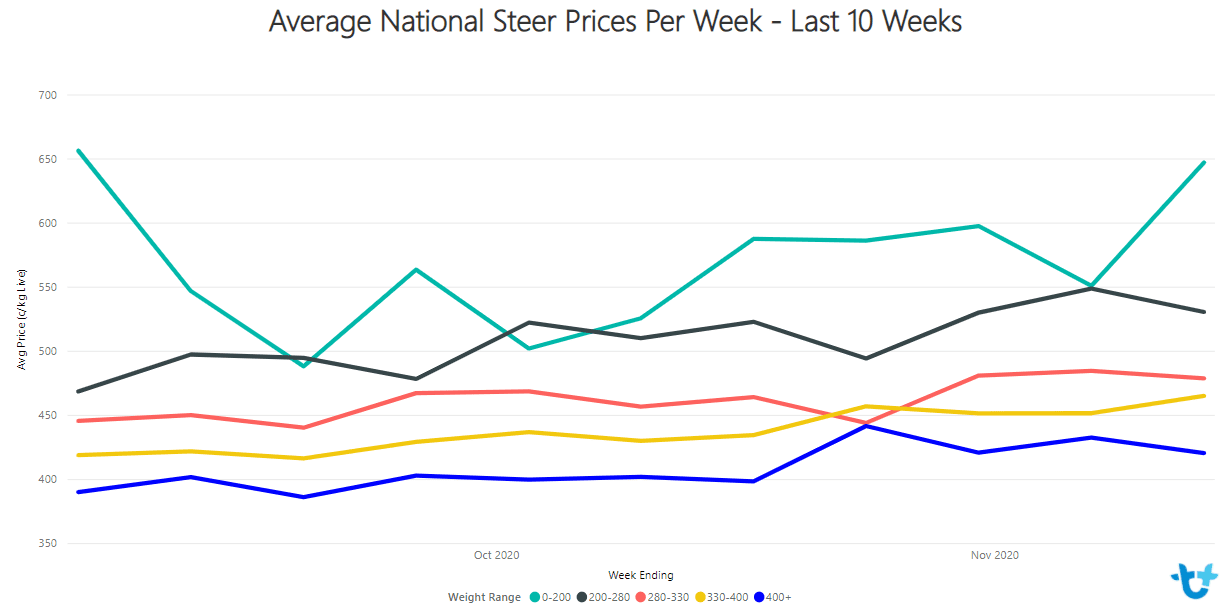 In Tasmania, there were 418 head on offer, achieving a 97pc clearance. Cows with CAF sold from $2410 to $3050/head, averaging $2835 and achieving a 100pc success rate among the 108 head offered.
Top price went to a line of 41 mixed age Angus cows averaging 621kg, with 4-12-week-old CAF averaging 112kg, sired by Poll Hereford bulls. Yearling heifers sold between $1180 and $1550/head to average $1376/head. Top price for this category went to a line of 14-15-month-old Hereford x Friesian heifers, averaging 382kg.
In a breakdown of young cattle sold this week, by weight range:
Less than 200kg: Steers sold from 551-805c to average 647c, while heifers sold from 458-810c to average 528c.
200-280kg: Steers sold from 403-704c to average 531c, while heifers sold from 352-605c to average 473c.
280-330kg: Steers sold from 383-570c to average 479c, while heifers sold from 355-550c to average 452c.
330-400kg: Steers sold from 284-515c to average 465c, while heifers sold from 389-562c to average 528c.
+400kg: Steers sold from 337-460c to average 421c, while heifers sold from 358-448c to average 430c.
Source: AuctionsPlus