IT was another tough week for the national cattle market, as the declining producer confidence and winter doldrums kept prices heading south for most categories.
There was 10,634 cattle offered through AuctionsPlus commercial sales this week, down 14 percent on last week, with several reports of vendors staying out of the market and delaying sales until stronger conditions, or at least spring growth, returns.
The young steer categories were largely cheaper again this week, except for the mid-weight 280-330kg lines, which kicked 27c/kg or $114 higher, to average 573c or $1744 – with a clearance of 80pc for the 1105 head offered.
Out of Charters Towers, North Queensland, a line of 128 Droughtmaster and Droughtmaster cross No. 1 steers 12-15 months averaging 282kg, in a wide weightrange from 196kg to 394kg returned $1270/head.
Steers 200-280kg slipped another 107c/k or $211 this week, to average 525c or $1339, with the wide range of $620 to 1800 for the auction representative of the mixed quality offered. From the offering of 1074 head, the clearance hit 76pc. Steers 330-400kg faired comparatively better, with the price average for the week easing only 3c/kg or $53 on last week, to 503c or $1794 – with a 70pc clearance for the 975 head offered.
Heavy feeder steers remain in very tight supply, with the limited numbers adding volatility to the market average. From Tambo, Queensland, a line of 78 Santa feeder steers 495kg at 12-18 months returned $2280, heading to a buyer in Lavington, NSW.
It was slightly better news through the lightest heifer lines, with 200-280kg heifers lifting 37c or $145 on last week, to average $1497. The 1128 head offered was matched with steady demand, seeing the clearance rate hit 85pc at the conclusion of the sale.
Heavier lines declined for the week, with 280-330kg heifers back 40c or $165, at $1586, while 330-400kg lines averaged 127c/kg or $447 cheaper, at $1637/head.
A line of 38 Angus heifers 15-16 months at 391kg from Taminick, Victoria returned $1920.
Breeding cattle
The stand-off in the PTIC heifer market continued this week, with the 1573 head offered reaching a clearance rate of only 21pc at the closure of the auction. Of those lines that sold, prices averaged $246 higher, at $2326, while PTIC cows jumped $140, to average $2246.
From Tambar, NSW, a line of 42 PTIC Angus cows 5-6 years averaging 568kg returned $2960 – selling for $800 above their reserve price. From Padthaway, SA, 35 PTIC Angus x Shorthorn cows 7 years averaging 588kg returned $2360 and will travel to Kaniva, Victoria.
Out of Wellington, NSW, a line of 54 Angus heifers 18-22 months averaging 478kg with CAF returned $3800. The heifers will travel to a nearby buyer in Coolah, NSW.
Follow-up sales
However, for vendors and unsuccessful buyers during the live auctions, the market remains active throughout the following days. A review of last week's results and clearance rates showed significant movements in four major categories in the days that followed the auctions.
At the closure of the auction on Friday 22 July, PTIC heifers averaged $2080/head, with a clearance of 31pc. Following successful post-auction negotiations, the average price lifted by $111, with the clearance reaching 44pc. Similarly, 280-330kg steers clearance lifted from 50pc, to 75.6pc, as the average price lifted by $9. The lighter 200-280kg steer category jumped from 58pc, to 82pc, with the average price unchanged, at $1550/head.
The search for light cattle wasn't limited to the steer lines, with 280-330kg heifers lifting from 67pc to 80.7pc in post-auction negotiations. However, in contrast to the steer lines, the average heifer price slipped $33/head, to $1718.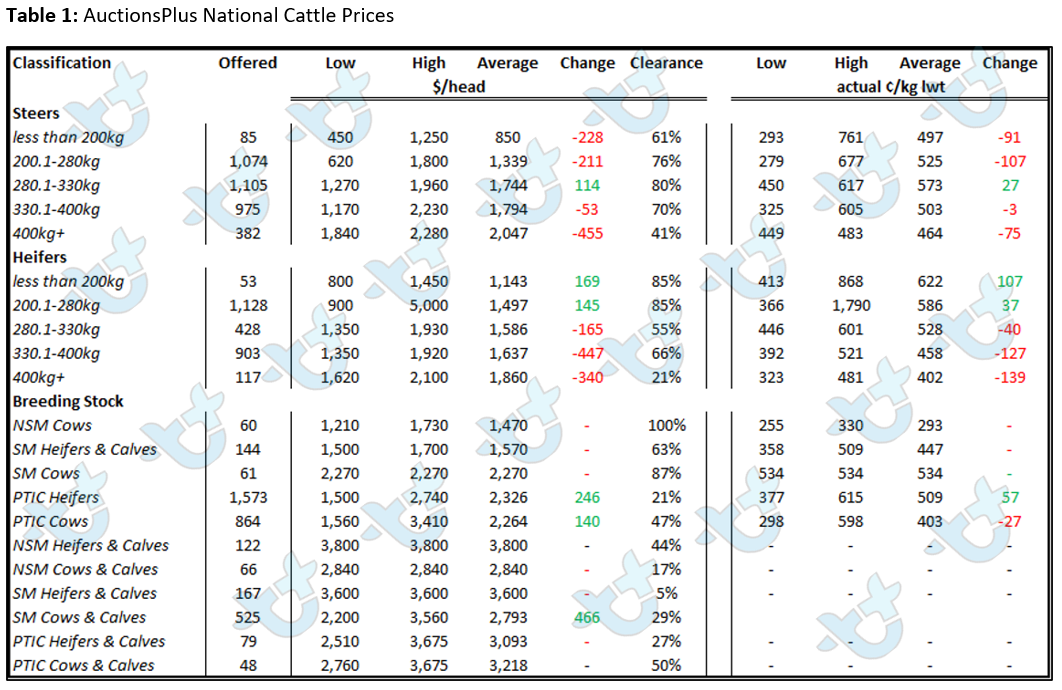 Prices as at 2pm, Friday 29 July.
Source: AuctionsPlus