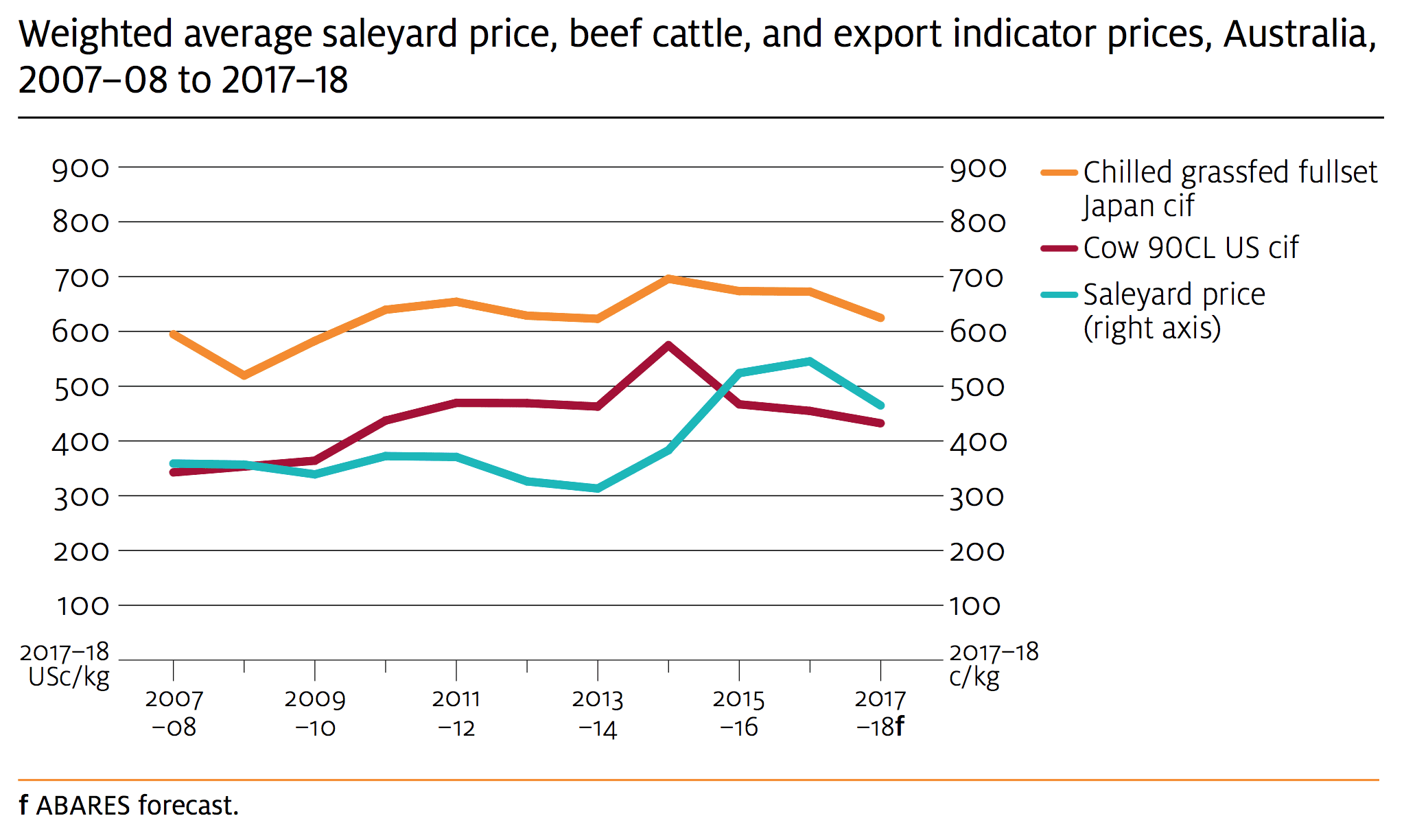 DETERIORATING seasonal and market conditions in the past three months have caused ABARES to significantly downgrade its forecast cattle price average for 2017-18.
In its last commodities outlook report released three months ago, ABARES predicted saleyard beef cattle prices across Australia would average 525 cents/kilogram carcase weight in the 2017-18 financial year.
However, in its latest commodities outlook released this week, ABARES has dropped its price forecast for 2017-18 by more than 10 percent to 465c/kg carcase weight.
If realised, that would be 13 percent lower than the price average of 2016-17.
Behind the downward revision has been a drier than a average winter across most of Australia since the previous forecast was made, and continued pressure on prices from export market factors, particularly Japan, where Australian beef is facing strong competition from US product.
Key beef forecasts for 2017-18 in ABARES' September quarter outlook:
Cattle slaughter: Australian cattle and calf slaughter to increase by 5pc to 7.8 million head, reflecting increased turn-off in Queensland. Southern region beef-producing farms are expected to continue expanding herds, assuming favourable seasonal conditions.
Slaughter weights: Average slaughter weights are forecast to increase from the 2016–17 record of
279kg, supported by a relatively high share of male cattle in turn-off and cattle on feed.
Beef production: Australian beef and veal production is forecast to increase by 8pc to 2.2 million tonnes (carcase weight).
Cattle herd: In 2017–18 the Australian cattle herd is forecast to increase by 4pc to
26.7 million head (comprising 24.0 million beef cattle and 2.7 million dairy cattle). This would be the second consecutive year of herd expansion. The Australian cattle herd is expected to remain at around 2pc below the recent peak of 27.1 million head (2013–14).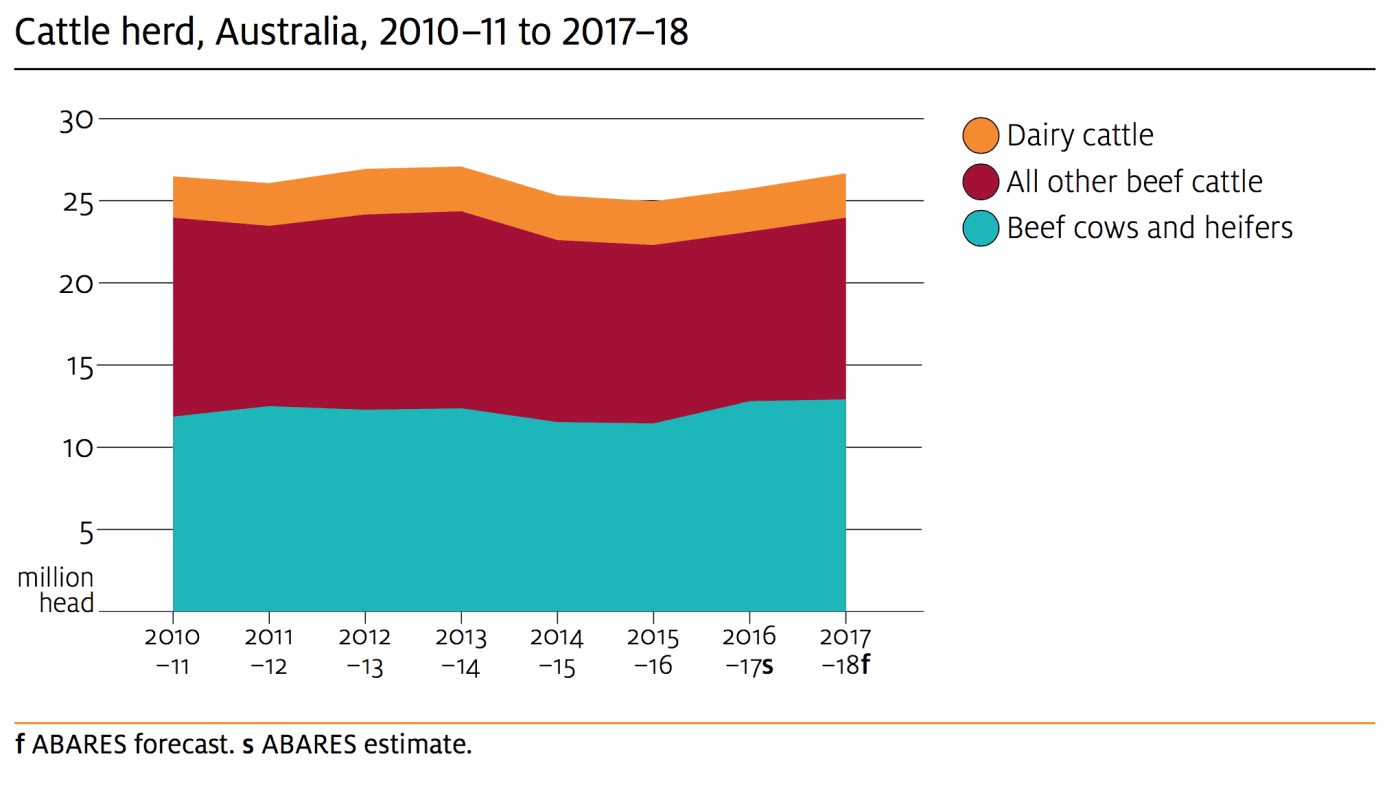 Beef export volume: Australian beef and veal exports are forecast to increase in 2017–18 by 10pc to 1.1 million tonnes (shipped weight), reflecting increased beef production.
Beef export value: However, the value of Australian beef exports is forecast to fall by
1pc to $7.0 billion. Lower average export unit values are forecast because strong competition in major export markets is expected to reduce demand for Australian beef exports, particularly in the United States and Japan.
Exports to US: Australian beef exports to increase by 27pc on last year to 260,000 tonnes (shipped weight), but still 12pc below the five-year average. US demand for imported beef remains weak as result of its expanding domestic cow herd and in beef production. US beef production expanded by 7pc and beef imports fell by 7pc in 2016-17.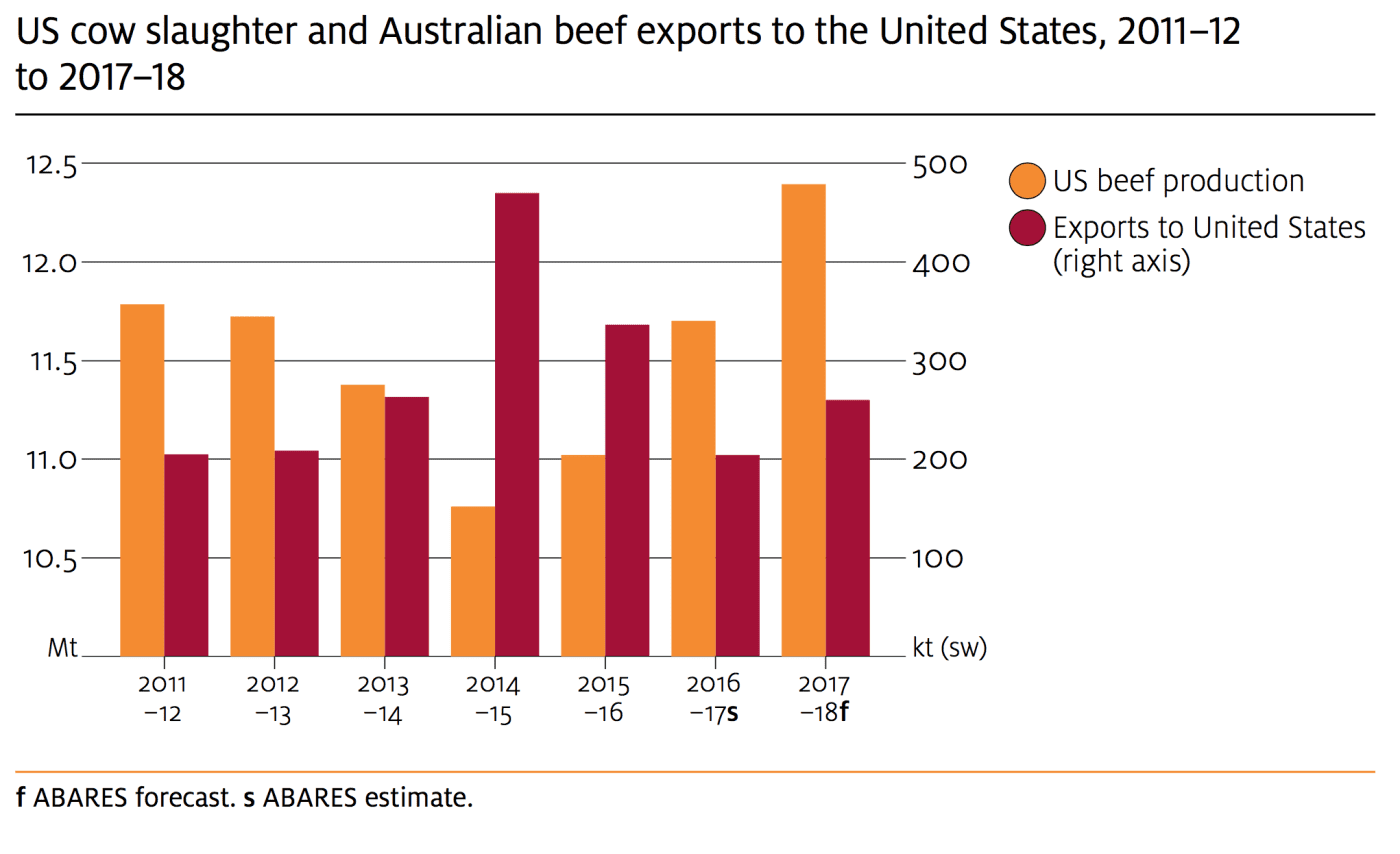 Exports to Japan: Australian beef exports to Japan are forecast to increase 6pc to around 291,000 tonnes. Japanese demand for imported beef to remain robust, supported by higher consumption and lower domestic production. Japanese beef production dipped to a 30 year low of 325,000 tonnes in 2016-17. In contrast, Japanese beef consumption rose by 6pc in response to lower imported beef prices.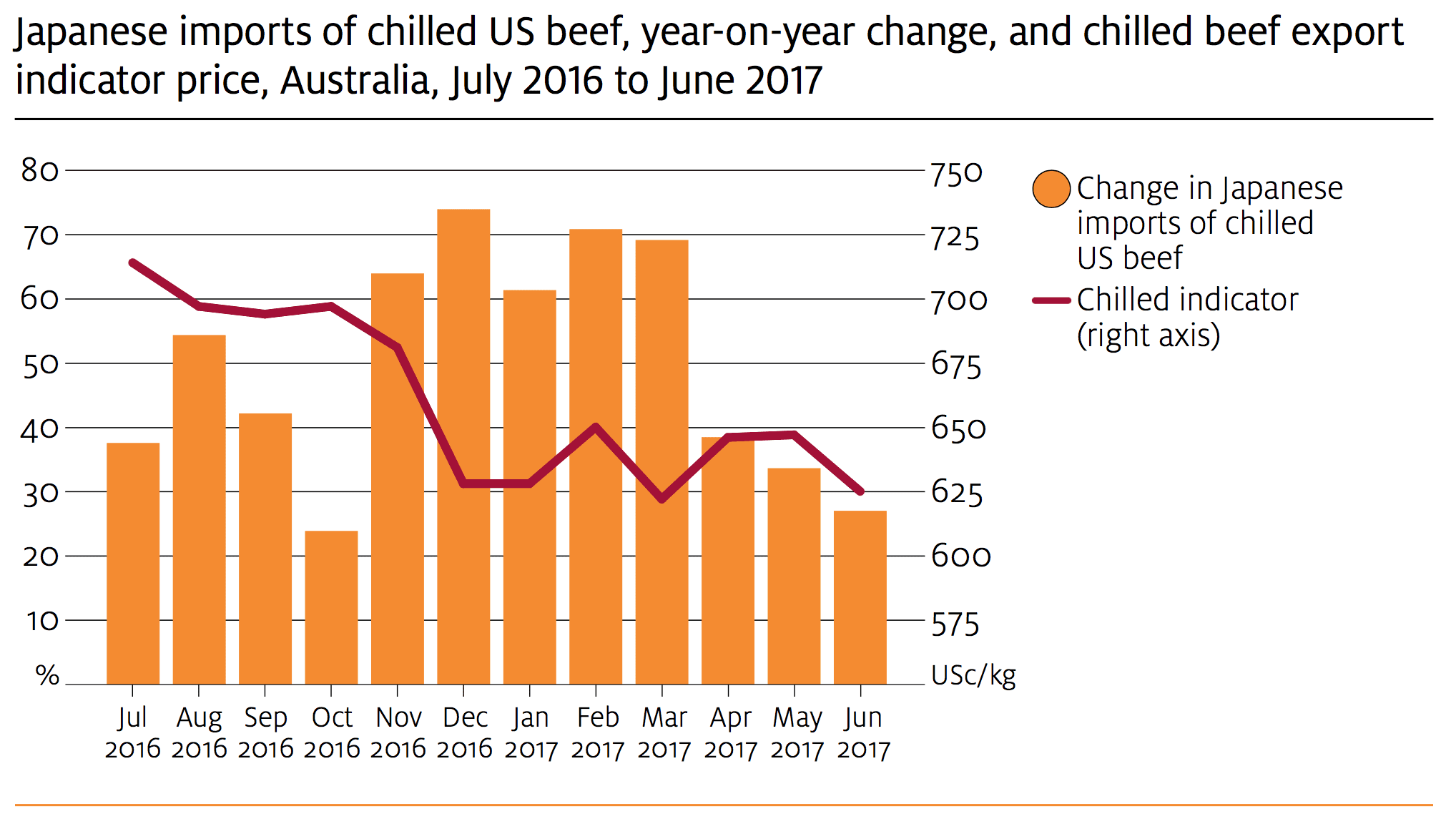 Exports to Korea: Australian beef exports to increase by 3pc to 185,000 tonnes. Demand for imported beef remains strong, supported by robust income growth and falling local beef production. Frozen beef is expected to account for most of the forecast increase. Demand for chilled Australian beef is likely to be lower due to strong competition from US exports.
Exports to China: Australian beef exports to China are forecast to increase 1pc to around 105,000 tonnes. Import demand is expected to remain strong, supported by assumed higher incomes and limited growth in local beef production. In 2016–17 Chinese beef imports from all suppliers except Australia expanded by 15 per cent.
Live cattle exports: Feeder and slaughter cattle export volumes are forecast to increase by 4pc to 850,000 head, with value largely unchanged at $1 billion. ABARES says this reflects strong import demand in the major markets of Indonesia and Vietnam supported by increasing incomes and limited growth in local beef production. Export prices for Australian live cattle are forecast to average around $1,180 a head. If realised, this would be a 6 per cent reduction on the previous year's record average price of $1,260 a head and the third-highest average price on record.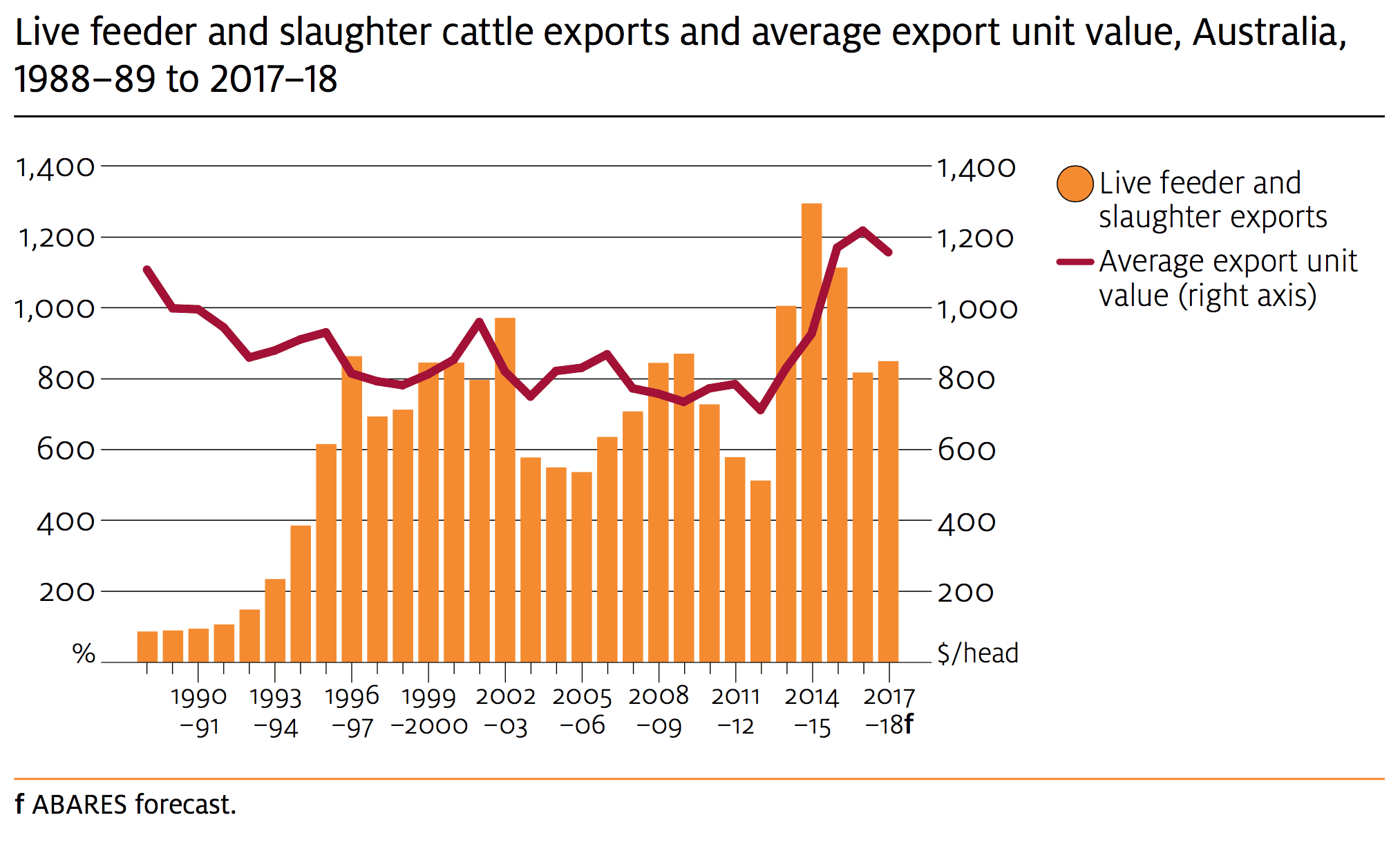 Source: ABARES