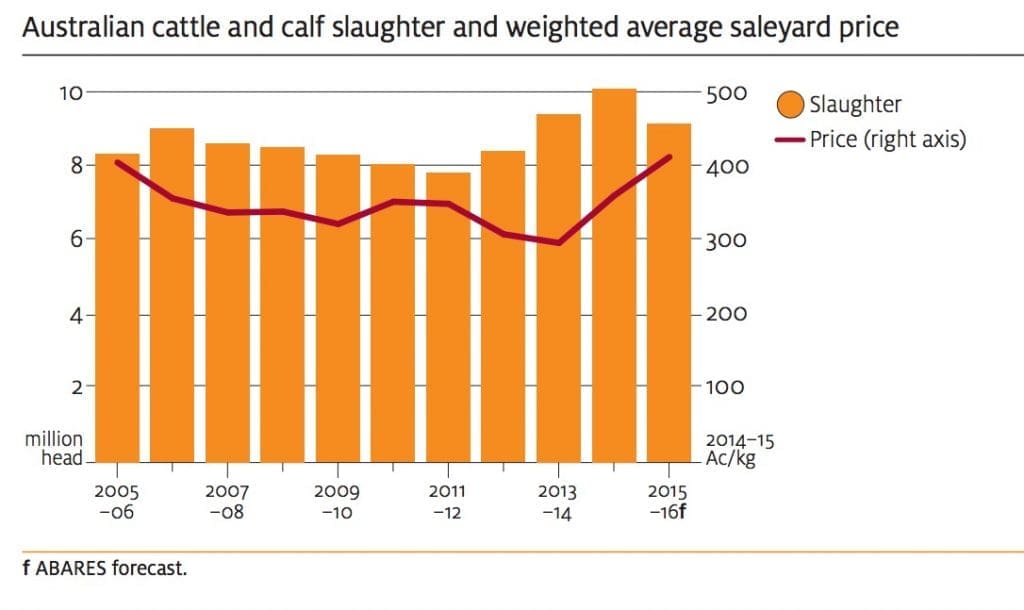 The Australian Government has revised up its expectations for cattle prices in 2015-16 in its latest cattle supply and demand forecasts released this morning.
In March the Government's official commodity forecaster ABARES predicted that saleyard cattle prices for the 2014-15 financial year ending June 30 would average 349c/kg dressed weight, and projected prices for 2015-16 to average 405c/kg dressed weight.
In its June quarter commodities report released this morning, ABARES has readjusted the 2014-15 saleyard price average 14c/kg higher to 363c/kg, while it has also revised up its forecast for saleyard prices for 2015-16c by 20c/kg to an average of 425c/kg.
That price is the highest in real terms since 2004–05.
The expectation of higher prices is based on forecasts for strong international demand for Australian beef and live cattle to continue next financial year, particularly from the US, Japan and South East Asia.
Australian cattle slaughter is expected to remain relatively high in the first half of 2015–16, assuming continued dryness in many regions in Queensland, northern New South Wales and Victoria, based on the recently confirmed El Nino weather phase.
Assuming that seasonal conditions improve in the second half of 2015-16, particularly in major producing regions of Queensland, northern New South Wales and Victoria, ABARES expects cattle slaughter rates to decline as producers focus on rebuilding their herds.
"This is expected to lead to greater competition between meat processors, lotfeeders, restockers and live cattle exporters, placing further upward pressure on cattle prices in the second half of 2015–16," the ABARES report states.
"A risk factor to this price outlook is the assumption about seasonal conditions in the second half of 2015–16.
"If seasonal conditions remain unfavourable, herd rebuilding is unlikely to occur and cattle slaughter could be higher than currently forecast— placing downward pressure on cattle prices.
"This would likely lead to the weighted average saleyard price averaging lower in the second half of 2015–16 and result in a markedly lower average yearly price than currently forecast."
ABARES says Australia slaughtered 10.2 million cattle in the current financial year, 7pc more than last year and the highest annual slaughter volume since the late 1970s.
This reflected both higher cattle prices and continued dry conditions in Queensland, parts of New South Wales and Victoria.
Female cattle slaughter accounted for 47 per cent of total cattle slaughter between July 2014 and April 2015, compared with 45 per cent in the same period a year earlier.
The female slaughter rate in Queensland however was 17 per cent higher year-on-year due to widespread rainfall deficiencies and forced turnoff of breeding cattle.
Next financial year, 2015–16, Australian cattle slaughter is forecast to fall by around 9 per cent to 9.2 million head.
While this represents a decline from 2014–15, the forecast volume is still around 7 per cent above the 10-year average to 2013–14.
The total Australian cattle herd (which includes is dairy cattle) is estimated to have fallen by 7 per cent in the past 12 months to a total of 27.0 million head.
It is forecast to decline by a further 3 per cent by 30 June 2016 to 26.1 million head, reflecting forecast relatively high slaughter and live exports in 2015–16.
Supply to constrain live export volumes in 2015-16
ABARES estimates that Australia exported a total of 1.2 million feeder and slaughter cattle in 2014-15, 20pc more than the previous year.
Exports to Indonesia and Vietnam were 23 per cent and 97 per cent higher year-on-year, respectively. Strengthening demand from Vietnam was particularly evident in the first quarter of 2015, when exports to the market totalled 95,000 head, only slightly below the 99,000 head exported to Indonesia in the same quarter.
Exports of Australian feeder cattle to Indonesia reached a monthly record of 121,000 head in April as exporters and importers raced to get cattle on feed in time for Ramadan.
Live exports of feeder and slaughter cattle from Australia in 2015–16 are forecast to decline by 8 per cent to 1.1 million head.
"While international demand for live cattle exports is expected to remain strong, the supply of cattle suitable for live export is forecast to fall because of lower Australian cattle inventory," ABARES notes.
To view the forecast in more detail click here