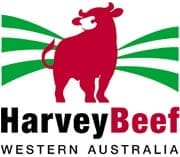 WESTERN Australia's first statewide beef supply chain competition has been launched by major processor Harvey Beef, with a $5000 prize pool as part of the incentive to participate.
The Harvey Beef Gate 2 Plate feedlot challenge will begins in January 2015, with entries comprising teams of three animals (two steers and a heifer), which are owner-bred.
The cattle will need to be grain-finished for 70-80 days before being processed at Harvey Beef, where carcase performance will be assessed using killfloor and chiller data, in addition to Meat Standards Australia criteria.
The challenge will assess cattle on their commercial attributes and profitability at each stage of the WA beef supply chain from feedlot entry to end consumer.
"Harvey Beef has long encouraged the pursuit of excellence in beef quality and production. By sponsoring this statewide challenge, we're hoping to inspire producers to enter their very best cattle, and benchmark their performance against others," said Harvey Beef general manager, Wayne Shaw.
The Feedlot Challenge is an initiative of the Albany Agricultural Society, and will be organised by a group of volunteers from several areas of the beef supply network from the Great Southern area of Western Australia.
Entries are already being accepted, with teams entered so farm from across the southern region of WA, from Gingin to Albany.
Entry forms and further information about the competition are available on the Albany Agricultural Society website, click here.