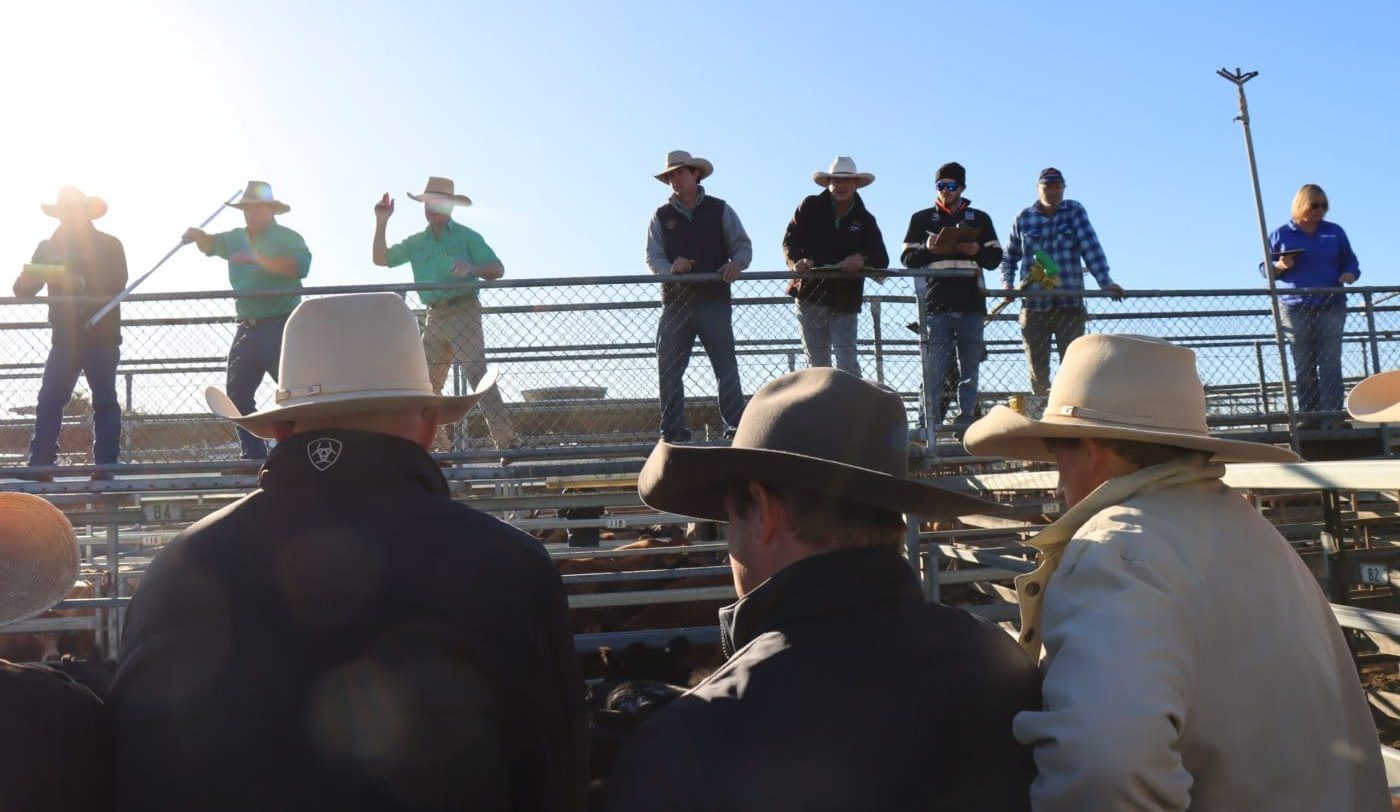 AVERAGE saleyard prices for cattle are forecast to fall to 560 cents per kilogram in 2023–24, down 15 percent from 662 cents per kilogram in 2022–23, reflecting higher cattle supply in saleyards at the national level, according to forecasts in ABARES' latest quarter commodity outlook report.
The expected onset of both El Niño conditions in the second half of 2023, and a positive Indian Ocean Dipole (IOD) event from August are expected to generate drier seasonal conditions across Australia.
In 2023–24, drier conditions are expected to reduce pasture availability and increase supplementary feed prices.
This is expected to reduce farm demand for cattle, raise turn-off rates, increase cattle supply in saleyards and lower saleyard prices.
However, cattle saleyard prices are expected to remain above their long-term average, supported by strong global demand for Australian beef exports.
Saleyard prices in northern Australia continue to maintain a premium over southern Australia despite the recent implementation of export restrictions on Australian live cattle exports to Indonesia and Malaysia.
Better pasture availability and a delayed start to the northern rebuilding cycle have supported restocker cattle demand in northern Australia, pushing northern cattle prices higher.
Conversely, an outlook for significantly drier seasonal conditions have effectively ended restocking activity, placing downward pressure on southern cattle prices.
Most of northern Australia experienced a good wet season and above average rainfall from May to June, leading to good soil moisture and average pasture growth. Pasture health and availability remain high in the cattle regions of central and northern Queensland, the Northern Territory and northern Western Australia.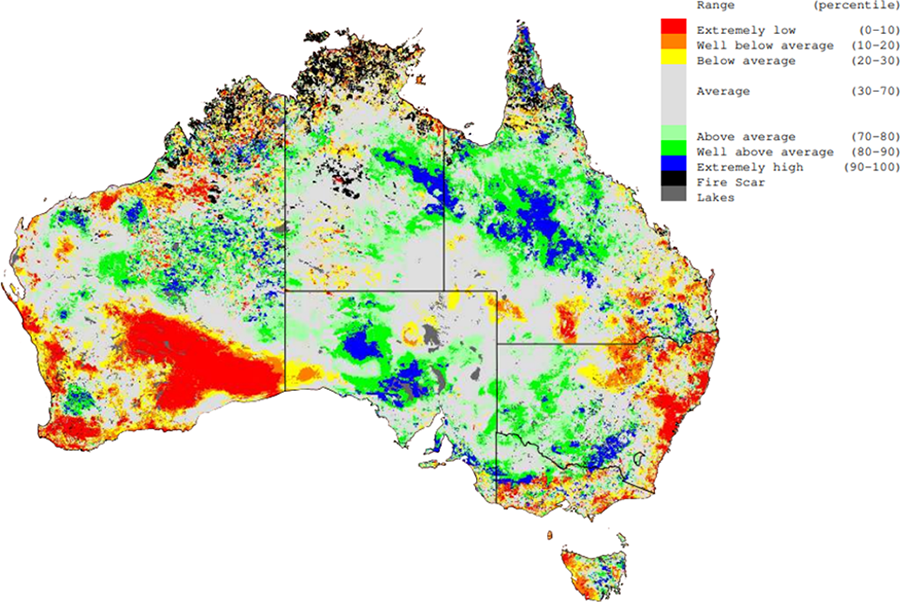 Australian beef export prices are forecast to fall as rising global beef supply – particularly from Australia and Brazil – outweighs stronger demand from China and the United States (see chart below).
Global beef prices are expected to fall by less than average Australian saleyard prices as growth in the supply of cattle to Australian saleyards is forecast to be larger than the growth in global beef supply.
This difference is expected to benefit domestic processors as the price margin between the cattle they buy and the exported beef they sell increases. Comparatively higher global beef prices will likely incentivise Australian processors to focus on supplying the export market rather than the domestic market.
Nonetheless global beef prices are expected to remain elevated. The Russian Federation's withdrawal from the Black Sea Grain Initiative is expected to keep grain input prices both elevated and volatile, increasing global production costs for grain-fed beef. This is expected to pressure beef producer margins and support global beef prices.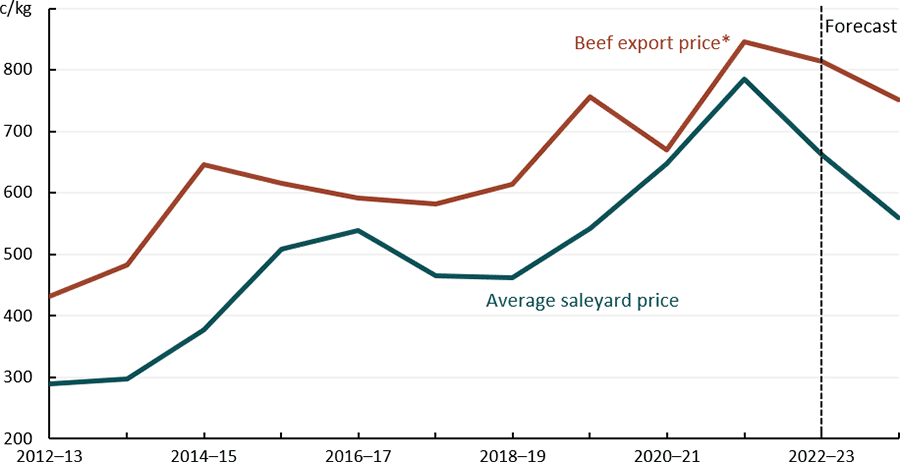 Australian beef and veal production volumes are forecast to rise by 14% to 2,293 kilotonnes (carcase weight) in 2023–24 as an increase in cattle slaughtered more than offsets lower cattle weights (Figure 1.4):
Cattle slaughter is forecast to increase to 7.4 million head in 2023–24 (up by 18% from 6.3 million head in 2022–23). A larger Australian cattle herd and drier seasonal conditions are expected to increase cattle turn-off, increasing cattle slaughter and beef production. The Australian cattle herd is expected to increase to 26.3 million head in 2023–24 due to favourable conditions in Northern Australia. If realised, this would be the largest Australian cattle herd since 2014–15.
Cattle slaughter weight is forecast to fall to an average of 307 kilograms per head in 2023–24 (down by 3% from 319 kilograms per head in 2022–23). Lower cattle weights are expected because of lower feed availability relative to 2022–23 and a higher proportion of female cattle being slaughtered. However, average cattle slaughter weights are expected to be the third highest on record after both 2021–22 and 2022–23.
Beef export volumes are expected to rise by 15% to 1,171 kilotonnes (shipped weight) in 2023–24 driven by increased domestic beef production.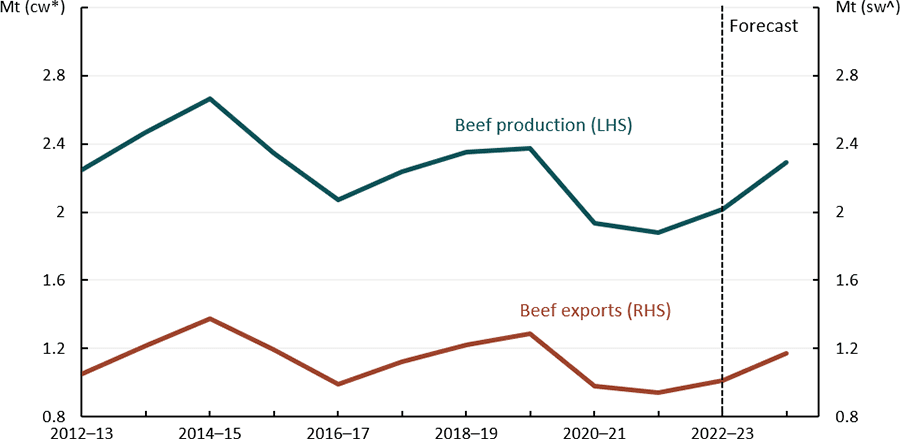 Source: ABARES. To read more of ABARES September 2023 commodities report, click here