CATTLE numbers rose this week back to pre-Easter levels to 23,854 head listed, an increase of 9643 head.
While still about 7000 head short of the all-time AuctionsPlus record offering set back on March 21, the offering still ranks in the top half-dozen of all time.
Prices in most stock categories remained firm with a couple reporting notable increases, while others corrected, suggesting that the market is flattening and true market value is being established as the industry attempts to gauge the external implications that the COVID-19 pandemic is having both domestically and off-shore.
As many producers are still looking to rebuild their numbers, prices for some females are exceeding $3000, yet nervous purchasing is also evident as long-term consequences of the COVID-19 shutdowns are yet to be felt.
Some notable price rises include cows and calves which increased by $81 to average $2208 and PTIC heifers which increased by $58 to average $1664.
PTIC cows were the only stock category to report any noticeable corrections, reducing by $99 to average $1868 this week.
Light steers remained firm on last week with yearling and grown steers coming off the boil slightly. Weaner heifers and grown heifers both reported marginal price increases.
Queensland and New South Wales both doubled their throughput this week with Southern Queensland being the largest listing region with 4403 head. The Central West of NSW continues its dominance in buying, securing just over 4000 head.
Several lines of breeders consisting of considerable numbers were sought-after, including: 72 SM Brahman and Brahman x cows, 2-14 years with 130kg CAF, from Prairie, Qld, which sold for $1400; 90 SM Hereford and Hereford x cows, 2-10 years with 100kg CAF, from Tambo, Qld, returned $1910; 71 SM Angus & Angus x heifers, 16-18 months, 344kg, from Llangothlin, NSW, made $1470; 120 SM Angus & Angus x cows, 3-6 years with 136kg CAF, from Tingha, NSW, selling for $2510; 98 PTIC Angus heifers, 24-36 months, 403kg, from Cohuna, VIC, made $1770; and 87 SM Angus cows, 2-3 years with 146kg CAF, from Cohuna, VIC, sold for $2500.
Joined females sold from $853 to $2410 this week and averaged $1753. Top price was returned by a line of 55 PTIC Angus cows from Scone, NSW. These cows were 42-50 months, 582kg, joined to Rennylea Angus bulls and will travel to Goondiwindi, QLD.
Cows and calves averaged $2363 this week, selling from 1400 to $3300. The top price of the sale was returned by a line of 15 PTIC Angus cows and calves from Tarcutta, NSW. These Crawford blood cows are 578kg, 3-4 years with calves at foot 6-7 months averaging 275kg.
Young cattle
Light steers less than 200kg sold from 356c to 669c this week, to average 531c. Top price went to a line of 54 unweaned Angus steers 5-6 months averaging 129kg from Bombala, NSW, which will make their way to Bathurst, NSW.
Steers 200-280kg averaged 472c this week, selling from 330c to 551c. Top price was returned by a line of 71 Angus weaned steers from Bundarra, NSW. These Booroomooka blood steers were 8-9 months averaging 229kg, and will travel to Jandowae, QLD.
Steers 280-330kg sold from 276-482c, averaging 406c. A line of 30 Halzeldean and Talooby blood Angus weaned steers 8-9 months averaging 283kg from Rylstone, NSW returned the top price, going to a local Mudgee buyer. Feedlot-suitable cattle averaging 330-400kg sold from 292-434c, averaging 366c. Highlights include 102 Santa cross backgrounder steers from Theodore, QLD selling for 356c. These steers averaged 341kg, were 15-20 months and will travel to Bollon, QLD.
Steers 400kg and above averaged 375c this week, selling from 362-393c. Highlights include a line of 40 Woodburn and Lindsay blood Murray Grey feeder steers 19-20 months averaging 460kg from Minhamite, VIC selling for 369c. They will travel to Lavington, NSW.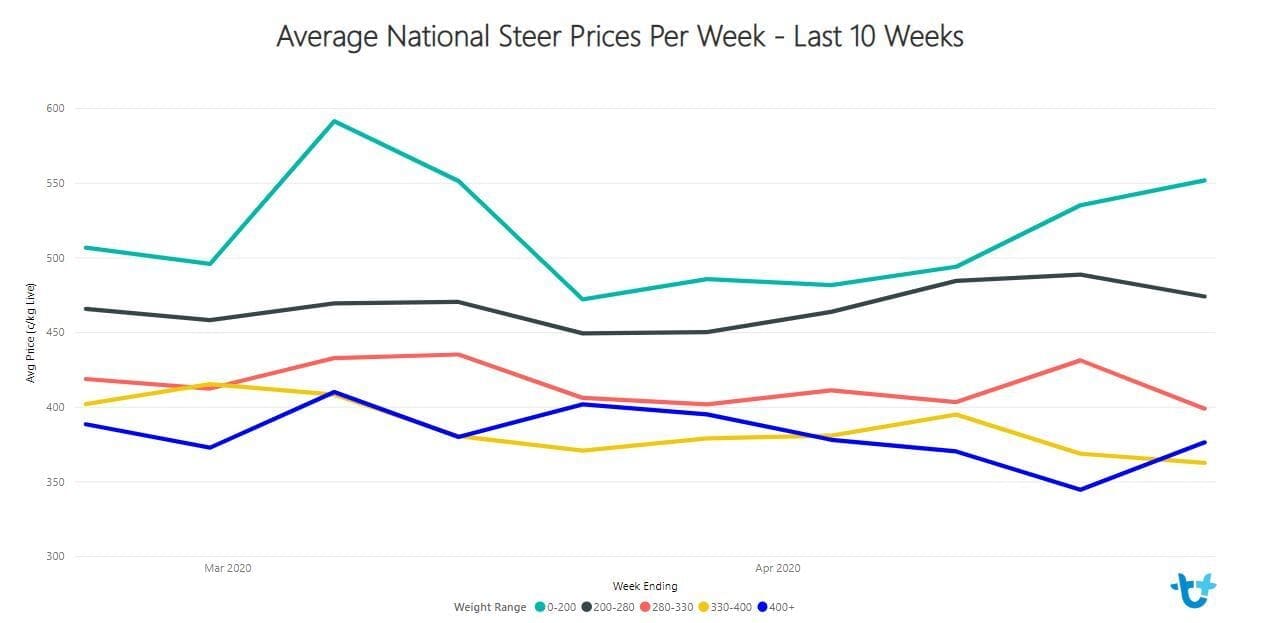 Light heifers less than 200kg sold from 330c to 592c this week and averaged 476c. Top price was returned by a line of 19 Angus cross weaner heifers 6-7 months averaging 156kg from Sodwalls, NSW, travelling to Oberon, NSW.
Heifers 200-280kg averaged 410c this week, selling from 290-509c. Top price went to a line of 100 Angus heifers 5-6 months averaging 218kg, from Bombala, NSW, which will make their way to Scone, NSW.
Heifers 280-330kg sold from 296-460c this week, averaging 371c. From Hall, ACT a line of 35 Angus cross heifers 9-10 months averaging 283kg, sold for 424c, travelling to Woodstock, NSW.
Heifers 330-400kg sold from 310-439c, averaging 372c. Highlights include a line of 34 Limousin x Angus heifers from Bundarra, NSW, returning 380c. These future breeders were 18-19 months averaging 347kg and will travel to Quirindi, NSW.
Heifers above 400kg sold from 311-362c this week, averaging 339c. From Moyhu, VIC the top price was achieved by a line of 71 future breeder Angus heifers 18-20 months, averaging 408kg. They will travel to Lavington, NSW.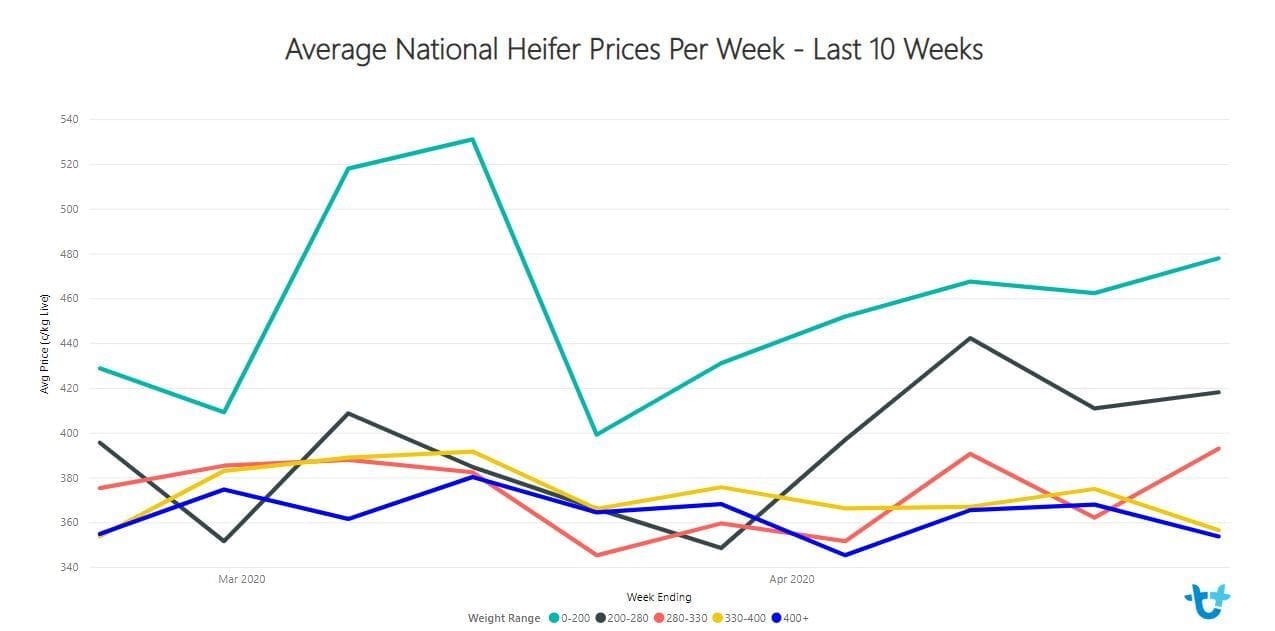 Ray White Livestock Guyra/Armidale offered 1300 New England bred cattle in their weaner & breeder offering in the NSW Weaner & Yearling Sale. Cattle were offered from Bundarra, Wandsworth, Guyra and Armidale and achieved over 90pc clearance.
Looking to Western Australia this week, 131 head were offered in the weekly WA sale. Weaned heifers sold from 332-366c, averaging 350c. From Mayanup a line of 59 Angus X heifers, 10-11 months, averaging 357kg returned the top price. A line of Murray Grey and Angus x weaned steers, 8-9 months, averaging 302kg from Boyup Brook, sold for 359c, while from Manjimup, a line of Friesian feeder steers, 30-36 months, averaging 273kg dressed sold for 440c/kg dressed or $1200/hd.
Looking to Tasmania, numbers eased this week but that did not hinder the bidding activity, achieving a 95pc clearance, selling 381 of the 402 head offered. All stock categories saw a price drop with overall prices decreasing to average $1080, selling from $580 to $1570. Weaner steers sold well achieving a 100pc clearance, selling from 298c to 510c, averaging 411c. Top price went to a line of Quarterway and Cluden Newry blood Angus steers aged 5-6 months, averaging 193kg.
Weaner heifers also achieved a 100pc clearance among the 62 head sold, selling from 276c to 418c, averaging 377c. From the same vendor, 5-7-month-old weaner heifers achieved the top price. These Quarterway and Cluden Newry blood Angus heifers averaged 226kg.
In a breakdown of young cattle sold this week, by weightrange:
Less than 200kg: Steers sold from 356-669c to average 552c/kg, while heifers sold from 330-593c to average 478c
200-280kg: Steers sold from 298-551c to average 474c, while heifers sold from 276-509c to average 418c
280-330kg: Steers sold from 276-482c to average 399c, while heifers sold from 296-460c to average 393c
330-400kg: Steers sold from 292-434c to average 363c, while heifers sold from 296-439c to average 357c
400+ kg: Steers sold from 334-396c to average 377c, while heifers sold from 312-362c to average 354c
Source: AuctionsPlus