LIGHTER weight steer and heifer prices trended higher this week, while PTIC females eased in a much smaller offering of just 7786 head of cattle on AuctionsPlus yesterday, in the lead-up to Easter.
In line with saleyards trends last week, numbers offered on AuctionsPlus declined 57pc, from more than 18,000 head the week before.
Despite strong clearance rates, cow and calf units experienced a drop in price, and PTIC cows and heifers also followed this trend. Central West NSW was again the biggest purchasing region, securing close to 25pc of the cattle sold.
Cow and calf units were in high demand again this week with a 98pc clearance. Despite this, prices overall were down $631 on last week's record highs, to see an average of $1704 and prices ranging between $1200 and $3250. J H McInnes from Everton, VIC offered a line of NSM Angus heifers & calves which made the top price of $3250. The heifers were 34-36 months, with 2-8 week old CAF which are heading to Brighton North. In NSW, Stockinbingal Pastoral Co at Camden sold a line of 24-30 month old, 434kg Rennylea/Narrangullen bloodline Angus heifers with CAF for $3240 which are bound for Quirindi.
PTIC cow listings were down by 389 head this week, to produce a total yarding of 835. Prices took a hit with the top price down $1000 on last weeks, tightening the range between $1300 and $2040, while the average dropped by $168 to $1741. Top price went to Kangaroo Mountain Pty Ltd from Coolac, NSW with a line of 27 PTIC cows, 5-6 years, averaging 455kg, heading to Pulletop, NSW.
PTIC heifers came back from last week's impressive prices. This week they averaged $1677, down $226, with prices ranging from $1430 to $2310. Top price was a line of 24 PTIC Angus heifers, 19-20 months averaging 490kg offered by Indian Creek Pty Ltd, Adjungbilly, NSW.
In QLD, Sustainable Land Management Australia, Listowel Downs, Blackall, QLD sold the top priced line of 328 PTIC heifers which was split across four lots, selling from $1640 to $1660. The predominately Santa line averaged 406kg and were 14-16 months old, heading to Coonamble and Dubbo in NSW, and Injune, QLD. They were being sold as part of the Listowel Downs breeder dispersal, as the property is due to be sold.
Young cattle
For the second week in a row, steer numbers were down with total yarding of 2510 head. The reduced numbers saw an upward price trend across most categories and a strong clearance rate of 75pc. Light steers under 200kg saw the second biggest jump, selling between 365c and 610c to average 504c, up 19c on last week. Top price went to a line of 17 unweaned Angus steers for Forest Lodge Enterprises, Wee Waa averaging 186kg at 7-9 months. They are heading to a buyer at Narrabri.
Steers 200-280kg were up 23c on last week to 489c, the biggest jump out of the steer categories as prices ranged from 367c to 550c. G W Smith Newbridge, NSW offered the top line of 46 Angus weaned steers, averaging 226kg at 7-8 months, heading to Walcha, NSW. In QLD, a line of 56 backgrounder steers from CJ Lee averaging 236kg at 8-12 months, sold for 471c, and are staying local in the St George area.
Steers 280-330kg sold from 351-430c, to average 405c, taking a small drop of 8c. Peter Beale, Mungallala, QLD sold the top line of 89 predominately Shorthorn backgrounder steers, averaging 312kg at 14-18 months, heading to St George.
Feeder steers 330-400kg sold between 226c to 422c this week, averaging 396c, up 8c from last week. Top price hailed from Gardiner Bros Farms, Caldwell, NSW with a line of 93 predominately Angus steers, 12-16 months, 348kg sold to Bathurst, NSW. In VIC Dalander Pty Ltd, Porepunkah sold a line of 32 unweaned steers, 10-12 months, 373kg for 414c to a buyer from Albury, NSW.
Heavy steers averaging +400kg saw a slight decline in average by 10c this week to hit 368c, ranging from 224-417c. Top price went to J & J Glare, Mumbannar, VIC for 90 feeder steers, 17-19 months averaging 422kg. The Landfall Angus bloodline steers sold to a feedlot in Northern NSW.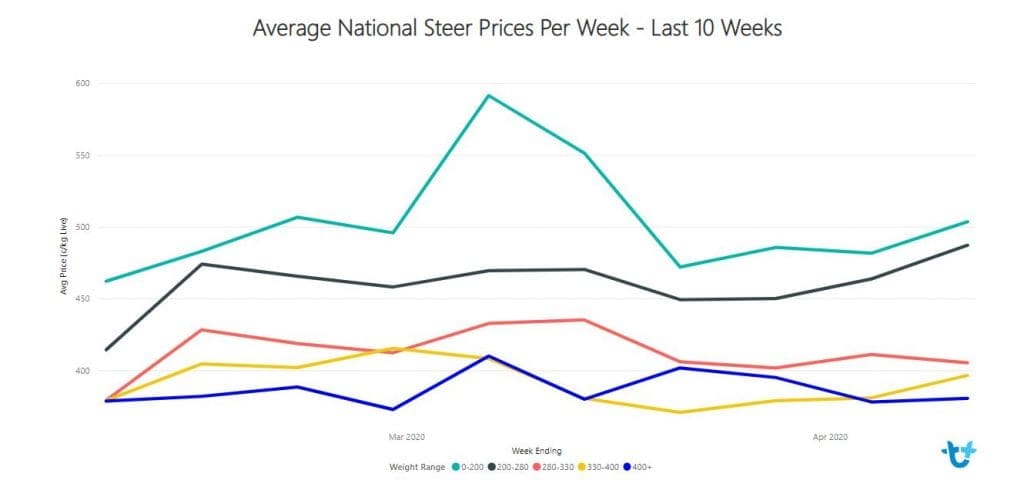 Like the steers, heifers saw a drop in numbers to see a total yarding online this week of 2330 head, down 4502 from last week. The cut in numbers however did relate to a rise in price across all categories.
Light heifers less than 200kg, sold between 462-524c, to average 479c. Top price went again to GW Smith, Newbridge, NSW for 41 unweaned heifers, 7-8 months, 191kg, purchased out of Dubbo, NSW.
In the 200-280kg category, heifers sold from 333-562c, averaging 447c, up 49c on last week. Forest Lodge Wee Waa hosted the top price line of 86 unweaned heifers, 8-10 months, 206kg, headed to Dubbo. In SA, Nangwarry Pastoral Co sold a line of 51 unweaned Angus heifers, 6-8 months, 201kg, for 433c. These heifers are travelling from Nangwarry into Yarra, NSW.
Heifers 280-330kg were priced between 328-436c this week to average 396c, up 40c on last week. Top of the category went to a line of 73 NSM future breeder heifers 14-16 months, 301kg from A & H Makin, Biniguy, NSW, heading west to Mudgee, NSW.
Feeder heifers, 330-400kg, sold from 323-399c this week to average 367c, firm on last week. Top price went to Seasons Farming, Weeaproinah with 76 Angus yearling heifers, 15-16 months, 344kg selling for 399c to a buyer from Bellbrae, VIC.
In Queensland, Nindooinbah Pty Ltd sold a line of 29 NSM predominately Ultra Black future breeders, 17-20 months, 387kg for 374c. They will stay locally in the Beaudesert area.
The heavy +400kg heifers hosted more numbers than last week and saw a 360-370c range with a 365c average. Top price was achieved in Cassilis, NSW, by Llangollen Pastoral Co, selling a line of 507kg, 18-20 month old predominately Angus heifers to Coolah, NSW. In VIC, Jasmel Nominees also hit 370c with a line of majority Alpine Angus blood heifers, 17-19 months, 441kg.
In Tasmania, there were 565 head offered in this week's sale. Clearance was slightly down to total 73pc, however prices remained strong. Heifers sold between 323-357c to average 330c, down 25c. Top price went to a run of unweaned Angus heifers, 8-9 months averaging 214kg offered by vendors Balcarres & PC Dixon from Relbia.
The average price for steers was down 33c on last week to 399c, with prices ranging between 225c and 442c. A line of 50 weaned Angus steers from Epping Forest topped the category. The Te Mania blood steers were 7-8 months averaging 247kg and will travel to the mainland to Wodonga in Northern VIC.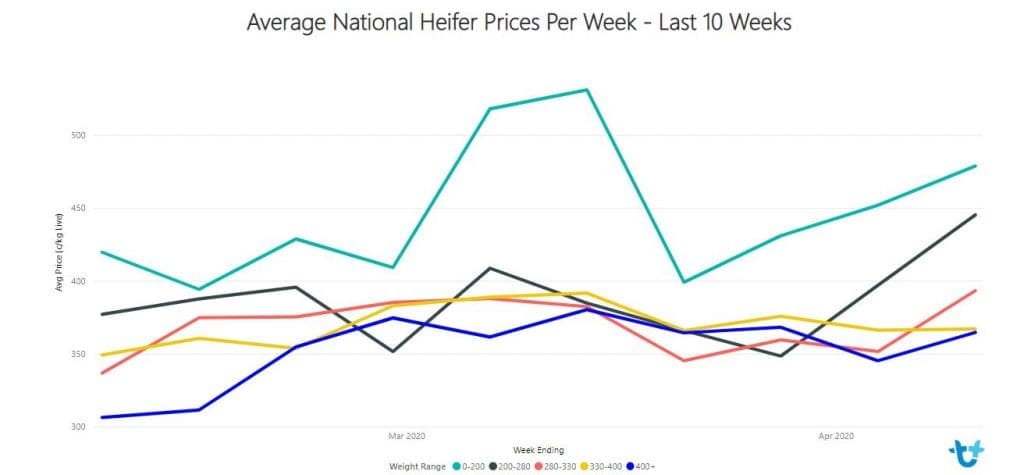 In a breakdown of young cattle sold this week, by weightrange:
Less than 200kg: Steers sold from 365-610c/kg to average 504c, while heifers sold from 462-524c to average 479c
200-280kg: Steers sold from 367-549c to average 487c, while heifers sold from 333-562c to average 447c
280-330kg: Steers sold from 352-430c to average 405c, while heifers sold from 328-436c to average 396c
330-400kg: Steers sold from 226-422c to average 396c, while heifers sold from 323-399c to average 367c
400+ kg: Steers sold from 225-417c to average 367c, while heifers sold from 360-370c to average 365c.
Source: AuctionsPlus