MOST young steer and heifer categories showed a rising price trend on AuctionsPlus this week.
Lightweight steers less than 200kg and 200-280kg were the exceptions, with softer prices on average.
Numbers increased by 604 head to 7513 head listed online. This week's sales concluded with a clearance of 83 percent, with completed sales expected to rise following post-sale negotiation.
New South Wales buyers dominated the purchasing, buying 47pc of the catalogue followed by Victoria, which accounted for 28pc of the catalogue.
Cows with calves at foot made $4 less than last week to average $1288 selling from $700 to $2200. The top price was returned by a line of 23 PTIC Angus cows six years of age averaging 577kg, with Angus calves at foot and re-joined to Charolais bulls, from Highlands, VIC.
Steers less than 280kg sold from 264c to 351c and averaged 307c, down 20c. Top price was returned by a line of Angus weaned steers from Glen Alice, NSW. These steers were 7-9 months of age averaging 219kg and will travel to Geelong, VIC. Other highlights included 83 backgrounder Charolais x Santa x Droughtmaster steers from Maidenhead, QLD, averaging 206kg at 7-14 months, selling for 296c to a buyer from Morven, QLD.
Steers 280-330kg sold from 264c to 354c and averaged 312c this week, up 11c. Top price was retuned by a line of 43 Angus cross yearling steers 12-13 months averaging 296kg from Narrabri, NSW. The steers will travel to Delungra, NSW.
Steers over 330kg sold from 271c to 344c and averaged 318c this week, up 14c. Top price was returned by a line of 80 Angus feeder steers 361kg at 12-15 months of age from Quirindi, NSW, which will travel to Goondiwindi, QLD.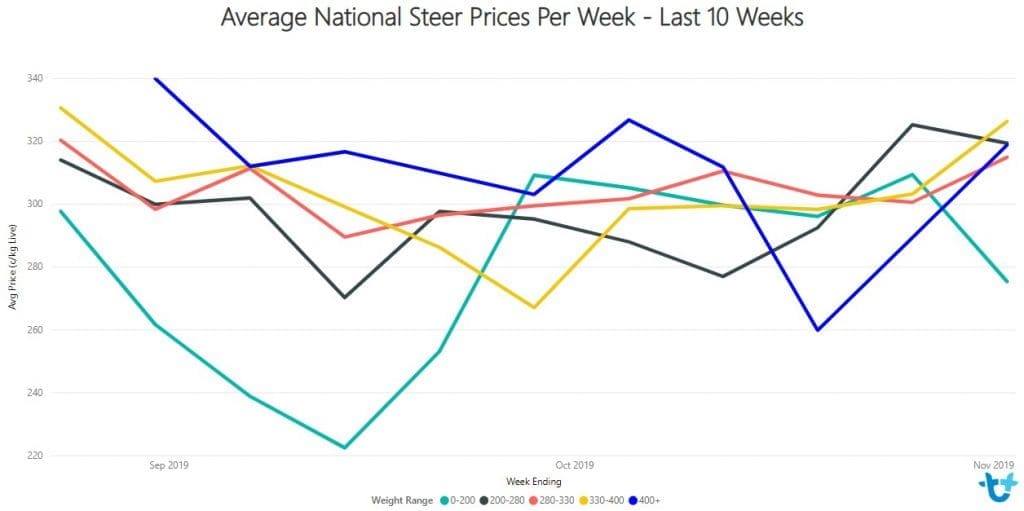 Heifers less than 280kg sold from 210c to 376c this week and averaged 276c, up 21c. Top price was returned by a line of eight Murray Grey yearling heifers 279kg, 13-14 months from Longford, TAS, travelling to Canyonleigh, NSW.
Heifers 280-330kg sold from 239c to 293c and averaged 270c this week, down 4c, while heifers over 330kg sold from 239c to 309c and averaged 278c, up 3c. Top price among heavy heifers was returned by a line of 50 yearlings from Niangala, NSW. These Angus x Hereford heifers were 413kg at 17-18 months.
Looking to the West, cattle from WA achieved a 76pc clearance from an offering of 141 head across five lots. The top price was returned by 25 Angus x Friesian heifers from Manjimup returning 450c/kg dressed or $1127.