SUMMARY
Yarded 4247
EYCI: 1113c/kg
Feeder rating (versus EYCI): -8pts
STEERS: 500-650kg: $2650-$3210, av 549c/kg: 360-500kg $2220-$3000 av 609c/kg; 280-360kg $1900-$2400, av 676c/kg.
HEIFERS: 360-500kg $2120-$2700 av 557c/kg; 280-360kg $1800-$2250, av 621c/kg.
GROWN steer and heifer values rose sharply at the Ballarat store cattle market on Friday.
Lifted by $100 to $150 a head compared to the centre's monthly-earlier annual feature sales, the sharp rise in grown cattle prices was fueled by an expanded field of lot feeder and processor orders butting heads with a fearless grass-finisher inquiry for lots suitable to fill winter slaughter supply needs.
Breeders seeking suitable young females to join also entered the fray during the heifer sale however the interest in all other younger cattle, although remaining keen, was not as intense.
Values for these classes averaged firm to $30 a head higher across a yarding of 4247 that didn't provide the large feature lines, the weight nor the consistency in quality as the annual February sales.
HF Richardson livestock manager, Bernie Nevins said that on the back of those February sales where heavy weaners (plus 400kg) were plentiful, less than half a lane was offered in this March sale.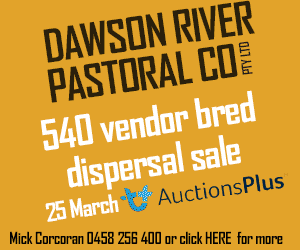 Heavy cattle were definitely $100/head dearer, the remainder, he said, were firm to dearer, with the exception of secondary heifers that were tougher.
"I'm guessing there will be no complaints, it was another terrific result" Mr Nevins said.
TB White joint principal Leo White agreed there was not the animation to competition to demand for weaners as was experienced in the annual sales.
"There were not the large runs like last month but they made similar money", Mr White said.
"Definitely, there a lot more plainer cattle while at times our local breeders were pushed aside by the lot feeders on the heavier and conditioned heifers" Mr White said.
Recently appointed Elders branch livestock manager, Nick Gray said the extra activity of one major processor for cattle to feed for the winter was a key to the improved heavy steer demand.
"It certainly fired-up prices for the really big boys (the heaviest of the grown steers) and it was spread across all colours and breeds" Mr Gray said.
"But it did tail-off towards the lighter end of the 400- 450kg feeders that were similarly priced to the previous sale".
Watch Beef Central's full post-sale interview with Nick Gray:
Leading off the sale vendor Marcus Hill sold a pen of 26 Angus, 611kg, at $3180 to Pakenham processor, O'Connor Beef.
The same buyer bid $3180 for a yard 16 Angus, 589kg, offered by Kenfig Partners while South Gippsland agency Elders Korumburra secured a yard of 23 Angus, 570kg, at $3160 from vendor Russell & Blurton.
Thomas Foods, South Australia and Teys feedlots, Charlton and Wagga were also active with the former inking a yard of 15 Angus, 505kg at $3000. These were offered by vendor L Grant while the Teys ordered bid $3070 to secure 19 Kenfig Angus weighed 521kg.
J&F Feedlots (JBS) focused its attention to the pens of coloured heavy steers securing several yards of Charolais and Hereford/Shorthorn steers.
At $3080 the order booked 25 Charolais, 590kg sold account Grigg Farm Bungaree while at $2790 it inked 10 Charolais , 534kg sold account Bulleharre Park.
Then at $2930, the J&F order claimed 25 Roan Baldy steers, 498kg, plus a pen of 13 of their heavier brothers, 568kg at $2750.
Returning for a third successive market but in the hands of different operator, Queensland lot feeder, Mort & Co once again had significant impact claiming multiple loads.
On its long list of procurements, it loaded 16 Mt View Produce Angus, 489kg, secured at $3000, 22 F&M Candeloro Angus, 426kg bought at $2510 and 41 KJ&LA Britt Angus, 430kg claimed at $2680.
Hopkins River, Dunkeld and AFJ Brien, Coonamble, NSW plus other undisclosed feedlot orders held by commission buyers Duncan Brown and Campbell Ross sustained demand at the 520-620c/kg level for steers weighed beyond 420, and to 600kg.
Watch vision of the grown steer sales: 
Sales of yearling-off and the heavier weaner steers were mostly capped at $2500 with most above 360kg sold above $2250.
This resulted in a slightly firmer market rate in the 600 to 640c/kg range while weaner steers back to 300kg found a market mainly based on 650-680kg with odds sales spiked to 750c/kg.
Some of the larger sales here included GA & RJ Pearce– 18 Angus, 408kg, sold at $2480, 20 Bullaharre Park Angus, 368kg sold at $2250 and 34 GA Crick & Co Angus, 369kg, sold at $2400.
RHK & JL Morish sold 20 Angus, 326kg at $2250, Windy Hill Co, sold 22 Angus, 346kg at $2320 while Marong Pastoral sold 57 Angus, 301kg at $2240.
A yard of 12 C Jarret Angus, 295kg made $2150 while a second Jarret pen of 24 Angus, 270kg made $2140.
As previously mentioned, heavy heifer sales won a bonus $100 lift in prices as sales made to $2700 on two occasions.
Sharing these top dollar sales were vendors Tanwood with a yard of nine Angus, 535kg and Glenleua, with a yard of 8 Angus, 540kg.
Stanford Earthmoving sold 16 Angus, 492kg at $2570 plus a further yard of 26 Angus, 461kg, sold at $2510.
Containing Boonaroo, Murdeduke and Te Mania bloodlines, the Stanford Angus heifers were secured by local breeders while Nebpak Enterprises sold 29 Angus, 384kg at $2290.
A large consignment of Sunset Ridge Angus heifers, Murdeduke-blood, was sold over three yards with a pen of 13, 437kg sold at $2400, a yard of 16, 420kg made $2380 while a yard of 12, 340kg, made $2030.
Northern interstate interests from Gunnedah, Tamworth, Hay, Albury and Cootamundra were all strong players throughout the heifer market as sales varied from a low of $1800, to $2200 or 550 to 700c/kg for restocker-backgrounder types.
To conclude the sale a mixed and unimpressive display of joined and calved females were sold accordingly.
Prices achieved for PTIC lots varied from $2100 to $3220 while cow and calf outfits made from $3200 to a best of $4050.
The market top was a yard of 14 by 14 Angus, 2017-18 drop with CAF, 3-5 months-old. Comprising Murdeduke-bloodline, these were sold in a herd dispersal for DL & JC Draffin along with a yard of 10×10 Coolana-blood Angus heifers that made $3450, with similar 3 to 5-month Angus calves at foot.