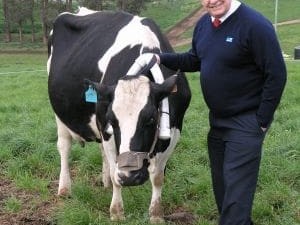 New research by the Department of Primary Industries in Victoria has found that feeding cattle the stems, seeds and skins from wine grapes can dramatically cut their methane emissions.
While the work has focused on dairy cattle, scientists at DPI's Centre for Dairy Excellence say the findings also have implications for beef cattle, particularly in feedlot conditions.
Scientists at DPI's Centre for Dairy Excellence at Ellinbank found that supplementing the cows' feed with grape marc, a waste product of the wine industry, reduced their emissions by 20 per cent.
It also increased milk production by five per cent and increased the healthy fatty acids in their milk when green feed was not available.
The cut to emissions is thought to represent the largest reduction of its kind ever attained through the use of a feed supplement.
The scientists supplemented the diet of dairy cows with five kilos of dried grape marc over 37 days and compared the results with other animals fed conventional fodder. They then measured the cows' milk yields, milk composition and methane emissions.
DPI scientist Peter Moate said the researchers were stunned by the results.
"We now know that supplementing a dairy cows' diet with dried grape marc increases the healthy fatty acids in milk by more than six times that of standard autumn fodder," Dr Moate said.
"These particular fatty acids are extremely potent in their ability to benefit heart health and are also known to help fight cancer, diabetes and arthritis."
Dr Moate said at this stage it appeared that a substantial increase in healthy fatty acids by adding grape marc to cows' diet only occurred when green feed was not available.
"However, using grape marc as a feed supplement appears to be extremely effective in increasing these healthy properties during drought or long dry seasons."
Dr Moate said there were also early indications that cows fed grape marc also produced milk with higher levels of healthy anti-oxidants and that further tests were being conducted to verify this.
He said on top of the cuts to emissions and the potential health benefits for milk drinkers, the discovery could also provide tangible benefits for the wine industry.
"We've managed to utilise what is currently a waste product for the wine industry and turn it into a very valuable feed source," Dr Moate said.
He said there was currently around 200,000 tonnes of grape marc produced in Australian wine-growing regions every year making it a readily available product for farmers.
However there were limits to the movement of grape marc because of quarantine restrictions to prevent the spread of the grapevine pest phylloxera.
He told ABC Radio that the findings had positive implications for dairy or beef operations located close to vineyards.
"Grape marc can be fed not only to dairy cows, but to any ruminant, say beef cattle in feedlots," he said.
"Probably three quarters of the Australian vineyards are along the Murray River, and there are dairy farms along the Murray and also beef feedlots. So any dairy or beef farm that are close to a vineyard could profitably utilise the grape marc."
Large quantities are already blended into feedlot rations for cattle in nearby feedlot locations, as a cost-efficient source of energy and roughage. Feedlots have even successfully ensiled grape marc, for out-of-season use.
Some successful Australian beef brands used overseas also use references to "wine fed' beef.
In another benefit to flow from the research, the results also showed that feeding grape marc to dairy cows also increased their daily milk production by five per cent.
Dr Moate said the trial was carried out towards the end of the lactation cycle and that the researchers hoped to repeat it during early lactation when the cows were producing more milk.
"It's possible that the benefits of using grape marc as a feed supplement in early lactation could be even more significant," he said.
Dr Moate said the research into using grape marc as a feed supplement was another example of DPI science aiming to enhance the productivity and profitability of Victorian food and fibre producers.
This research is part of a wider program looking the use of feed supplements to reduce methane emissions, such as brewers grains, cold-pressed canola meal, cottonseed meal, and hominy meal, all reduce methane emissions while supporting milk production.
Dr Moate said the use of grape marc together with other methane reducing feeds could result in a reduction in methane emissions of up to 20,000 tonnes per year – the equivalent of taking about 200,000 cars off the road.
Earlier nutrition research also indicated that the tannins contained in marc can lock-up iron compounds, potentially enhancing meat colour in carcases. Marc also contains large amounts anti-oxidents.