WEARABLE technology is changing our world in many ways.
Think iFit personal fitness bands, tracking devices that monitor player heart rates and distances run in sporting events, or watches that continually monitor the blood glucose levels of diabetics.
Surgeons now use Google glass devices to float medical images into their field of view during operations, eliminating the need to stop and access patient scans manually.
Wearable devices are also revolutionising elderly care, by tracking vital signs and minute-by-minute movements of patients and sending automatic alerts as soon as something is detected as being wrong.
But what about cattle? Can these innovations be adapted to enhance livestock management and earlier disease detection in the beef sector?
Some strong progress is already being made in this space, with one promising example outlined by leading feedlot veterinary consultant Dr Tony Batterham at last week's ALFA's SmartBeef Conference.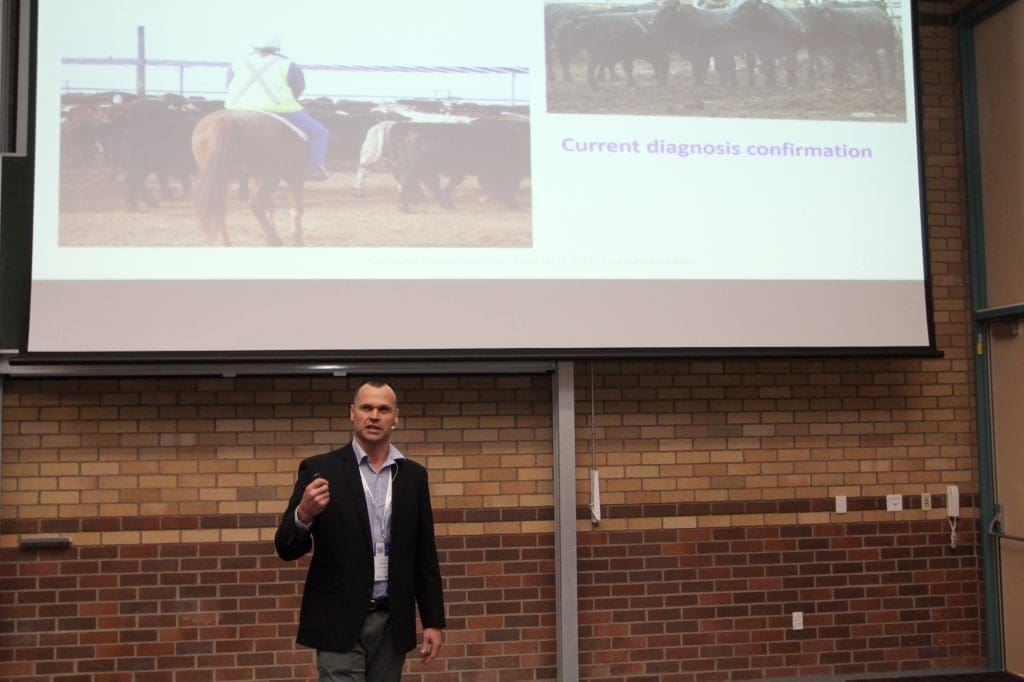 Dr Tony Batterham addresses ALFA's 2017 SmartBeef conference.
High-tech ear tags that can continually track and report animal behaviour are already being trialed in Australian feedlots to test their ability to more accurately and rapidly diagnose cattle with symptoms of Bovine Respiratory Disease (BRD).
Bovine Respiratory Disease is the most common cause of illness and death in Australian feedlot cattle, causing between 50pc and 90pc of all sickness and deaths.

Current methods of diagnosis are subjective, relying on trained pen riders to observe clinical signs of the disease.
Dr Batterham told the conference that pen riders have on average only about one second to make a decision on the health status of every head of cattle they see each morning, given the large number of cattle they have to monitor.
"Our pen riders have a big job…to do it in under one second per animal, this is an impressive effort."
Published research comparing rates of respiratory disease in carcases in meatworks with the number of cattle pulled for treatment from the same group by pen riders based on observed disease symptoms indicates that, on average, 32 percent of the time an animal is called not sick when it actually is. On the flip side, 28pc of the time an animal is called sick when it is not.
"Despite the fact we have some very good people involved here, we have a lot data behind this, we still oscillate around those levels of accuracy with our subjective based system," Dr Batterham said.
Added to that, there is still no gold standard method available to confirm diagnosis in the feedlot.
Promising technology developed in the United States could hold the answer.
A joint Meat and Livestock Australia and Australian Lot Feeders' Association project, funded by grainfed levies and matching Federal Government funds, is currently putting a new automated disease detection system developed by Precision Animal Solutions in Kansas, headed by Dr Brad White, to the test in Australian feedlots.
Dr White and his team have mapped the behaviour of known BRD cases, and have developed an algorithm to assess the behaviour of individual animals against known behaviours related to sickness.
Their REDI (Remote Early Disease Identification) system uses high-tech ear tags equipped with triaxial accelerometers to record the behaviours of individual animals in each feedlot pen.

Cattle fitted with round REDI ear tag devices.
The tags continually wirelessly transmit the data to wall points around the feedlot pen, which then feed the information to the REDI disease classification engine on a super computer based in Kansas.
The algorithm determines whether each animal is sick or not, through variables such as whether it is drinking more than others, not feeding as much and not covering as much distance.
The computer then generates a report back to the server at the local feedlot site every morning, detailing which animals need to be pulled for treatment.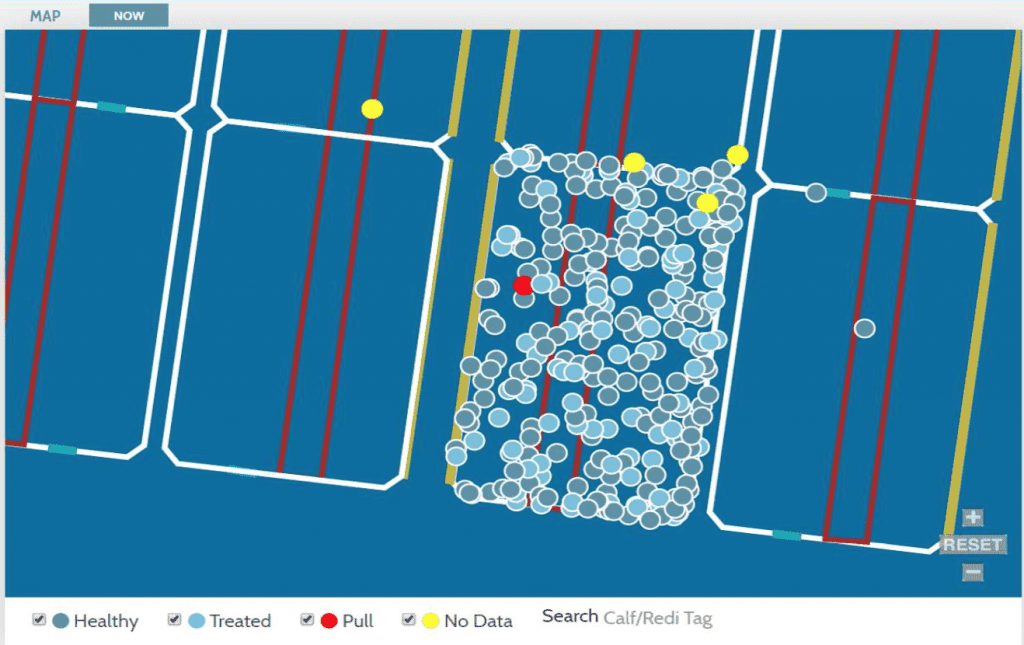 The MLA/ALFA project is seeking to to validate the technology in a commercial environment in Australia.
Two feedlots are participating, with each devoting 16 pens to the trial.
For the purposes of the trial a single source of cattle was split into two groups. One mob is treated as a conventional group, in which BRD symptoms are monitored conventionally by pen riders.
The second mob is equipped with REDI ear tags and fed in pens monitored by the REDI technology, where pen riders must follow the instructions of the REDI system and pull any cattle it identifies.
Dr Batterham said a study of the technology in the US indicated the REDI system on average pulled cattle about one day earlier than highly trained and experienced observers, and was more accurate at removing false positives. When the REDI system identified an animal as being sick, 93pc of the time it was sick.
Results from the Australian research will not be available until next year.
Dr Batterham stressed that this technology would not replace the need for pen riders.
"Pen riders will still be required, especially to actually pull the animal, but the identification of illness is being enhanced by this wearable technology. In addition, this technology is only being validated for respiratory disease in feedlots and pen riders are still required to recognise and treat other conditions as well."