WITH summer fast approaching, the widespread beef industry move towards adoption of cattle genetics oriented towards higher meat quality should spark a re-examination of measures used by lotfeeders to manage heat stress in feedlot cattle under their care.
That was the message yesterday from Australian Lot Feeders Association president Don Mackay, while providing an account during the BeefWorks feedlot industry forum about a heat stress incident last summer that led to significant stock losses across a number of feed yards.
The adoption of softer British breeds and a desire to bring meat quality improvement brought with it an elevated need to adjust approaches taken in feedlots over heat stress risk mitigation, stakeholders were told.
Mr Mackay illustrated his point with the big change in genetics seen within the Australian Agricultural Co's beef herd, during the period he acted as the company's managing director.
"Over that period company-bred cattle in its feedlots went from higher Bos indicus, to low bos indicus types, in the quest for meat quality improvement. We're seeing so many more softer British and composite type cattle entering feedyards today throughout all areas of Australia, driven by brand programs and Meat Standards Australia grading. We need to make sure that we update our assessment of those cattle and the associated heat stress risk, all the time, to reflect that trend," he said.
"There is no point in relying on a risk assessment done years ago based on higher Indicus cattle, if they are no longer truly representative of the cattle being fed."
Mr Mackay told the BeefWorks audience that regardless of whether stakeholders were climate change sceptics or believers, Australia continued to deliver extreme weather events.
"It's done it for centuries. Whether they are more frequent or more severe now I don't know, but they're going to keep coming. Intensive agriculture needs to make sure it is ahead in delivering tools to assist in the process of making sure we can manage such events as effectively as possible," he said.
While the two worst-affected feedlots in last year's heat stress episode did not use shade in feeding pens, Mr Mackay did not think the outcome would necessarily push the industry towards mandatory shade protection in feedlots.
"It's too simplistic to simply say 'let's put shade in every feedyard'," he said. "But I do think we all need to consider, going forward, the management of shade with regard to cattle type, and whatever the climate may deliver in coming years."
"Feedlot operators need to properly assess their environment, breed type and feeding regime – and do that on a regular basis – so that they clearly understand the changing risks that are associated with a hot environment."
In providing a detailed account of last summer's heat stress event, its impacts, and what had happened since, Mr Mackay said an important part of the post-event assessment process was in determining how best to learn from the event for the future.
While only two feedlots involved in last summer's event reached mortality thresholds requiring mandatory reporting, 'many others' reported losses on a smaller scale during the week in question. Beyond the beef industry, other animal protein producers, such as free range poultry, also recorded substantial mortalities during the weather event.
"We decided that the best thing for the feedlot industry was to be open about what happened," Mr Mackay said. "It might be uncomfortable and might challenge us, but if we talk about it and respond to what happened, we can look at managing such events better going forward."
Here's what happened last January:
The weather circumstances during the last week in January this year combined to create a 'perfect storm' in Queensland and NSW, which was likely to be seen only once in a hundred years, Mr Mackay said.
"It started with an extraordinary rainfall event and flooding combined with cold weather, and a number of feedlots faced the loss of electricity, telephone and access from staff and veterinary support. In one instance the feedlot operators could not get feed to the cattle because of flooding -the likes of which they had never seen before."
That extreme rainfall and cold conditions were followed by a sequence of extraordinary day and night temperatures, high humidity, high solar radiation and low wind-speed.
"That's the perfect storm for a feedlot heat-stress incident, and unfortunately it happened in this case," Mr Mackay said.
In a frank admission, he said that the event was 'not particularly well forecast' by the much-celebrated Katestone heat stress forecast model, used widely by the feedlot industry Australia wide.
While the Katestone predictive weather tool had proven reliable under most weather conditions, the 'really significant' factor here was the hot, wet, still weather preceded by cold, prolonged wet weather, producing a massive shift in feedlot environment.
On the last two days in January, in accordance with National feedlot Accreditation Scheme requirements, two feedlots notified ALFA that they had experienced cattle deaths that exceeded level-two reporting thresholds.
The cattle affected represented a variety of breed types and finishing stages, but were Bos Indicus influenced in some cases.
"In according with requirements, we notified the chief veterinary officer, the RSPCA, SafeMeat, and we formed an industry response group involving ALFA, MLA, and the Australian Cattle Vets Association," Mr Mackay said.
An independent review was launched to investigate the incidents, including a representative of the RSPCA, the department and the relevant industry bodies, visiting the two worst-hit feedlots after the event.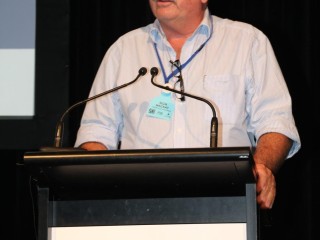 To their credit, both feedlots that had the reportable events were quick to report, were cooperative, and were keen to learn from what happened.
"The managers and staff were devastated, and the loss was obviously of great significance to them, as well as the other feedlots that sustained losses that week," Mr Mackay said.
"At the end of the day, it wasn't as simply as reaching out and saying this episode was caused by 'x'. It was a whole lot of things happening on the margins, and even if they had done it perfectly, and had shade access, they probably still would have lost a lot of cattle," he said.
"Mod-40s temperatures, 100pc humidity and zero wind, after a cold, very wet spell which left animals fatigued, was always going to have a serious impact."
He said the RSPCA had played an important part in the investigation, and took a practical approach to the process. "They are clearly supportive of the feedlot industry as an appropriate use of animals, and want to make sure that lotfeeders manage the process properly, and to have greater input into that. We want to make sure that we have an RSPCA that is fully-engaged with the industry, which is not playing on the edges. We need to work through such challenges with a reputable organisation," Mr Mackay said.
A report was drafted from the investigation, presenting a series of recommendation to the feedlots involved and the ALFA council in May.
"The key cause of the mortalities was clearly that cattle were both physically and mentally fatigued by the highly unusual weather conditions," Mr Mackay said. "There were some highly unusual aspects – a rapid transition from cold/wet, to very hot/wet, to hot/wet/still/humid over a period of seven days," he said.
The factors that the review team members believe contributed to the incident were that:
the Katestone forecasting tool did not adequately predict the impact
the two feedlots hitting the mortality reporting threshold did not have on-site weather stations
The heat-load action plans were, in the view of the review team, not sufficient. One of the key findings the review team made was that when an operator is under stress, as they obviously were in this situation, they could be pushed into a position where decision-making becomes difficult. As a result, a heat load action plan needs very clear contingency strategies to be embedded within it to allow managers to make clear decisions in such stressful situations.
The feedlots involved did not have pen shade installed.
Stocking densities were well within regulatory requirements, but with the benefit of hindsight, might have been too high for the prevailing conditions
There was no veterinary help at the time, in one case because there was no phone, no road access, and no means of getting any help on-site.
As a result of the review process, a number of industry-wide recommendations were approved by the ALFA council:
The first was a review of the Katestone forecasting model to ensure it can account for large and rapid increases in temperature and humidity
Development of a heat-load 'decision-making tree', to augment the current heat-load action plans that are widely used as part of feedlot accreditation.
The cost of installing on-site weather stations recording temperature, solar radiation, wind speed, humidity and rainfall can be quite high, and their mandatory adoption was a matter of some debate within the review committee. Lower-cost options are emerging for getting good, accurate, local weather information.
The micro-climate issue within a feedlot could necessitate shifting a current weather station to a more representative location.
The National Feedlot Accreditation Scheme should include a heat-load management option for letting cattle out of a pen, into a laneway or onto pasture, during extreme events. This has not been one of the decision-making options to this point, but in one case during last summer's event, cattle were let out into an adjoining paddock with good shade and water, and those animals survived well.
That strategies be developed to better train and educate lotfeeders, vets nutritionists and AusMeat auditors regarding heatload prevention and mitigation.
Mr Mackay said the industry's National Feedlot Accreditation Scheme was now approaching its 20-year anniversary, and it was timely to consider how well NFAS requirements surrounding heat stress currently functioned.
"Regular heat-load risk assessment needs to be undertaken during the summer, rather than just waiting for a hot day to arrive. Action plans need to have triggers for a lot of the contingencies surrounding issues like staff, electricity and phone access," he said.
"As an industry, and an organisation, we clearly need to accept and take on board what at times can be quite challenging and public issues like this, to make sure we are well equipped and have the tools to manage those issues better as they come along."
More Beefworks technical forum reports will appear on Beef Central in comings days.