Veteran cattle buyer Richard Eldershaw recently moved on from his position at Rangers Valley feedlot near Glen Innes, where he was responsible for the yard's livestock purchases for the past 28 years. Beef Central earlier suggested he may have bought more feeder cattle than anybody else in Australia's history. In recent years, livestock procurement at Rangers has involved 50,000 to 55,000 cattle each year, worth around $110 million. In this comment piece, Richard reflects on the changing nature of the feeder market over the past quarter century…
"Ah, Richard-san, from now on we only buy Angus & Murray Grey cattles."
Those words were spoken in 1989 in the office at Rangers Valley by Dr Henry Akutsu, the company's then Managing Director, and from that moment on, Rangers became the first Australian feedlot to exclusively target those breeds for its feeder requirements.
Certainly, Angus and Murray Greys had already found a few niches by that time. The live boat trade to Japan that grew in the 1980s was supplied exclusively by those breeds, and Nippon's new Whyalla feedlot and Mitsubishi's Killara feedlot had made some very prominent forays into the market. The ICM feedlot near Wangaratta in Victoria also had a black and grey program for its Japanese part-owner, Marubeni.
However, most feedlots in that era were happy to purchase most breeds, with perhaps a few limitations on Bos indicus or Euro content.
Three of Australia's biggest feedlots, Whyalla, Rockdale and Rangers Valley, were all built around that time by Japanese parent companies to secure supplies of grainfed export beef.
To the credit of progressive Angus breeders and their breed society, they were very quick to pick up on the message, and quickly started using higher growth sires, mainly from the US.
The preference from Japan, as the main driver of the grainfed beef demand in that era, was for big carcases around 450kg, which was not what Australia's Angus had been designed for up to that point.
It took a bit longer to start improving the breed's marbling performance, because marbling is a difficult attribute to accurately measure in a live animal, making breeding selections difficult.
The recorded Angus born in 2015 (and fed this year) are genetically about 100kg heavier at 600 days of age, and marbling potential has lifted nearly half a score on average compared with the cattle from a quarter of a century earlier.
Back to 1989, the Guyra/Ebor/Dorrigo area of northern NSW had significant numbers of Angus herds. The normal turnoff was a 400-420kg steer sold around April, at 20/21 months of age. Traditionally, these cattle went grass-finished to the likes of Woolworths.
In contrast, today, local properties like Guy Fawkes at Ebor can turn off 500kg steers four months earlier, before Christmas.
One of the great days out as a young cattle buyer was to meet up with local agent Brien Darby at the Ebor roadhouse, and get a guided tour of that spectacularly beautiful area, buying some good Angus cattle along the way from a variety of producers, and being entertained with a story for every mailbox we passed along the route.
Feeder procurement becomes more strategic
The bigger lotfeeding companies gradually became more focussed on their feeder buying. They quickly worked out that saleyards were not ideal for feeder purchases, with associated logistics and animal health problems. Rangers Valley was the first to introduce a 'pencil shrink', rather than disruptive overnight curfews prior to weighing.
Murray Greys eventually slipped off the radar, for several reasons. However, whilst Angus cattle dominated the longer-fed programs, there still are major feeding programs of other breeds.
For export, other British breeds are still popular for the 150-day fed programs, and many Queensland feedlots rely on the 'flatback' crosses (virtually any beef breed with no more than 50pc bos indicus, with minimal hump) for their 100-day programs, which provide the daily fare for several processing companies in that region.  The backgrounding and feeding of these cattle is a massive part of the grazing industry in South East Queensland.
Despite the prominence of the feeder and grainfed markets, Australian grassfed product still goes in equal volumes to Japan, our largest beef customer. But this hasn't stopped the massive change of colour of our breeding herd in Australia's temperate zones, due to the demand for Angus feeders. It has been a huge hip-pocket response, and shows that breeders can certainly adapt and change behaviour when the rewards are there.
What has also changed is that Australian chilled grainfed beef now not only goes to Japan, but also to South Korea, Taiwan, the EU, the Middle East and even the US, the home of grainfed beef.
We also shouldn't ignore the domestic reliance on grainfed cattle now. The major supermarkets all need grainfed cattle to maintain quality and consistency of supply. Many sales are well supported by buyers for the numerous, smaller domestic-focused feedlots.
Growth in AuctionsPlus
One of the other major changes in cattle marketing has been the growth of AuctionsPlus online marketing.
AuctionsPlus has been fantastic for discovering restocker buyers for lighter cattle and breeding cattle. But lines of 400-500kg heavy feeder steers are still under-represented in the catalogues, as the field of potential buyers for those cattle is relatively thin and well-known, and they are ready to buy direct ex the paddock most of the time.
Wagyu explosion
That brings us to the Wagyu explosion of recent years. Most major beef companies now have a Wagyu program, and there may be 150,000 on feed in Australia, from F1s to Fullbloods. Feedlots love Wagyu because of their good respiratory health performance, and their length of tenure in the feedlot requiring minimal handling.
Wagyu have had their ups and downs in the market, being hit at various times by high grain prices, fluctuating currency value, BSE upheavals, meat substitution scandals, financial crises, even the Japanese Tsunami. But they are definitely here to stay – maybe in a big way, maybe in a smaller way. Generally, if the consumer can afford higher quality beef, they'll prefer it.
No doubt the Australian feeder market will continue to evolve. The collection of data on performance, the collation of data into useful information, and the application of that knowledge to improve profits will no doubt increase, assisted by technology.
Further reading – "Grainfed: The history of the Australian feedlot industry"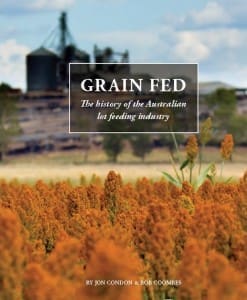 Readers interested in the early origins of the Australian grainfed beef sector should take a look at the coffee-table book, "Grainfed – the history of the lotfeeding industry," written by Jon Condon and Bob Coombs.
Richly illustrated with more than 100 historically significant photos and a colourful narrative about the industry's formative years, and the people and events that shaped it, the 170-page book can be purchased from the Australian Lot Feeders Association. Price $60 plus postage.  Click here to access.