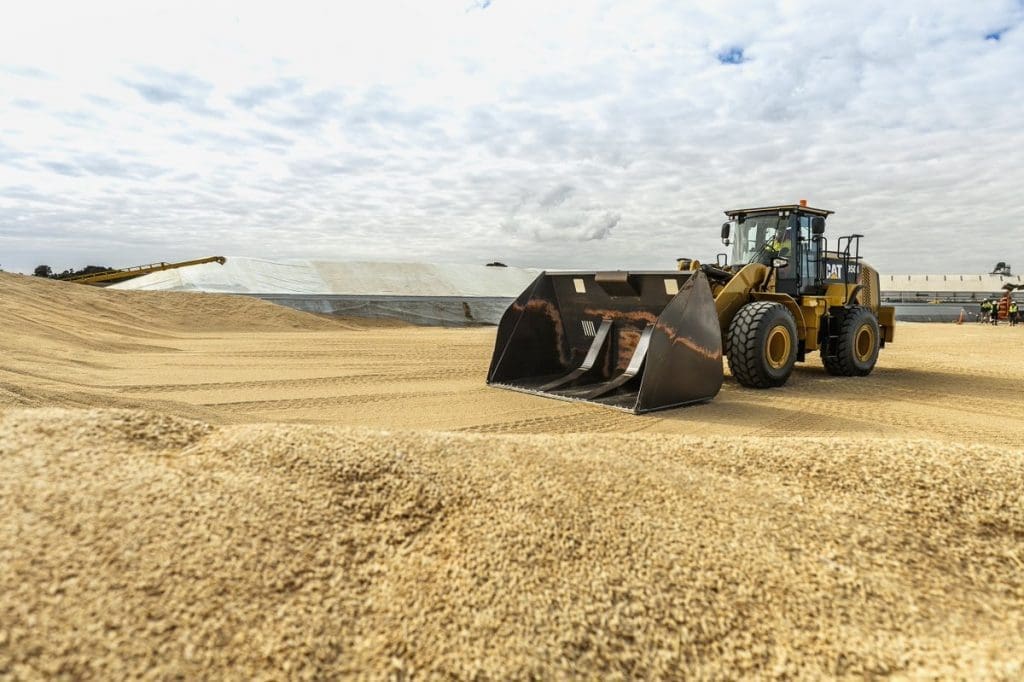 SPECULATION about attempts to import feedgrain from other countries have circulated for the past six months, as domestic grain prices have shot to unprecedented, crippling levels.
The Australian Lot Feeders Association on Friday told Beef Central there was no doubt that grainfed industry stakeholders were 'looking at the prospect', but there were no import protocols currently in place for grain, and any attempts to establish a protocol would be 'quite a lengthy process.'
Lotfeeders in Queensland and most parts of NSW have been left with few supply options, following successive northern crop failures. One estimate suggested close to 700,000 tonnes of wheat and barley had now made its way around the coast by ship from WA and SA, since July, as northern supply has dwindled, arriving in ports as far north as Gladstone.
Veteran Darling Downs lotfeeder Kev Roberts, from Sandalwood feedlot near Dalby, is one stakeholder who is actively lobbying for the industry to re-visit the importation issue.
A former president of the Australian Lot Feeders Association, Mr Roberts was at the epi-centre of the industry's first and only feedgrain import episode that took place during a period of desperate nationwide grain shortage during drought in 1996.
He thinks the time is again right for the industry to consider mounting a case for importation.
Mr Roberts said in 1996, Australia was in danger of running out of feedgrain. Then Federal Minister Bob Collins brought together the intensive livestock industries and various grain boards to come up with a solution to ensure grain access through import.
"The grain boards were the only ones with any grain left in storage, and they were treating us (intensive livestock producers, including beef, pork, poultry and dairy) with absolute contempt at the time," Mr Roberts said.
"It's a similar case now – we're being held to ransom on price, in the absence of any grain import option. If the feedlot industry was able to import some grain requirements at the moment, feedgrain prices would be considerably cheaper than what they currently are."
In calculations he carried out a couple of months ago (domestic grain prices have only rise further since then), Mr Roberts arrived at a price advantage of $80/t in importing US corn, delivered Darling Downs, over domestic wheat/barley (adjusted for each grain's energy and nutrient value). That calculation was based on corn out of the west coast of the US, imported into Brisbane.
50,000t of US corn imported in 1996
In 1996, an importation of some 50,000 tonnes of US corn for feedlot use was executed, along with other consignments of wheat/barley by the poultry industry, which was able to heat-process the grain at port to meet import risk assessment protocols.
"The grains industry had stirred up so much fear about importation of weed seeds and diseases, that they convinced AQIS that any import would destroy the wheat barley and sorghum industry in Australia," he said. "We had to go to extraordinary – some would say unnecessary – lengths to meet the import protocol requirements."
Beef feedlot operators who formed a consortium to undertake the 1996 importation paid for the development of a grain drying/heating process (whole grain, not steam flaking) which heated the imported consignment to temperatures above 90 degrees c, neutralising any weed or disease risk, and satisfying an AQIS risk assessment. At great expense, the imported grain was permitted to be taken up-country, to feedlot locations.
Not long after the 1996 US corn consignment arrived, good rains arrived, and the grain supply pressure started to ease.
"If lotfeeders were able to import grain this year, under a workable import protocol, it's economical now," Mr Roberts said.
"While there is technically no grain shortage in Australia this year due to supplies out of WA and SA, current market prices for grain are as high as they are because suppliers know there is no way the intensive livestock industries can currently import grain," he said.
"This year's circumstances are about price, more than outright availability. There's no question in my mind that access to a supply of imported grain this year would put downward pressure on domestic grain prices."
Topic for AGM
Mr Roberts said he intended to raise the matter of grain importation at the annual general meeting of the Australian Lot Feeders Association, being held in Brisbane tomorrow afternoon (Tuesday) during the industry's BeefEx 2018 conference.
He said he was disappointed with ALFA's response to issues he raised with the industry body seven weeks ago over grain price and supply, and the prospects for importation, with government support due to current extreme circumstances.
"It (grain importation) has been done before. I can't accept that there's not price gouging going on at present by grain suppliers. You can't tell me that local sorghum, delivered downs at $430/t, or wheat/barley at around $456/t does not represent somebody having a go at us, as customers."
"There's no question, in my mind, that if lotfeeders were currently able to source corn, appropriately and cost-effectively treated, out of the US, prices for feedgrain would be considerably lower than what they currently are."
Mr Roberts said it was regrettable that the feedlot industry some years ago had chosen to discontinue long-running research into grain devitalisation treatment processes compatible with grain importation.
He said there was no question that any suggestion of grain importation had to protect Australia's high levels of biosecurity in terms of weed and disease risk.
"If we are going to bring grain up-country, it has to be safe. All the potential bugs have to be taken care-of. But at the same time, we should not be at the mercy of the market, simply because we cannot import. We ought to have an acceptable import process, at our disposal."
Mr Roberts said it was not too late for some form of grain importation process to be launched this year, given that new season sorghum was currently being bid for March delivery at $380/t.
"This drought didn't start yesterday. We knew at the end of March that Queensland lotfeeders were going to come under considerable price pressure. The industry should have acted then," he said.