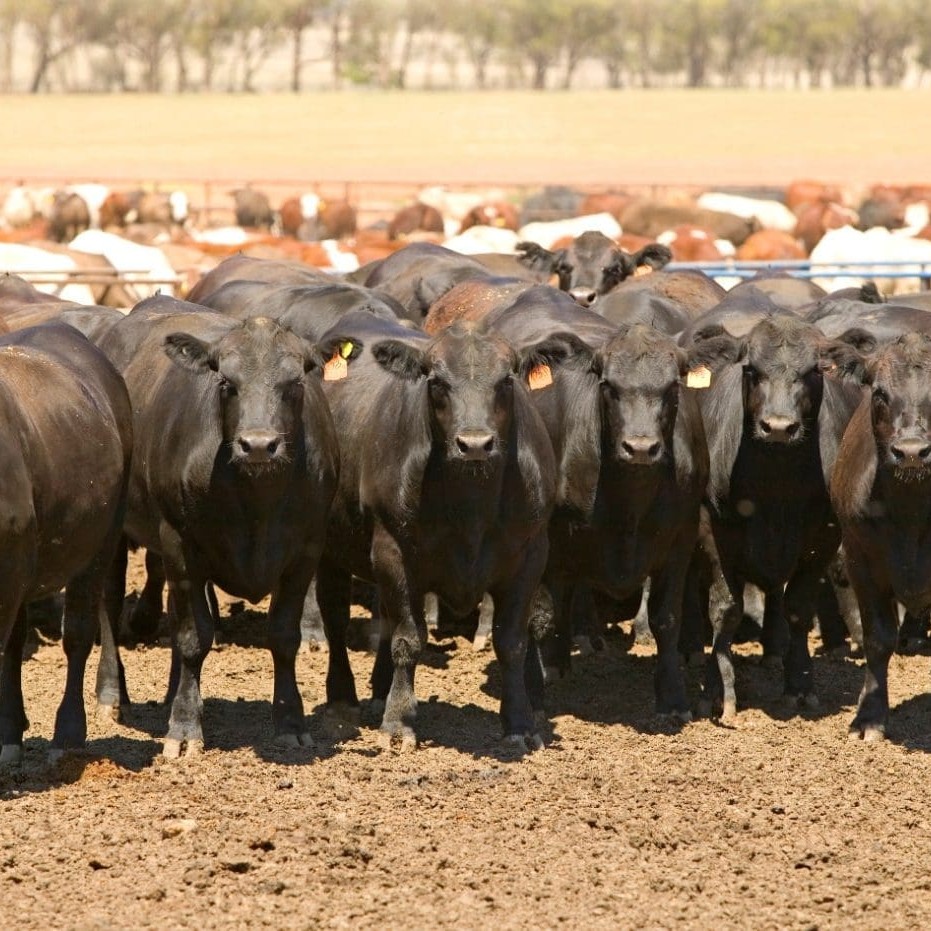 Margins on feeding 100-day grainfed cattle continued to descend deeper into loss in Beef Central's latest fortnightly trading budget compiled yesterday, revealing a minus-$40 result on a typical Darling Downs-based grainfeeding program.
That should come as no surprise, given the recent dramatic shifts in global grain prices, driven by the disastrous drought impact on the current US corn crop.
Beef Central's regular feedgrain outlook columnist Luke Walker sums-up the sheers size of the US grain 'hole' this year in this morning's column (click here to view). He says the revised US harvest estimate of 277 million tonnes means that potentially, 98mt of US corn has been lost this year to drought. To put that into perspective, Australia's total annual crop of wheat, barley and sorghum often totals only around 36mt.
There is talk in the US this week of the prospect of applying limits this year on corn use for ethanol production, and possible importation of corn from Brazil, at a freight cost of US$30-$40/t – both unprecedented moves.
The start of the latest slide in profitability in Australian 100-day grainfed cattle due to rising grain prices was captured in Beef Central's previous trading budget compiled a fortnight ago, but the margins continue to deteriorate in yesterday's calculation.
Feed wheat prices have now risen about $80/t since the start of the year.
Even factoring in feedlot stocks of grain for current use bought earlier at cheaper prices, the current movements are now seriously impacting on lotfeeding profitability, using our standard 100-day set of variables (see description at bottom of page.)
From a negative $21 trading result in our budget in mid-June, and -$36.50 result a fortnight ago, yesterday's calculation has pushed the trading proposition back further, to negative $40 – primarily based on rising ration cost.
That's based on Beef Central's typical shortfed beast entering the feedyard yesterday, and closing-out after 105 days on feed on November 8. Contrast this with two consecutive slightly positive trade results back in May.
For yesterday's trading budget, we've lifted the feeder steer buy price 5c to 200c (based on recent saleyards results, it could be argued that 205c is more realistic, but no feedlots are quoting that high). The rise is supported by recent persistent rainfall which perhaps has held feeder prices across eastern Australia higher than would otherwise be expected.
The other factor is the presence of a big body of winter feed and solid soil moisture profile, elevating competition from grass finishers for the same young cattle heading into spring, and reducing the urgency for breeders to lighten-off numbers over winter.
Illustrating this, Queensland's Roma store sale on Tuesday yarded 8500 head. Despite the weight of numbers, lightweight yearling steers returned to the paddock were 14c dearer, averaging at 228c, with a number of sales at 241c/kg. A large selection of medium weights sold to feeder operators 3c better averaging 199c with occasional sales to 222c/kg. Heavy feeders improved 7c to average 197c and sold to 203c/kg.
If anything, domestic weight feeder cattle 330-400kg suitable for the supermarket trade kicked harder than their heavier cohorts +400kg suitable for the 100-day market.
This time 12 months ago, the feeder steer market was still under considerable pressure, sitting at around 175-180c.
Pricing yesterday's P&L budget feeder steer (flatback crossbred, ex-Darling Downs) at 200c values him at a neat $900, up from $877 a fortnight ago, but still some way from our January 9 steer value of $967.
Finished ration price applied in yesterday's calculation was lifted a further $10/tonne from a fortnight ago to $270/t. That might look moderate, but many yards still have grain stock on hand, bought at earlier lower prices. But it's still not easy to pick a representative ration price this week, because every feedlot's grain procurement strategy is different. Some may have grain to cover themselves three months out; others much less. How long pre-existing stocks last is also determined by how full each feedlot is.
The current ration price represents a total feeding cost over 105 days of $423 ($407 last time), and a total production cost calculated at $1416 ($1377). That's the highest seen since March/April last year when feedlot were paying 210-215c for feeders, and ration price was $250/t.
Cost of gain in the southeast Queensland market, using our chosen variables (210kg gain over 105 days, costing 391c) has lifted from 194c/kg a fortnight ago to 210c/kg yesterday. The last time a figure that high was seen was in May/June last year, when ration price hit $265-$270.
Applying these variables suggests a breakeven figure in yesterday's proposition at 400c/kg dressed weight, up 10c from where it sat a fortnight ago, based on a 360kg hot dressed carcase. The last time we saw breakevens that high was late December/early January, but realistically at that time of year there would have been few trades at those values.
Based on current thin market signals, with bids currently a long way from the offers, we have lifted the forward contract market price for 100-day grainfeds with major processors 10c to 390c/kg. That's where there may be some business done, however export processors are under considerable pressure at present with the higher exchange rate and flat demand out of big grainfed markets like Japan and Korea.
Keep in mind, however the historically, the grainfed export cattle market price peaks in late November/early December, aligning with seasonal pasture growth.
One prominent grainfed market player told Beef Central yesterday that current weekly placements in feedlots (particularly custom feeders) is probably back to just 30pc of what was being seen six weeks ago. That would suggest the current feedlot occupancy cycle may now have well and truly peaked, and may take some considerable time to rekindle.
Tightening of cattle supplies and higher feeder prices, together with the momentum in grain price, may see a substantial decline in feedlot numbers in coming months, stakeholders suggest – particularly while high currency is overlaid on that.
Added to that, the US market, as Australia's major export competitor, continues to weaken. US live cattle futures went down further yesterday, due to the drought conditions and cattlemen exiting their stock. That has to be detrimental in the shorter-term for Australia's prospects in Korea and Japan. In the medium, term, however, there will inevitably be a further tightening in US beef supply, based on lower days on feed, and lower feedlot cattle placements.
As mentioned in our introductory remarks, the forward price used in yesterday's trading budget translates into a trading loss of about $40 a head. Apply typical meatworks downgrades on shortfed cattle, and the budget could easily be a further $8-$10/head in the red, however.
Looking back to our equivalent trading budget from this time last year, forward contract cattle were being quoted at 350c in mid-July – a period of depressed outlook for export processors as US exports and currency issues took hold. Feeder cattle were bid at 175c – a $100/head difference from today – and ration price was about the same. Last year's breakeven figure was 360c, compared with 400c today. Currency value this time last year was around 104c.
Spot market position
While it was something of a case of 'pick a number' for yesterday's SEQ processor grids for spot market 100-day 0-2 tooth cattle, 390c is probably representative, on very thin trade – about 20c/kg above where it sat a fortnight ago.
That means cattle forward-bought back in mid-April at around 380c/kg are probably returning processors a small profit, relative to yesterday's spot market.
Beef Central's regular 100-day grainfed breakeven scenario is based on a representative standard set of production variables, ex Darling Downs. They include a 356kg dressed weight; ADG of 2kg; consumption 15kg and a NFE ratio of 7.5:1 (as fed); $25 freight; typical implant program; interest component. It is important to note that variations exist across production models (feed conversion, daily gain, mortality, morbidity, carcase specification); from feedlot to feedlot; and between mobs of cattle. For a more specific performance forecast on a given mob of cattle, consult with your preferred custom feeder.