A rise in feeder cattle price more than offset a soft decline in ration costs in Beef Central's latest 100-day grainfed trading budget calculated today.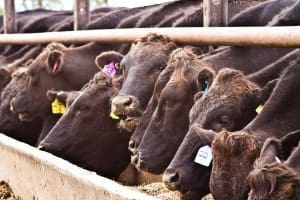 Using our standard set of variables (see full list at base of page) this morning's calculation, based on a flatback feeder steer entering a Darling Downs feedlot today, and closing out after 105 days in mid-October, has produced a loss of $43 a head. That's a $15 deterioration on our last calculation three weeks ago.
For today's budget, we've lifted our flatback feeder steer price ex Darling Downs to 195c/kg, up 5c from mid-June's report.
The feeder steer market appears to be steadily firming across the board. Certainly there is good demand out in front for grainfed cattle, but equally, with the season as it's been, there isn't an oversupply of export-weight feeder-ready cattle, +380kg.
Feeder pricing did back-off a little for a period post-Easter, falling to around 180c due to the big flow of cattle onto the market, but the market has since recovered that lost ground and moved forward a little. It's still well-short of our series record of 215c/kg set back in January 2012, however.
This time a year ago as drought was taking hold, feeder price was still just 160c/kg, representing a significant variation since.
Pricing today's feeder steer at 195c values him at $877, up $22 on three weeks ago.
Ration price softens on the back of grain price trends
Recent movement in grain prices has prompted us to reduce ration price by $5/t in today's budget, to $375/t.
Luke Walker from Toowoomba's Robinson Grains, who writes Beef Central's popular feedgrains column, has Darling Downs wheat this morning at $345/t, down about $10/t on a fortnight ago, and perhaps $15 below where it sat this time last month. Sorghum this morning was quoted at $285/t, little changed from a fortnight ago, while barley is also fairly steady at $346/t, down only marginally from around $350/t earlier.
But a word of caution: ration prices being charged by southern Queensland custom-feeders are currently in a state of flux, with some large yards actually lifting prices for rations last week, on the basis of heavy customer demand and high occupancy levels.
Elsewhere, ration prices are easing a little in other yards, as the impact of softer grain prices starts to take effect. Investigations show ration prices being charged this week in southern Queensland could be anywhere from $360/t to +$400/t, depending on grain processing systems used, the introduction of sorghum in some rations, and other variables. For those feedlots with access to flakers, the prospect now exists for the introduction of a sub-$300/t sorghum grain component for the first time in a long while.
The current finished ration pricing variance suggests that some custom feeders are happy with their current margins, and are prepared to lower their feed charges, while others are motivated to extract a higher margin because of high feedyard space demand. It perhaps also reflects the fact that some will have different grain positions than others, based on earlier purchases.
Given all that, we still think $375/t is representative 'middle-ground' on current ration pricing.
That price is still high, by historical standards, being just $10/t shy of our all-time record high of $385/t recorded in May, based on data collected by beef Central back to May 2011.
Today's ration price represents a total feeding cost over a 105-day program of $587, back $8 on our previous calculation, and $55/head more than mid-December's rates.
The softer ration price, but higher feeder cost means the total production cost (steer price plus custom feeding price, freight, interest, contingency, levy and induction costs) has risen a little, reaching $1560, up $27 on three weeks ago.
Cost of gain, using our chosen variables (2kg/day ADG, for 210kg gain over 105 days) now sits at 280c/kg, back 7c/kg on figures in late May.
Breakeven hits record high
The shift in variables as outlined above means the breakeven on today's trading budget sits at 442c/kg, a record for Beef Central's reports tracing back more than three years. It's 4c/kg above our previous mid-June budget and 2c higher than the previous record, set in late May.
That's no surprise, as it's been pushed by the higher feeder price, while ration prices remain historically high.
The last cycle when the breakeven got remotely close to current figures was back in early 2012, when it got to 412c during a period when feeders shot up to 215c/kg.
Forward pricing unchanged at 430c/kg
Based on Southeast Queensland direct consignment processor quotes provided yesterday, our forward price for 100-day flatbacks going on feed now and closing-out on October 15, remains unchanged at 430c/kg. That's equal to the record high set a month ago for grainfed ox, the highest seen since Beef Central started this analysis series back in May, 2011.
Given that the spot market for slaughter today is anywhere for 420c to 430c/kg, grainfed steers are attracting a very limited premium in the forward market, which is highly unusual for this time of year.
The reasons? In Beef Central's opinion, it's likely to be due to the fact that, evidenced by current high levels of feedlot occupancy, there's a large population of custom-feeding clients out there who perhaps lack grainfed marketing experience, who are apparently prepared to sell cattle forward at those rates.
Contributing to that is the fact that it's a high sell number, historically, but does it represent the true outlook for October? Considering we are entering the back half of the year when grainfed prices are historically strong, you'd normally expect to see a more positive forward price movement than what's currently being seen.
The difference between today's breakeven figure and the forward 100-day price delivers a trading budget result in today's calculation of minus $43 on a 100-day feeding program starting today, and closing out mid-October.
Alternate scenarios can look a lot better
It's important for readers to remember, however, that the figures above are based on Beef Central's chosen set of variables, and are designed specifically to capture the 'trend' in lotfeeding fortunes, rather than providing any sort of 'catch-all' price indicator for every type of beast, and every feedlot circumstance.
Feed-in a higher Bos Indicus steer into the algorithm, for example, and results change dramatically. A Brahman feeder steer bought today at say, 170c/kg, delivers a breakeven (all other variables left unchanged) at 409c/kg, and a $72/head improvement in profitability – pushing him well into the black.
Here's another scenario, based on last week's performance of 100-day feeders entered in the Brisbane Show Paddock to Palate competition, which have just finished their time at Charlie Mort's Grassdale feedlot.
At the freakish rate of gain (+3kg/day) recorded by the 198 competition steers, replacing our current rate of gain (2kg/day) with that figure produces a dramatic turnaround in trading budget results, given an identical daily consumption of 15kg/day.
Under that scenario, the Brisbane Show steers would produce a breakeven of just 382c/kg, and given a theoretical average sale price of 430c (granted, that's highly unlike under commercial conditions) the margin balloons to an incredible $197/head.
Factors that can affect ADG performance include shrinkage from the paddock, long-distance transport, compensatory gain, or, in the case of Grassdale – no doubt – high-performance feedlot rations and good animal health protocols.
There are some messages in that for those considering custom-feeding opportunities, even if a feedlot like Grassdale charges more for ration than some of its competitors. A good starting point for customers is requesting a sample report on average feeding performance for the past month or two, especially for cattle fitting your descriptions.
100-day spot market
As touched-on above, the current spot market for 100-day cattle across southeast Queensland processors is still quite variable. We've chosen 420c/kg for this report, up 10c/kg on three weeks ago.
Looking at finished grainfed cattle forward-bought by processors back in late March for slaughter this week, at forward contract prices around 420c/kg, processors are currently all-square on those cattle, compared with buying the same cattle out of the spot market yesterday.
Comparisons with US feeding show $322 swing in 12 months
Apologies for the length of this trading budget report, but we thought readers might be interested in some comparisons from Beef Central's US columnist Steve Kay over current feeding circumstances in the US. The volatility in profitability in US lotfeeding has been extreme, to say the least.
"US cattle feeders are currently making hay while the sun shines, with average feeding profits well over US $100 per head so far this year," Mr Kay wrote last week.
"But they need such margins to make up for a previous 17-month stretch of losses of even more than that. The record high live cattle prices and moderating corn prices (ahead of prospects of a record US corn harvest) have more than offset the record high prices cattle feeders have had to pay for replacement cattle," he said.
Feeding margins should remain positive until December, analysts told Mr Kay's Cattle Buyers Weekly.
May feeding profits for US lotfeeders came in at $184 per head for steers and $172 for heifers, Professional Cattle Consultants' Shawn Walter told CBW.
This was $322 per head better than May 2013 and a big year-to-year swing. Average US feeding profits have been more than $100 per head every month so far in 2014. However the nice round of profitability that US cattle feeders are enjoying is coming on the heels of a 17-month stretch of losses averaging $133 per head, he says.
In comparison, Beef Central's sale price was $1340 12 months ago, whereas it's $1520 today – up $180 in 12 months. Our ration costs have gone up $70 a head over the same period, while feeder steer cost has gone up $90 a head.
Beef Central's regular 100-day grainfed breakeven scenario is based on a standard set of representative production variables, ex Darling Downs. They include a 450kg liveweight feeder steer fed 105 days; 356kg dressed weight at slaughter; ADG of 2kg; consumption 15kg/day and a NFE ratio of 7.5:1 (as fed); $25 freight; typical implant program. Bank interest is included. It is important to note that variations exist across production models (feed conversion, daily gain, mortality, morbidity, carcase specification); from feedlot to feedlot; and between mobs of cattle. For a more specific performance forecast on a given mob of cattle, consult with your preferred custom feeder.