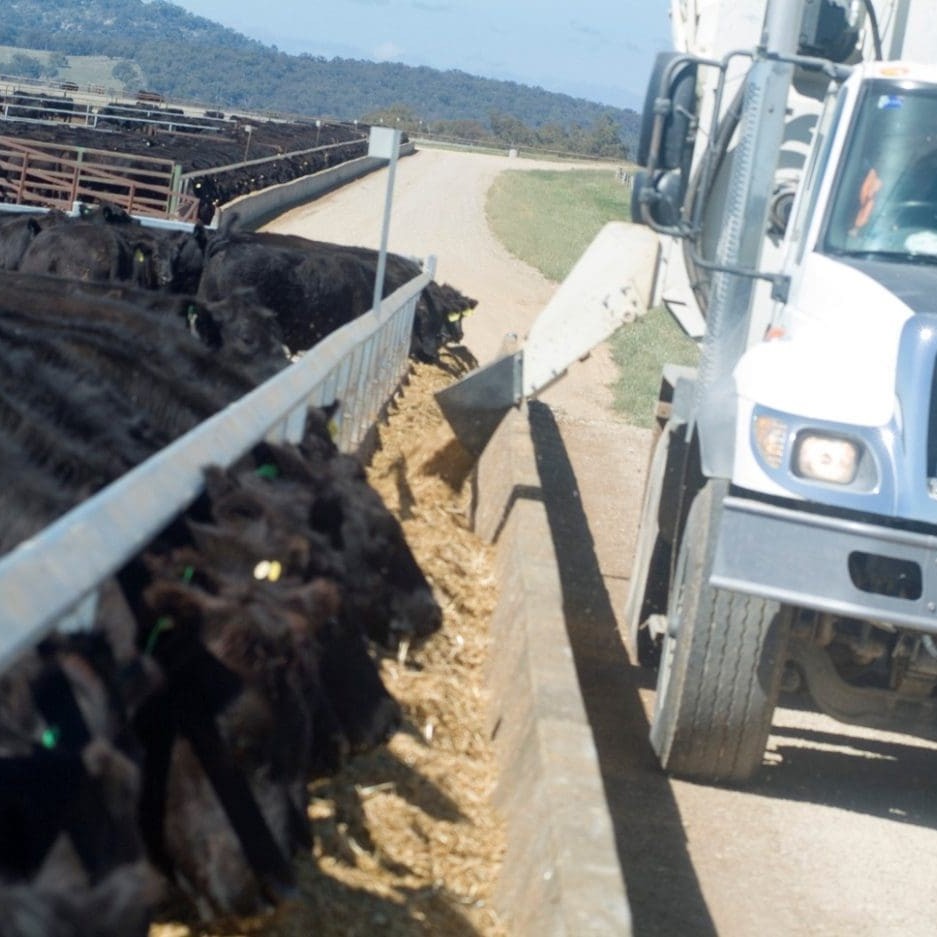 A soft improvement in forward pricing on grainfed export cattle has nudged profitability gently back towards the black in Beef Central's latest grainfed trading budget compiled yesterday.
Our latest breakeven calculation has delivered a negative $21 trading result on our typical shortfed beast (see Beef Central's full criteria at bottom of page) entering the feedyard yesterday, and closing-out after 105 days on feed in mid-October.
That's a moderate improvement on a negative $40 result posted a fortnight ago, but still shy of two consecutive line-ball to slightly positive results calculated in mid and late May.
For yesterday's trading budget, the steer buy price stayed the same at 195c/kg, supported somewhat by recent and persistent rainfall which perhaps has held feeder prices across eastern Australia a little higher than would otherwise be expected. To some extent the sequence of rain events, the latest of which has swept through NSW and areas of Queensland this week, is masking sentiment about true feeder steer value, only likely to soften given some dry weather.
It remains the highest feeder price since the April spike, which is quite unusual for this time of year. This time 12 months ago, the feeder steer market was getting belted, sitting at around 175-180c.
The international market outlook would support some softening in feeder prices going forward. US 90CL imported grinding beef prices have eased substantially over the past four to six weeks, quoted yesterday by Urner Barry at 199-202 (USc/lb), with domestic fresh 90CL at 219-222c.
Similarly, Australian fullsets in Japan have fallen 16pc in wholesale value since early May due to sluggish domestic consumption, Nikkei reports. Chilled fullset prices are between ¥660 and ¥670 per kg in the Tokyo meat market late last week.
Pricing yesterday's P&L budget feeder steer (flatback crossbred, ex-Darling Downs) at 195c values him at $877, still considerably cheaper than our year-opening, January 9 steer value of $967.
Finished ration price applied in yesterday's calculation was unchanged from a fortnight ago at $250/tonne, which market participants suggest is likely to increase in the short-term on the basis of firming grain prices and global outlook. Barley is currently trading in the $225-$235/t range, and wheat, $235-$240, ex Darling Downs. Expect to see that rise at least $5/t over the next fortnight.
The current ration price represents a total feeding cost over 105 days of $392, and a total production cost yesterday calculated at $1361. Cost of gain in the southeast Queensland market, using our chosen variables (210kg gain over 105 days, costing 391c) sits at 186c/kg.
Applying these variables to our algorithm suggests a breakeven figure at 385c/kg dressed weight, up 5c from where things sat a month ago, based on a 360kg hot dressed carcase.
Based on current market signals, we have bumped the forward contract market price for 100-day grainfeds with major processors up 5c, to 380c, on the basis of slightly increased demand at the front-end, and the historical shortage of well finished slaughter cattle in the mid-October period.
Anecdotally, some grainfed processors appear reluctant to price forward finished cattle at those levels, given current market signals, but are being forced to lift offers on the basis of securing stock.
That forward price translates into a trading loss of approximately $21 a head on yesterday's trading budget exercise. Apply typical meatworks downgrades experienced on shortfed cattle, and the budget could easily be a further $8-$10/head in the red, however.
Looking back to our equivalent trading budget from roughly this time last year, forward contract cattle were being quoted at around 350c at the end of June 2011 – a period of depressed outlook for export processors as US exports and currency issues took hold. The June 15 breakeven figure was 373c, a good 12c/kg below where they sit today. Currency value this time last year was around 105c.
Generally speaking, feedlots appear to be in a considerably better position than where they were a couple of months ago, in terms of cattle manifest on-hand, and therefore, operating efficiencies. That appears to be being driven most by signs of optimism with regard to prospects in the last quarter, and historical precedent. A percentage of those cattle currently entering programs appear to be non-committed, custom-fed 100-day cattle.
Flows of cattle are entering the induction pens from western Queensland, central Queensland and northwestern NSW. Speculation continues over whether they are likely to be joined by crossbreds out of the Northern Territory, but the 30c/kg freight differential to feedlot must be a consideration for northern producers doing those sums. More on that in coming issues.
The industry is still a good month away from receiving the next quarterly feedlot survey report, but at this point, it appears the numbers on feed for the period ended June 30 are likely to trend upwards after a 40,000 head fall to 750,000 head reported in the March quarter.
Spot market position
Yesterday's SEQ processor grids for spot market 100-day grainfed ox were generally around 375c for 0-2 tooth cattle, depending on positions with their contracted cattle. Grainfed animals killed this week, going on feed back in mid-March, carried a breakeven of about 390c/kg, but were forward-bought then by processors at around 375c. Consequently, that leaves processors yesterday at $15-$20 in the red on those forward-bought cattle, relative to yesterday's spot market.
One of the great 'known unknowns' in the immediate future is what impact the Federal Government's carbon tax, active from July 1, will have on feeder and slaughter cattle pricing. As discussed on Beef Central on Monday, large, directly-taxed processors could face a $6-$8 per head additional cost burden due to the tax. They argue that that will not be directly passed back to producers, because they still have to compete in the marketplace for stock with smaller processors and lotfeeders not directly exposed to the tax.
One for the diary:
Lotfeeders and other grainfed industry stakeholders will gather for the biennial BeefEx feedlot industry conference on the Gold Coast from October 9. Beef Central will bring readers more details as the event draws closer.
Beef Central's regular 100-day grainfed breakeven scenario is based on a representative standard set of production variables, ex Darling Downs. They include a 356kg dressed weight; ADG of 2kg; consumption 15kg and a NFE ratio of 7.5:1 (as fed); $25 freight; typical implant program; interest component. It is important to note that variations exist across production models (feed conversion, daily gain, mortality, morbidity, carcase specification); from feedlot to feedlot; and between mobs of cattle. For a more specific performance forecast on a given mob of cattle, consult with your preferred custom feeder.