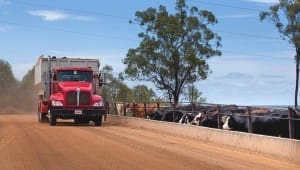 QUEENSLAND-based Smithfield Cattle Co has taken out two prizes at this year's grainfed industry awards, including the prestigious Young Lot Feeder of the Year.
The awards were presented via a webinar last night, with COVID 19 cancelling the Australian Lot Feeders' Association's (ALFA) Beef Ex conference.
Despite the challenges the competition still ran over the past year, with Young Lot Feeder of the Year winning $5,000 towards a professional development course or study trip and a scholarship to attend the Australian Rural Leadership Foundation's emerging leaders' program, valued at $10,450.
Livestock manager at Smithfield's Sapphire Feedlot near Goondiwindi, James Guest, was a big winner on the night, recognised for his dedication to animal welfare and focus on decreasing the use of pharmacological treatments.
The push is part of ALFA and Meat & Livestock Australia's antimicrobial stewardship, which aims to promote responsible use of medicine and preserve the effectiveness.
"It gives Australian lotfeeders an edge over our international competitors and provides our consumers with a world class product," Mr Guest said in a promotional video for the competition.
Mr Guest has been working in the lotfeeding industry for the past eight years and said he planned to use the award to promote careers in the industry.
"I'd like to be an advocate for the industry and hopefully attract school leavers and people who are down other career paths to come to lotfeeding," he said.
"We have so much knowledge and we need to learn off the guys who have been doing this for 30 years."
Other finalists were Kailen Hodgson from Teys' Charlton Feedlot in Victoria, Lucy Morris from the Lake Preston Feedlot in Western Australia and Simon Kensit from AA Co's Goonoo Feedlot in Central Queensland.
Smithfield wins second award
With a program linking students and teachers from the Proston State School to agricultural shows, Smithfield Cattle company won this year's community hero category in the grainfed industry awards.
Judges deemed the program to be making the biggest local impact of the competition, which was demonstrated by its potential for scalability and sustainability.
Co-owner Barb Madden said playing a role in the local community was a major goal for the business and had been for a long time.
"This is where I feel our business shines because we are operating in small communities and we need to show we are a part of the community," Ms Madden said.
"My Dad was the one who instilled in us this ethic of giving back to the community because we are a family business."
The company won $5000 to assist in further development the initiative.
PVC fly trap wins award for innovation
A simple fly trap designed by Ryan Smith from the Rangers Valley Feedlot in NSW has been recognised for its practicality in the year's award for innovation.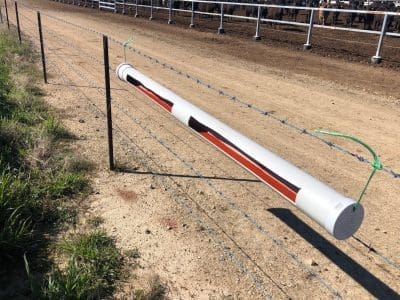 The trap consists of a two metre PVC pipe elevated from the ground on external fences around pen lanes, effluent areas and other grassed off fly-prone areas. Two 55-65cm slots cut into the pipe to allow fly bait and solution to settle in the bottom half.
It was sealed at one end, with a twistable cap on the other allowing for easy removal of used rubbished material.
Runner-up was Shane Bullock of Teys' Jindalee Feedlot for their innovation 'The Post Pot Digger'.
Award sponsor from Dr Stephen Bonner from Integrated Animal Production said he hoped the simple and practical designs encouraged more entrants in future years.
AA Co wins education award with pen rider course
Australian Agricultural Co's Brenton Waterson moved from saleyards to the lotfeeding industry in 2017 and has become the livestock manager of the company's Aronui Feedlot near Dalby – where he manages a team of ten.
Mr Waterson completed a Diploma in Agriculture (beef production) before a Cert III in Feedlot Operations.
Speaking on behalf of competition sponsor, Zoetis, Sally Oswin said Brenton had used his training to improve education at Aronui.
"We were very impressed with Brenton's commitment," Ms Oswin said.
"He spends every-day training those around him to ensure the continuous improvement of the livestock team and the business operations at Aronui."
Mr Waterson said he hoped his work in recent years will help develop training and career pathways in the industry.
"Once I finished the course it opened my eyes a bit to the things that are missed in training," Mr Waterson said.
"I would like to become a feedlot manager one day and I'd to improve the training environment in the feedlot industry."