CATTLE numbers on feed in Australian feedlots remained steady in the September quarter, results from the latest grainfed industry quarterly survey show.
The quarterly survey conducted by the Australian Lot Feeders Association and Meat & Livestock Australia shows numbers at 1,258,377 head in the September quarter – about 1500 head more than June, but still the second highest on record.
Industry capacity continues to grow, with feedlot capacity reaching a new record high of 1.576 million head in September, up another 21,000 head on June (see references in Beef Central's earlier Top 25 Lotfeeders report).
Australian Lot Feeders Association president Barb Madden, said the stable numbers were evident in most states.
'Increased numbers on feed in the larger lot feeding states of NSW and QLD balanced out the lower numbers in Victoria and the usual seasonal reduction seen in Western Australia,' Mrs Madden said.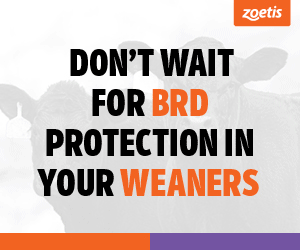 Numbers on feed in QLD, NSW and SA rose by 2.1pc, 2.9pc and 1.3pc respectively, while Victoria and WA numbers dropped 4.9pc, and 41.9pc across the quarter.
'Historically high numbers on feed over the quarter reflect continued strong demand for grainfed beef but also serve as a reminder of the role the feedlot system plays when conditions become less favourable in the paddock,' Mrs Madden said.
'We have seen strong placement of grainfed beef in our key export markets of Japan, Korea and China occurred during the last quarter and its pleasing to see continued demand for our product in these markets despite cost-of-living pressures globally.
Increased feeder cattle availability has been driven partly by drying conditions, particularly in northern NSW and central QLD.
"No one likes to see conditions dry off, especially given the amazing run of good seasons we have enjoyed. Feedlots have been able to absorb some of this turnoff and it's a reminder of the role we can play in evening out the impact of climate variation for the supply chain," Mrs Madden said.
National capacity increased by 1.4pc to 1.58 million head. Utilisation rates remained steady at 80pc.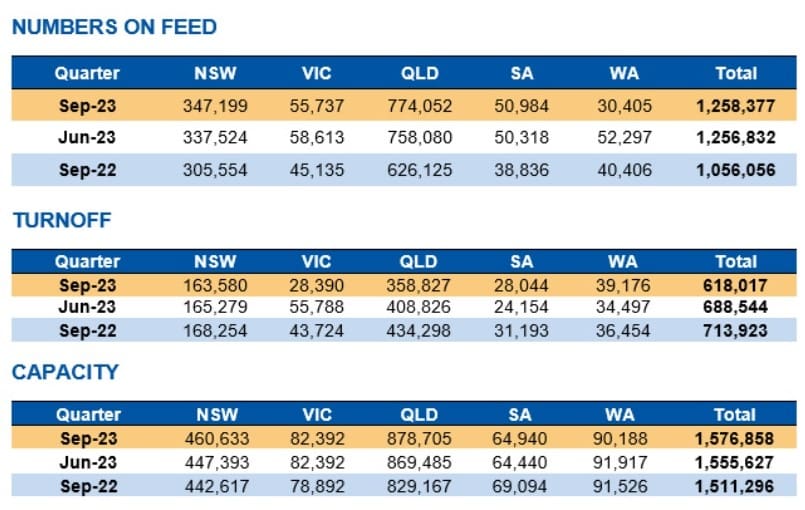 MLA's global supply analyst Tim Jackson said the September quarter saw increases in grainfed exports across all major overseas markets.
'Grainfed beef exports are at an all-time high in 2023, with exports reaching more than 85,000 tonnes in the September quarter, and 234,000t year-to-date.
'The top three markets supported this record export year. After a slight easing in the second quarter, Japan and South Korea markets recovered, increasing by 3pc and 10pc respectively. Exports to China maintained growth for the third quarter in a row to 22,998t,' Mr Jackson said.
Looking at cattle supply, he noted that saleyards saw increased availability of feeder cattle paired with eased national feeder steer indicator prices, which has been the case across the board as producers see to offload livestock supply.
Supply through saleyards was up 7pc on last quarter, reaching 80,397 head – a 23pc increase on yardings year-on-year. The NLRS feeder steer indicator dropped 46c/kg on last quarter, experiencing a 42pc downturn year-on-year.'
Mr Jackson also noted that the Darling Downs wheat prices continued to climb in the September quarter, growing by 8pc to $439/t.
'This third consecutive increase in wheat prices continues to put pressure on overall ration costs and cost of gain and is somewhat dampening the impact of reduced feeder prices for lot feeders.' Mr Jackson said.
Source: MLA/ALFA