Analysis:
There appears to be a single factor that largely explains the somewhat surprising 6 percent rise in national feedlot numbers in the March quarter: the Rockdale effect.
Since completing the purchase of the former Rockdale feedlot (now re-named Riverina Beef) towards the end of last year, JBS Australia has been steadily growing numbers on feed. The cattle inventory currently stands at well over 40,000 head, and the company says it plans to fill the site to its 53,000 head capacity before long.
While every other lotfeeding state remained remarkably consistent in grainfed cattle numbers between December and March quarters according to the ALFA/MLA survey released yesterday (see previous story, "Soft rise for feedlot numbers"), NSW showed a jump of 32,780 head over the same period. Riverina Beef feedlot is located near Leeton, in southern NSW.
With the majority of cattle on feed at Riverina now fed 130-day programs, the demand for stock by JBS over time will inevitably be greater than it was under previous ownership, when much longer feeding programs were applied.
Take Rockdale/Riverina out of the equation, and the March survey figures may have been marginally better, or even down on December.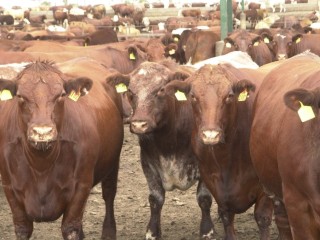 ALFA President Jim Cudmore suggested that the increase also reflected the decline in feedgrain prices in the southern states in late 2010 due to the wet and prolonged winter harvest. However, despite large domestic feedgrain supplies, prices averaged 15pc higher over the quarter in the Riverina area as world commodity markets reacted to some of the lowest US corn stocks-to-use ratios seen in decades.
The good news in the latest numbers on feed survey is that there has been a choppy, but clear, long-term upwards trend since the depths of the grainfed slump in March, 2008 at 604,000 head. National numbers on feed are now about 23 percent above that level. Feedlot utilisation levels also show an improvement, rising to 60 percent for the first time in more than two years.
Perhaps the hardest figure to explain in the March survey is the quarterly cattle turnoff. The figure of 563,241 head was a full 100,000 head below the same quarter last year, and down 40,000 head on December.
While there was a definite lull in processing during January due to flooding and road damage, processing rate exploded from February onwards, as exporters threw around big money to flush cattle out. Periods of wet weather which make it harder for processors to source killable stock out of the paddock normally means relying even more heavily on feedlot cattle, which tend to be easier to access.
MLA economist Tim McRae said at this stage, he could not provide a convincing answer for the March decline in turnoff, which came in the face of a particularly strong cattle market during the first quarter.
"Disruption to paddock supply of slaughter cattle due to weather normally means greater activity out of feedlots, which tend to be on more accessible roads and with stock at hand," he said.
Last year, for example, the March quarter turnoff was high for the very reason that there was a lot of wet weather disruptions to sourcing stock out of the paddock."
A contributing factor behind the March figure may be that the cattle were simply not ready to sell. Growth performance during the first quarter was not strong, by normal standards.
So will softer grain and feeder cattle prices see resurgence in numbers on feed in the June quarter? Mr McRae thinks it is possible, but warns that the forecast heavy turnoff of grassfed cattle could compete for killing space with grainfed animals.
Apart from supply pressure, Australia's largest grainfed market, Japan, continues to operate at a very subdued level, post March earthquake and Tsunami disasters.
"I find the survey results, particularly turnoff numbers, a little hard to reconcile against the actual market conditions," Mr McRae said. "Price conditions could hardly have been much better for most of the first quarter."