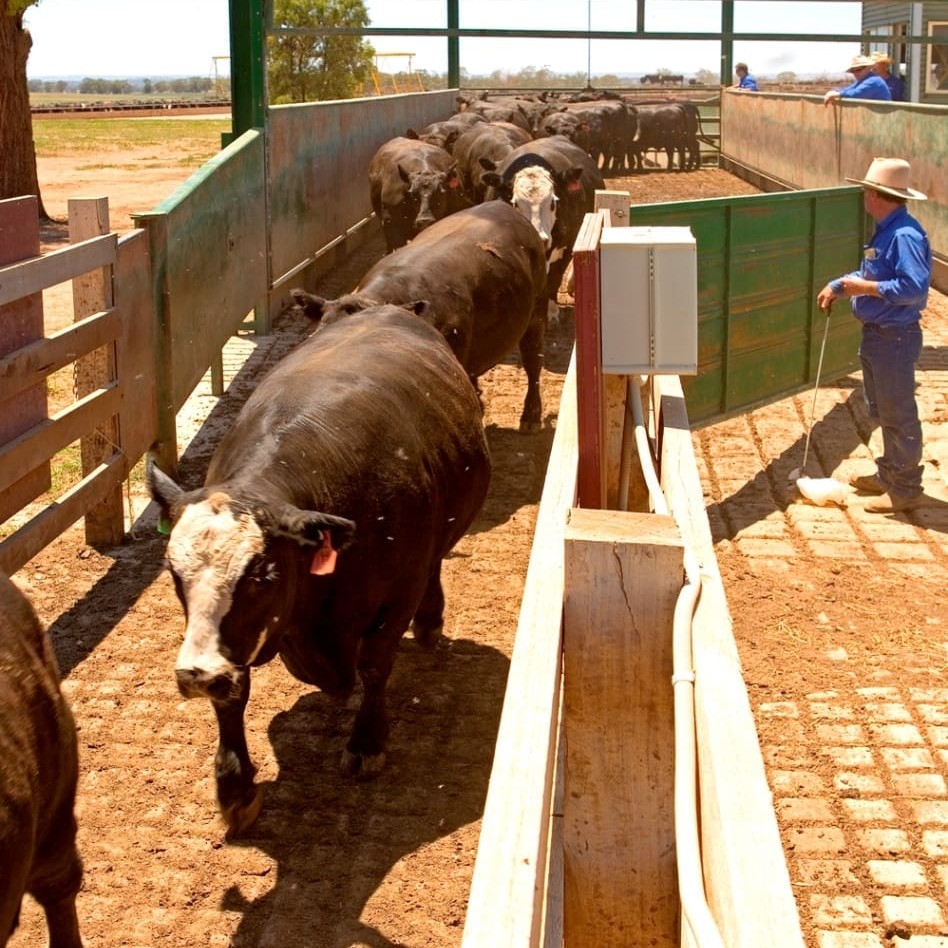 Tantalising, and in places substantial storm rain in some areas of Queensland and NSW in the past week has had an immediate impact on calculations in Beef Central's latest grainfed trading budget, processed this morning.
While it could be argued that that effect is based more on rain 'potential' rather than 'outcomes', with many centres missing out altogether or receiving only disappointing seven-day totals, there has nevertheless been a shift in thinking on market sentiment for feeder cattle, feedgrain, and forward finished cattle.
Today's trading budget calculation is based on our standard set of variables, benchmarked on a typical flatback 450kg feeder steer going on feed on the Darling Downs today, and exiting the feedlot after 105 days in early March next year.
This week alone, the market for feeders hitting our spec (see full details at base of page) has moved upwards 10c/kg due to shortening supplies on offer after patchy rainfall, increasing the appetite of lotfeeders to buy more aggressively. The price has moved from the 180c/kg figure seen in our last breakeven a fortnight ago to 190c/kg today.
Representative feeders at Dalby's weekly sale yesterday sold as high as 197c, which again serves to illustrate that the physical saleyards market can at times get ahead of the paddock market when prices are on the rise. Buyers of those Dalby steers would argue, however, that they had also bought some not dissimilar steers in the high 170s, averaging out their purchases a little lower than that.
But having said that, it's the first time we've seen flatback feeders at 190c for exactly 12 months.
Apart from the recent rain, lotfeeders realise that they're now only a month out from Christmas; Roma this week yarded only 3000 head; and everyone is become a 'reluctant seller' in the current climate.
Producers by and large have by this stage sold what they've had to, given the conditions, and are now trying to bunker-down and hold onto what they can, given the prospect of better money ahead.
Another plausible explanation offered for the rise in feeder price by contacts this morning is the recent growth in activity in live export. This is starting to divert more western and northern cattle that would otherwise be exposed to the feeder market back into their 'traditional' homes heading north onto boats, and putting a little more overall pressure on supply. Effectively, it means that the overall pool of feeder cattle, of all descriptions, has shrunk.
While a lot of feedyards have a preference away from Brahman-influenced steers, if there is a 15-20c/kg split between a flatback steer and a Brahman-cross feeder steer of the same age and weight, it often works pretty well within their business. This morning's companion story on a feeding exercise on Brahman cattle helps illustrates that.
While this week's feeder price is an encouraging improvement, it's still some way from the 215c/kg highs we've seen as recently as January last year.
Pricing our feeder steer for today's trading budget at 190c/kg values him at $855, or $45 higher than three weeks ago. That's a long way improved – $180 to be exact – from a record-low 150c/kg liveweight in our budget in early June, when the steer was worth only $675 due to drought supply pressures.
Two or three inches of rain across dry areas of Queensland/NSW over the next month or two would inevitably push prices even higher, contacts tell Beef Central. Some stakeholders close to the market reckon there's easily another 10pc upside, in the event of a decent season starting to emerge.
Ration price to $340/t
Ration price also rises for today's trading budget, up another $5/t to $340/t. Darling Downs wheat is currently priced around $310/t, barley in the $280s.
Reputable Downs feedlots currently are offering finished ration at anywhere from $340/t to $360/t.
The recent rain event has certainly not been sufficient to trigger a sorghum planting in most areas, which has not allowed recent high ration prices to back-off, just yet.
This week's finished ration price of $340/t is a record for the two and a half years that Beef Central has been reporting this data set, and is likely to be the highest seen since around 2009.
The current ration cost it represents a total feeding cost over a 105-day program of $524. This, combined with the current feeder price, gives a total production cost of $1481, $54 higher than last time, and again, a record for this data-set.
Cost of gain, using our chosen variables (2kg/day ADG, for 210kg gain over 105 days) also moves higher as a result, at 254c/kg, up 4c since last time, and another record. This time last year, COG was around 213c/kg on a $285/t ration, representing a 19pc rise this year. Feeder steers back then were worth 190c.
Keep in mind, though, that recent mild weather has been delivering some outstanding daily gain performance, with plenty of reports of better types and those carrying additional compensatory gain exceeding our standard 2kg/day 'benchmark' by anything from 25 to 50 pc (2.5kg to 3kg/day). Such performance dramatically improves the feeding result, but it may be dangerous to budget against such figures. Equally, other recent lines in downs feedlots have produced disappointing gain performance, averaging only 1.8kg/day.
Record high for breakeven
The combination of above inputs delivers a breakeven figure in today's budget of 420c/kg – up 16c/kg on our last calculation three weeks ago due to the lift in feeder steer purchase and ration cost.
That breakeven is now at historic highs. The only time it has come close to the current figure was in early 2012, when it got to 412c during a period when feeders went to 215c, and a brief slot during winter last year when the number touched 400c.
Forward pricing moves upwards
Based on Southeast Queensland processor quotes yesterday, the forward price for 100 day flatbacks going on feed today and closing-out early March next year is at 400c/kg. But it appears that very limited business is being done at those levels, because things have changed very rapidly in the past week, due to the weather influence.
While 400c last week was probably a reasonable sale, it does not look anywhere near as attractive this week. Some lotfeeders are now looking at lots of upside on price in coming months. One player said "this current run will be backed so hard, it's not funny."
Assuming we get any sort of normal summer rainfall pattern, some say there could still be 'very big' upside prospects ahead. There will be few cattle available; every processor has had a cracking trading period over the past eight months; and with a currency 10pc below where it sat this time last year and forecast to move lower, there's compelling reasons to suspect there will be some big money available for grain-finished cattle early in 2014.
One large SEQ processor is understood to have direct consignment money around 410-415c for large lines, delivered February.
A big factor in current forward pricing is a degree of urgency in securing supply, with processors aware that slaughter numbers are likely to rapidly dry-up, given any decent rain. February can also be a problem month for cattle access should there be any rain/flooding disruptions, and feedlots provide an easy-access solution in a short week.
Based on the current forward price for delivery in March next year, and today's breakeven at 420c/kg, it represents a $70 loss on a 100-day feeding program starting today.
Beef Central's regular 100-day grainfed breakeven scenario is based on a representative standard set of production variables, ex Darling Downs. They include a 450kg liveweight feeder steer fed 105 days; 356kg dressed weight at slaughter; ADG of 2kg; consumption 15kg/day and a NFE ratio of 7.5:1 (as fed); $25 freight; typical implant program. Bank interest is included. It is important to note that variations exist across production models (feed conversion, daily gain, mortality, morbidity, carcase specification); from feedlot to feedlot; and between mobs of cattle. For a more specific performance forecast on a given mob of cattle, consult with your preferred custom feeder.