LAST week's rain event across parts of Eastern Australia has had only negligible impact on Beef Central's latest 100-day grainfed trading budget calculated yesterday.
Both ration price (defacto for grain price) and feeder prices failed to show the sort of market swings that some stakeholders had anticipated last week, as the rain was in prospect, or falling.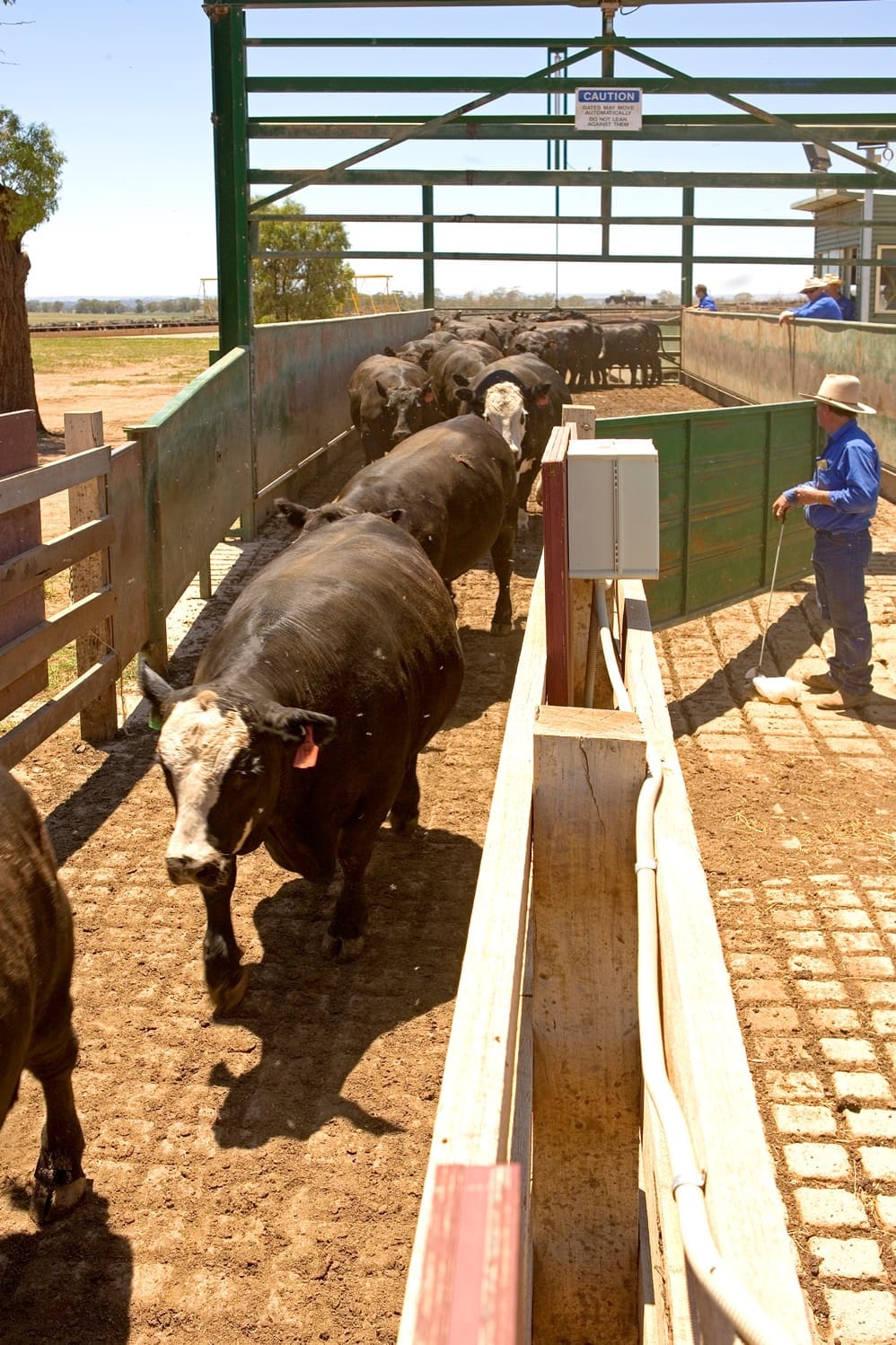 In fact we decided to hold our breakeven over until this week, in anticipation of some possible movements in the major variables.
As it's turned out, today's grainfed trading budget calculation has produced a minus $3.50 profit result, exactly the same as our previous calculation carried out on June 4. Results have now been at, or very close to breakeven since our April 23 report.
Our latest findings are based, as always, on our standard set of industry variables (see full list at base of page).
Cattle entering the feedlot today for a 100-day program will close-out in October, week-one, when it's reasonable to assume that there is going to be some real tightness in supply in the slaughter market.
For today's budget, we've left the feeder steer purchase price of 270c/kg liveweight – unchanged from our previous report three weeks ago, but still easily a record for this dataset.
While the rain had a material benefit in some areas of Victoria, NSW and Qld – as evidenced by saleyard pricing in the back half of last week – big rains were still absent in many major beef cattle regions, meaning the full effect is still a little hard to ascertain.
The feeder steer market was in fact drifting back a little prior to the rain, meaning we've kept this report's feeder price at 270c, the same as where it was in early June.
While there have certainly been flatback heavy feeders ex Darling Downs meeting our spec trading in a band between 265c and 280c in the past few days (especially paddock cattle), for normal 100-day contracts, 270c is where most of the direct business is occurring, Beef Central is told.
That price values our 450kg feeder at $1215, still easily the highest ever reported in this regular summary, going back four years or more. Around this time last year, for example, the same steer was still only worth 190c ($855), meaning he's valued at $360 more today, or in percentage terms, 42pc higher.
Ration price steady at $375/t
For today's budget, we've left ration price at $375/t, the same as where it sat in our last report in early June, with no clear impact yet of grain price adjustment due to recent rain. That ration figure is not that far our all-time record ration cost of $385/t, recorded a year or so ago.
Beef Central's regular feedgrain columnist Luke Walker from Robinson Grains reported this morning that while there was an initial softening in grain prices when the prospect of rain emerged last week, prices were now firming again, and back close to where they started.
Mr Walker has wheat July delivery ex Downs today at $342/t, barley at $335, sorghum $316 delivered Downs.
"The wheat market dropped about $15/t, but only for a few days. But there were more buyers than sellers, and the price has recovered pretty quickly," he said.
The feed wheat market was now back within $5/t of where it started. Plenty of buyers had come to the market when it first softened, which in turn caused it to rise again.
Mr Walker said following the rain, it was looking good for new crop, however. He quoted new crop wheat today at $320/t for January, plus carry-out to June 2016. At some point, however, those markets would have to match up.
"I don't see a lot of cover among lotfeeders from July to September. A lot of lotfeeders like buying a January to June spread, which is always well-traded, but with the big sorghum harvest, and the wheat market kicking on, everyone has just hung back. Most will be only looking for three months cover, in the hope of some new season crop around October," he said.
The fact that Queensland and northern NSW feedlot remain near capacity also partly explains the ration price applied in today's budget, with custom feeders not having to compromise their margins on their ration in order to attract business. In essence, there's still not a lot of competitive pressure on custom feedlots in terms of how they price their ration to customers, because of that high demand.
Much of the grain currently in use in Queensland and northern NSW feedlots currently has a lot of freight on it, coming out of southern areas, which is being passed-on in full by lot operators to their custom-feed clients.
At today's designated ration price used in our breakeven, it represents a cost-of-gain, using our chosen variables (2kg/day ADG, for 210kg gain over 105 days) of 280/kg, not far off our all-time record set last year.
All that delivers a total production cost (steer purchase plus custom feeding price, freight, interest, contingency, levy and induction costs) of $1909 – unchanged from our previous report three weeks ago, but equalling the record for Beef Central's trading budget reports stretching back four years or more.
The above inputs deliver a breakeven in our latest budget of a 541c/kg, again unchanged from last time, but still 19c/kg higher than any breakeven previously seen in our regular report.
This time a year ago, the breakeven figure was still at 438c/kg, the equivalent of $330/head lower, despite a ration price back then at $380/t.
Forward pricing for GF ox jumps to 540c/kg
A sure sign of where processors see cattle supply during the back-half of this year is today's forward price for our finished 100-day grainfed steer, exiting the feedlot September, week-three. Today's figure sits at 540c/kg, the same as three weeks ago. There are a number of players in the market looking to secure cattle forward at around that price – coinciding with the traditionally tight spring supply period.
Compare that figure with our first report this year in January (480c/kg), and it represents a hefty $213 higher return on our typical 356kg grainfed carcase. The current forward price values our 356kg carcase at a huge $1905.
Given a breakeven at 541c, and today's processor forward purchase price of 540c, it means today's trading budget comes back at a marginal loss of $3.50 a head, based on our regular variables.
While last week's weather influence always had the potential to change the outcome in our latest budget, in truth it hasn't happened – not yet, at least.
Spot market sits at 510c/kg
As our weekly Eastern States kill reports have reflected, export processors carrying out a 100-day grainfed kills generally had solid bookings through June, and continue to do so into July.
While the recent rainfall may have provide some mild disruption to some of those slots, today's spot market for 100-day cattle for SEQ slaughter this week continues to sit around 510c/kg on public grids, the same as in our previous report three weeks ago. The figure is still 25c/kg higher than in early April, and 65c/kg higher than last September.
In comparison, cattle forward-bought by processors three and a half months ago, for slaughter today, were making exactly the same money, meaning processors are no better or worse off on forward purchases made earlier at 510c/kg compared with today's spot market.
Beef Central's regular 100-day grainfed breakeven scenario is based on a standard set of representative production variables, ex Darling Downs. It is built on a feeder steer of 450kg liveweight, fed 105 days; 356kg dressed weight at slaughter; ADG of 2kg; consumption 15kg/day and a NFE ratio of 7.5:1 (as fed); $25 freight; typical implant program. Bank interest is included. It is important to note that variations exist across production models (feed conversion, daily gain, mortality, morbidity, carcase specification); from feedlot to feedlot; and between mobs of cattle. Equally, there can be considerable variation at any given time in ration costs charged by different custom-feed service feedlots. Click here to view an earlier article on this topic. For a more specific performance assessment on a given mob of cattle, consult with your preferred custom feeder.