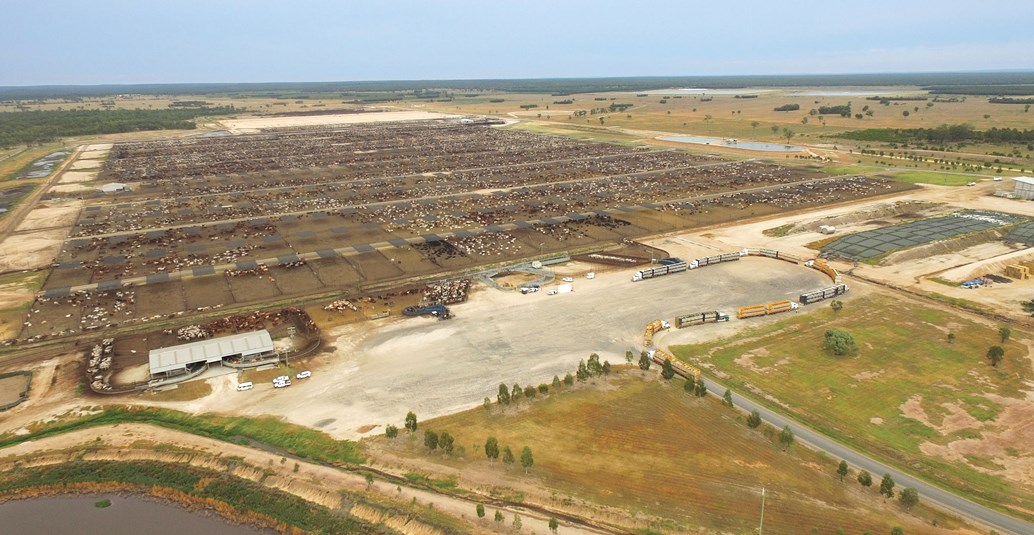 Expansion works has been completed at Mort & Co's Grassdale feedlot near Dalby on Queensland's Darling Downs, taking one-time operating capacity to 70,000 Standard Cattle Units – making the yard the largest in Australia.
Because Standard Cattle Unit regulatory measurements are based on a standard 600kg animal, it means the yard can comfortably hold 75,000 head, when lighter weights in some cattle are factored in. Annual turnoff is likely to be upwards of 200,000 head.
Grassdale was stocked to its new expanded capacity just before Christmas, but has since reduced numbers somewhat, with the onset of recent rain.
The yard has grown in three stages from its original 35,000 head capacity over the past three or four years, growing progressively to 43,000 head, then 54,000 and finally to today's capacity.
Grassdale currently feeds for a wide range of market segments, from longfed Wagyu programs to shortfed and mid-fed export, and yearling domestic grainfed.
At full capacity, Grassdale now requires more than 1000 tonnes of grain for ration formation each day, accounting for around 350,000 tonnes of grain annually.
"With last year's drought, it has been a real task to keep feed up to that many cattle," executive chairman Charlie Mort said.
The yard was able to retain a reasonable supply of roughages last year, purchasing a lot of failed grain crops to turn into silage, he said.
Expansion in capacity has also required upgrades to milling and mixing infrastructure, including a move from batch-boxes to stationary mixers, which simply tip the pre-mixed ration into each feed delivery vehicle for despatch to the bunks.
Mr Mort said the company had a long-standing track record of delivering best practice across all aspects of its business.
"The prolonged drought that's impacting cattle supply across Queensland and NSW makes it even more imperative that the feedlot industry continues to grow," he said.
"This project will ensure a consistent supply of quality products for beef markets, both export and domestic."
In line with the expansion in capacity, Mort & Co has brought on line its own gas-fired power plant, a move that will allow the yard to meet its individual power requirements and become a net exporter of power back into the grid.
The feedlot expansion comes as Mort & Co's new chief executive, Stephen O'Brien steps into his new role this month.
Staff numbers grow
Expansion in feeding capacity has also driven a considerable increase in staff numbers, with more than 100-full time operational staff now working on site.
The project has received support from the Queensland Government's $175 million Jobs and Regional Growth Fund.
Queensland's minister for state development Cameron Dick said it was a significant time of growth and innovation for Mort & Co, with 50 new operational jobs already created from the business's expansion since stage-one.
"This number well exceeds initial forecasts from the company and will help to further drive economic activity throughout the Darling Downs region," Mr Dick said.
"Beef processing is one of our state's largest manufacturing industries, employing around 10,000 Queenslanders, and our government is committed to its continued success."
The Queensland Government launched its Queensland Beef Processing Strategy 2019-2022 at the Brisbane Ekka last August.
"Guided by that framework and investment initiatives like our Jobs and Regional Growth Fund, we will keep working to support our beef industry," Mr Dick said.
Value-adding manure
Mort & Co is also constructing a new fertiliser pellet manufacturing facility, which is set to be delivered in the first half of this year.
"In a first for the Australian beef industry, Mort & Co will use innovative technologies to convert 60,000 tonnes of manure into high-value granulated fertiliser pellets each year," Queensland agriculture minister Mark Furner said this week.
"This process will provide the feedlot with an environmental solution to waste issues, while also generating a new form of revenue for the company," Mr Furner said.
Last year Mort & Co received a Premier of Queensland's Export Award in the category of Agribusiness, Food and Beverages.
The Grassdale expansion adds to a growing list of collaborations between state government and regional ag businesses through the government's Jobs and Regional Growth Fund. Others include Warwick meat processor John Dee, Qualipac at Inglewood and Swickers meat processing at Kingaroy as recent JRGF grant recipients, all of which will benefit from the soon-to-be-built Regional Trade Distribution Centre at Wellcamp Airport, Mr Dick said.