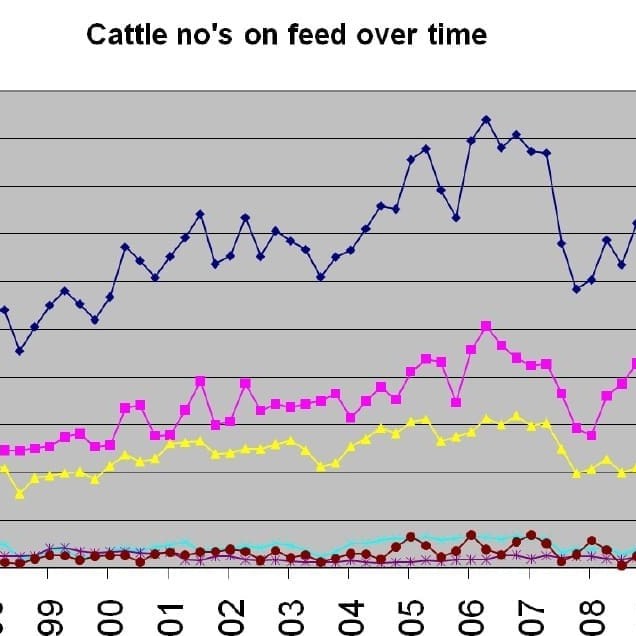 While Thursday's news that JBS Australia has permanently closed its large Prime City feedlot near Griffith came as a surprise, it reflected the accumulated impact of four tough years on the grainfed sector, an industry leader said yesterday.
Australian Lot Feeders Association president Jim Cudmore said it came as a surprise that a company of the 'magnitude and horsepower' of JBS had taken a decision to shut-down one of its major feeding facilities – particularly given the prior closure of another JBS feedlot (Yambinya) in the same region.
In combination, the closures of Prime City and Yambinya effectively wipe-out about five percent of Australia's total grainfeeding capacity.
Given that JBS is easily the largest lotfeeder in the country, with a total feeding capacity prior to current closures of 164,333 head (Standard Cattle Units), the closure is being widely interpreted across the industry as an effort to 'bunker down and weather the storm.'
"It is a significant decision and one that would not have been taken lightly," Mr Cudmore said.
"But it is a real reflection of what has now been four to five years of marginal trading conditions in lotfeeding across Australia," he said.
As can be seen in the graph of lotfeeding activity published here, numbers on feed have never recovered from the boom levels seen prior to 2008, driven by currency, seasons, demand and input cost issues.
"There have been a couple of windows of opportunity during that period, but really, it has been just hard-going right through since 2007. Just when it looks like something is opening-up, the window has tended to slam shut again – whether that is due to currency, demand or other issues," Mr Cudmore said.
The succession of big grass-growing seasons and the tighter economic circumstances worldwide since 2008 had also taken opportunity away from the grainfed sector.
"Cheaper red meat protein has been an attractive option, and grassfed product has been more appealing in terms of the economics. The drought has well and truly broken across eastern Australia, and tight cattle supplies, as producers build-up herd numbers, has sat beside a lack of desire to lotfeed cattle due to the abundance of paddock feed," Mr Cudmore said.
Grassfed beef had been of consistently higher quality as a result of the seasons, and the quality distinction between grain and grassfed had probably never been less, as a result.
"The last time we saw this was back in the mid-2000s. The differential in price between grass and grainfed product has been considerably less than the traditional premium, so there is a plethora of things going on that has contributed to current circumstances," he said.
Mr Cudmore said the back-half of this year was starting to look pretty good, although the dollar looked like remaining at high levels, and key export markets like Japan and Korea were likely to continue to do it tough.
"It is very obvious that we are getting beaten-up in Japan and Korea by US exporters, due to the favourable currency movements. While we are not selling less beef to Korea, we are certainly losing our share of a gradually growing pie in that market," he said.
Opposition blames Labor fiscal policy
CThe Coalition last week used the Prime City closure as evidence of a "long line of major agribusinesses and regional employers to buckle under four years of Labor policy," a statement issued on Thursday said.
Shadow agriculture minister John Cobb said the consistently high A$ had a major impact on the viability of Australian exporters, but record government debt and borrowing, the looming carbon tax and Labor's inherent sovereign risk were all culpable, he said.
"Our higher interest rates are attracting international investors, who are buying up A$. With Labor drunk on debt – borrowing $100 million each and every day – our government is compounding the problem by competing with business and households for a finite credit pool that is driving up interest rates and prices," Mr Cobb said.
That meant exporters had to contend with the double whammy of high interest rates and a high A$.
"Not content with that disaster, Labor's carbon tax is inevitably making companies like JBS slash their business output, not to mention jobs, to stave off this insidious tax. You can't blame businesses for capping the scale of their operations to stay under the government's arbitrary carbon tax threshold. Companies are spreading the load across their operation to avoid triggering the full tax impact."
Mr Cobb said the end result was that Labor's carbon tax would lead to higher emissions, but would see overall production level-off. That was not good for jobs, economic growth or a boost in production that was so badly needed in agriculture.
ALFA's Jim Cudmore said all agricultural commodities went through periods of adjustment in dynamics. What was important was that when the next wave of optimism came, the industry needed to be 'fit, strong and ready-to-go.' Often these changes could happen swiftly, when they occurred.
If there is any certainty out of current circumstances in the feedlot sector, it was that drought would inevitably return at some point to regions of eastern Australia.
One does not have to cast back too far in history to find periods where the grainfed sector played an absolutely critical role in maintaining supply of quality beef into export and domestic markets.