THE current dramatic turnaround in finished cattle and feeder cattle prices, widely reported on Beef Central over the past fortnight, has thrown an extra dimension into our latest 100-day grainfed trading budget calculation – but we've still come up with a solid profit based on current market signals.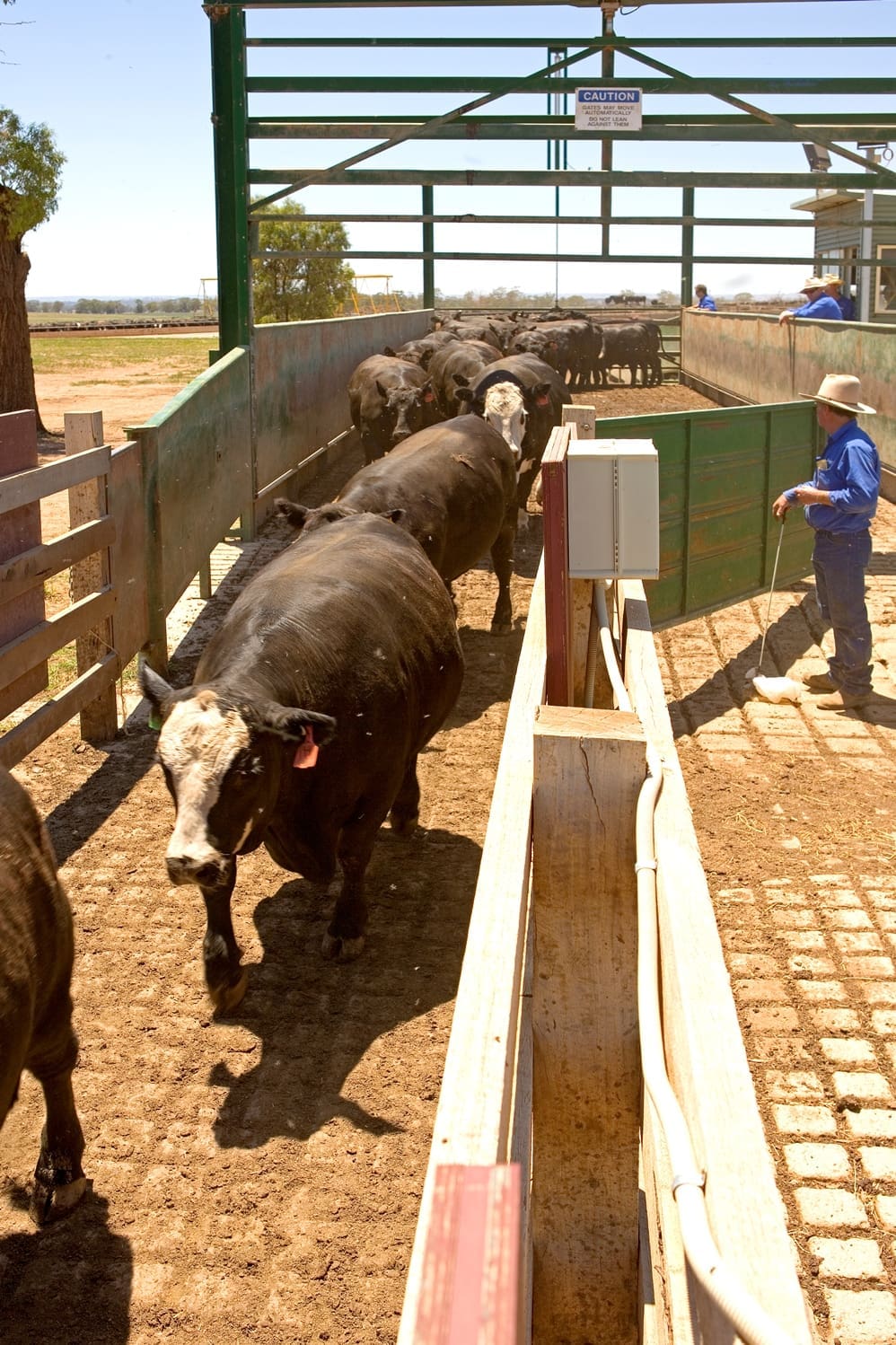 It's a month since we completed our last breakeven calculation back on September 16, but a lot of water has passed under the bridge since then – to put it mildly.
Today's budget is formulated on our standard set of variables (accessible at base of page) using a typical flatback 450kg feeder steer going on feed today, and closing-out after a 105-day Downs feedlot program at the end of January.
To refresh readers' memories, our previous breakeven in mid-September had our feeder price at 315c/kg. Since then, however, it's looked like a roller-coaster – and a frightening one, at that.
Public feeder steer sales only a fortnight ago were being transacted at between 330c and 340c/kg, but since then, the market has obviously fallen out of bed, in a big way. We're pricing our feeder steer today at 300c – a 30-40c decline in value in two weeks.
That trend is obviously clearly captured in current dramatic EYCI corrections, which closed yesterday at 534.75c/kg, down 60c/kg from their recent record high only a fortnight ago. Individual saleyards have recorded some seismic shifts in value in young cattle on Monday and Tuesday this week, driven by the combination of effects outlined in this earlier article. Casino yesterday was down 43c on the week before on its young cattle fitting the EYCI profile; Dalby down 55c; Singleton down 65c; and Warrnambool 57c. Have there ever been larger single-week declines?
The best hope for something to 'stop the rot' in the current cattle market capitulation could lie in the 7-14 day weather outlook, which currently looks pretty positive for some parts of Eastern Australia.
Pricing today's steer at 300c/kg values him at $1350, which to keep things in context, is still $360 a head higher than where he sat this time past year, when valued at 220c/kg. Keep in mind, also, that our steer only hit the 300c mark for the first time in our budget back on August 27.
Ration price eases to $355/t
Where old season feedgrain was trading up to $340-$350/t a couple of months ago, today new harvest rates are around $280 ex Downs.
That means for today's budget, we've eased the ration price by another $10/t to $355/t, in response to recent grain price movements and conditions in growing areas. Back in July at the high-point, that price was $385/t, representing a $30/t slide since.
Based on that, we've established a cost of gain today at 265c/kg, down from 272c/kg a month ago.
The above figures represent a total feeding cost under our prescribed inputs of $556, (down $16 on three weeks ago, and back $47 on the high-point a month or two earlier).
Lighter cattle still an option
The cost of gain and feeder purchase figures mentioned above suggest feeding lighter cattle, longer, still makes good economic sense under today's circumstances. With grain and ration prices now in decline, lighter cattle are still an option for lotfeeders, reflected in the fact that current delivery specs are still fairly broad, with many accepting entry weights down as low as 330kg.
At a cost of gain in today's budget of 265c/kg, compared with a beast that today is worth 300c/kg liveweight, it means the COG is at a discount to purchase price. Consequently, subject to maintaining conversions and cattle performance, owners will continue to reduce the cost of production on longer feeding programs, starting with lighter cattle. Some lighter cattle might currently be fed out to 120-130 days to maximise this advantage, Beef Central understands.
That also provides some extended market position for owners, given that grainfed processors are very wary, currently, about offering forward pricing for January – completely understandable, given the current state of flux in the cattle and beef markets.
Let's explain it this way: in the previous rising market, owners were getting longer, in their cattle, because they were buying lighter cattle 'a month early.'
That was all-good, up to a fortnight ago, but look what's happened since. Now all those 'early-bought' cattle actually look pretty dear.
All the above variables add up to a total production cost in today's steer of $2010, down $85 a head on four weeks ago. To put that into context, back in May last year, that TPC figure was just $1232 – an $778 rise in production cost in the 16 months since.
Before we offer the breakeven figure in today's budget, we want to re-emphasise the drastic changes in cattle price currently taking place in the market. Combining the above inputs, it delivers a breakeven in today's budget of 570c. That's down from a record 594c/kg in mid-September.
To put that dramatic 24c/kg decline in breakeven value in context, however, at the beginning of last week, most downs feedlots would still have had cattle being delivered to them at 330c, representing a TPC of $1248. If that figure had been applied to today's budget it would have delivered a breakeven of 609c.
That's a colossal 40c/kg difference in breakeven, in eight or nine days.
What's that market uncertainty has done, unfortunately, is scare the horses. It's meant that it is currently impossible to obtain a forward contract price indicator for 100-day cattle exiting the feedlot late January next year.
Based on the last forward finished steer price quote we saw from competing processors of 600c/kg, dressed weight, it would have delivered an all-time record trading budget margin on our steer of $106.
Using the same slaughter price, but applying the feeder buy price of just last week, at 330c, the outcome would be dramatically different, at minus-$31.
But equally, that finished steer forward purchase figure is no longer relevant. Once grainfed processors again start offering forward quotes for January delivery, it's pretty obvious, given trends in all other slaughter categories, that offers will be below 600c – perhaps well below.
Two well-informed contacts have suggested a price of 570c or 580c/kg might apply for January delivery, but that remains pure speculation.
If we remain 'optimistic' and accept a theoretical figure of 580c for forward price kill late January, it would push the current trade back to a $35 profit. A substantially reduced figure, but a margin, nonetheless.
If processors can buy 100-day cattle forward for January at around 580c/kg, they would be good ownership, in Beef Central's opinion.
Looking back at our breakeven calculations over the past 12 months, the average trading loss in Australia has been $30 a head, using our standard variables. Within that, results have gone from a $21 profit to a -$74 loss, so a result as described above still looks pretty good, in a historical context.
Beef Central's regular 100-day grainfed breakeven scenario is based on a standard set of representative production variables, ex Darling Downs. It is built on a feeder steer of 450kg liveweight, fed 105 days; 356kg dressed weight at slaughter; ADG of 2kg; consumption 15kg/day and a NFE ratio of 7.5:1 (as fed); $25 freight; typical implant program. Bank interest is included. It is important to note that variations exist across production models (feed conversion, daily gain, mortality, morbidity, carcase specification); from feedlot to feedlot; and between mobs of cattle. Equally, there can be considerable variation at any given time in ration costs charged by different custom-feed service feedlots. Click here to view an earlier article on this topic. For a more specific performance assessment on a given mob of cattle, consult with your preferred custom feeder.