A RECORD-HIGH breakeven figure has been recorded in Beef Central's monthly 100-day grainfed steer trading budget calculated this morning.
Both feeder steer purchase price and ration costs have risen since our last report this time last month, pushing the breakeven to a new record high of 639c/kg.
While forward contract prices for 100-day slaughter bullocks for March delivery have also improved (see details below), the increase was not enough to offset an even larger jump in the breakeven value.
Using our standard set of variables (see list at base of page), we've arrived at a $47 loss on our typical 450kg feeder steer entering a downs feedlot today, and closing out after a 105 day program in March week-two next year.
That's $20 worse than our previous breakeven calculation carried out five weeks ago, but as described in more detail below, higher performing cattle remain closer to profit.
Here's how we arrived at this month's indicative result:
Feeders rise to 310c/kg
For this month's budget, we've lifted our typical flatback heavy feeder ex Downs to 310c/kg, up 5c from our previous report back on October 23. There's evidence in the market this week of steers meeting our designated flatback spec trading as high as 320c, reflecting the general shortage of good heavy feeders fitting market requirements, as the drought wears on.
In stark contrast to price trends seen in this week for slaughter cattle, heavy feeders are moving upwards in price due to scarcity, forcing more yards to resort to sub-optimal weights and feeding on for longer periods to reach weight specs.
The last time the market reached 310c/kg for heavy flatback feeders was December last year, before backing-off in January following the absence of any summer rain as cattle started to move in numbers.
With some juggling leading into the Christmas period, some Darling Downs yards lotfeeders currently are said to be fairly current for feeder supply, while others with different strategies have been putting cattle aside, and are perhaps a month out, Beef Central was told. Several large operators have stopped quoting on feeders, leading into the holiday period, which is one reason why we have erred on the side of caution with this week's feeder quote. Anything with an Angus pedigree this week is making anywhere from 330-350c/kg, for breed-specific brand programs.
A purchase price of 310c/kg values our typical flatback feeder this week at $1395, up $33 since October.
Ration price jumps to $480/t
There is still a wide range of quotes in the market for rations this week, with some yards quoting out to and beyond $500/t (perhaps more reflecting high occupancy levels rather than ration value), other competitive are still quoting around $480. While barley and wheat prices have tended to soften over the past month, cottonseed and silage have gone the other way, returning to ridiculously expensive levels. Consequently, we've chosen $480/t as the representative downs feedlot price, in the current conditions.
With feedlot occupancy as high as it is across eastern Australia, there is now burning incentive for lotfeeders to reduce margins on ration price, keeping prices higher than they otherwise might be.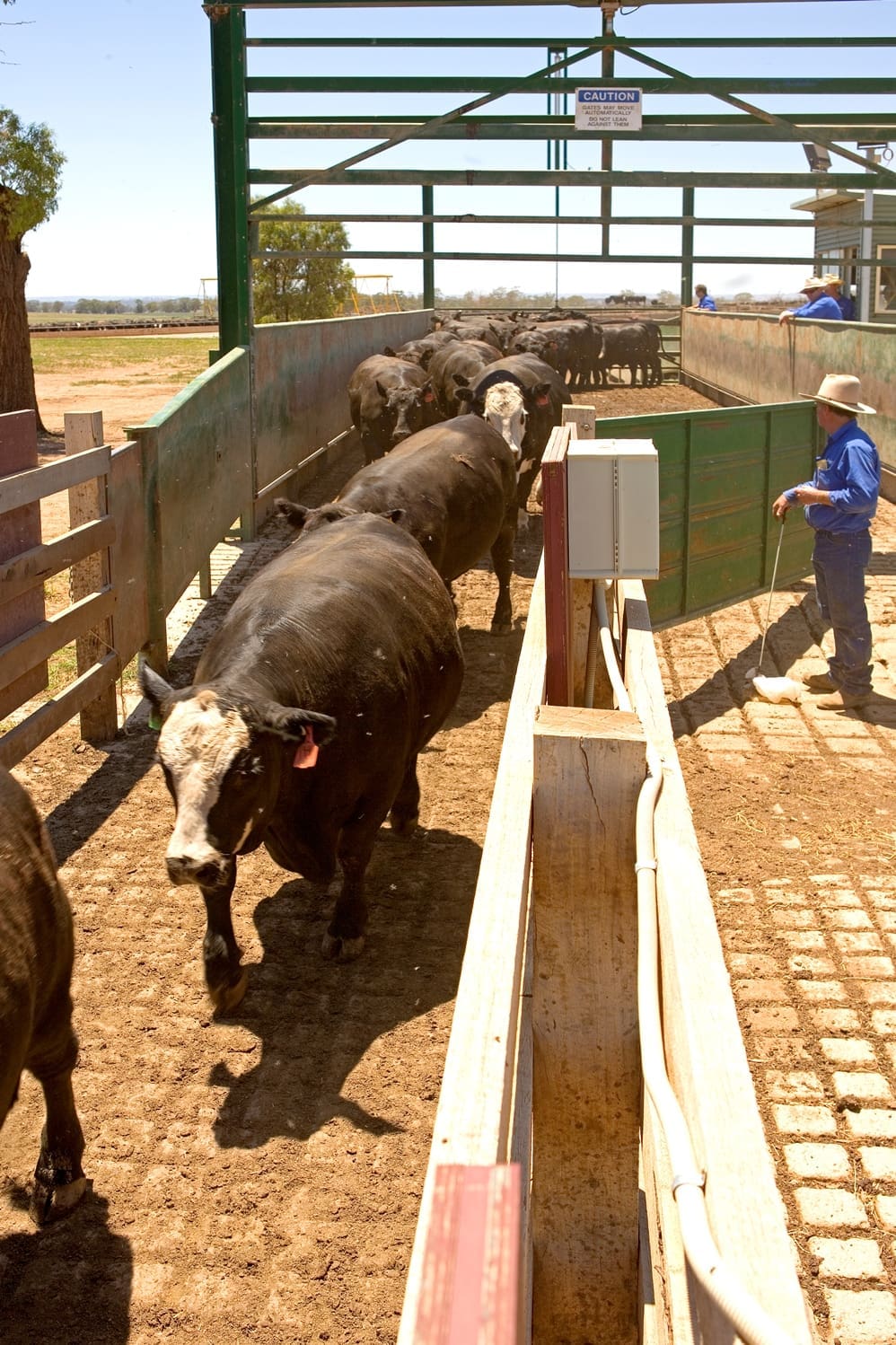 The September quarterly feedlot survey results underlined that trend, with numbers hovering near record levels at close to 1.12 million head.
On the basis of the above figures, we've calculated feeding cost this month at $720/head, and total production cost (feeder purchase plus feeding cost) at $2200, up $23 on September. That figure is similar to this time last year, when total production cost was $2216, based on a slightly higher ration price a year ago of $470/t.
Total feeding cost on today's calculations is $752, and total production cost (feeding and steer purchase, plus management) has reached $2254.
Cost of gain in today's calculation is 358c/kg, based on our standard steer gaining at 2kg/day. That indicates a current feeding cost of $50/week to feed a 100-day steer, using our chosen variables of consumption 15kg/day and a NFE ratio of 7.5:1 (as fed).
All this delivers a breakeven figure in today's budget of 639c/kg on our standard 2kg/day gain steer, up 15c/kg on last month. That figure eclipses our previous record breakeven figure of 632c/kg recorded back in July 2016, when rations were worth $320/t, but feeders were selling at all-time record levels of 355c/kg.
Good recent feeding performance may impact outcomes
Worth keeping in mind, however is solid recent feeding performance of all cattle reported by many yards, due to favourable conditions, compensatory gain in some feeders, and low respiratory problems. While we base our monthly breakeven calculations on a standard 2kg/day rate of gain, for better performing cattle gaining at 2.2kg/day, the breakeven lowers to 619c/kg, and for the elite performers at 2.25kg/day, the breakeven falls further to 592c/kg.
Forward contract slaughter price lifts to 620c/kg
Representative forward contract price offers out of southern Queensland grainfed processors for mid-March delivery are currently 620c/kg – a 10c/kg on last month's figure, and again setting a record high for this report series since it started in 2011.
Having said that, processors continue to record solid margins on all slaughter cattle, underpinned by strong and diversified international demand, favourable currency, and continued strong slaughter cattle flows limiting the need to compete more strongly to secure supplies.
What's also evident this year is the expanding premium for HGP-free slaughter cattle over implanted steers, driven largely by China (HGP-free only). Grainfed and grassfed grids currently show premiums of anywhere from 30c to 50c/kg for non-implanted cattle – in some cases double what they were a year or 18 months ago. One exporter was offering 660c/kg on non-implanted 100-day cattle this week.
With today's forward contract slaughter price for March at 620c/kg, a 639c/kg breakeven on our standard steer delivers a loss of $67 on the trading budget exercise for our standard beast gaining at 2kg/day – $20 worse off than our October monthly report, due to the higher feeder price and ration price more than offsetting a lift in revenue on the sell-side.
For those better-gaining steers (2.2kg ADG), a modest $3.50/head profit is indicated, while the very best cattle (2.25kg ADG), would return a tidy profit of $98/head.
Forward contract cattle bought earlier
For grainfed cattle forward-bought back in late August for slaughter at the start of December, their contracts were typically around 610c/kg, which is line-ball with Queensland spot market prices this week for 100-day flatback cattle. That suggests processors are no better, or worse off this week on cattle they forward-bought earlier, compared with than those being procured out of this week's spot market.
Beef Central's regular 100-day grainfed breakeven scenario is based on a standard set of representative production variables, ex Darling Downs. It is built on a feeder steer of 450kg liveweight, fed 105 days; 356kg dressed weight at slaughter; ADG of 2kg; consumption 15kg/day and a NFE ratio of 7.5:1 (as fed); $25 freight; typical implant program. Bank interest is included. It is important to note that variations exist across production models (feed conversion, daily gain, mortality, morbidity, carcase specification); from feedlot to feedlot; and between mobs of cattle. Equally, there can be considerable variation at any given time in ration costs charged by different custom-feed service feedlots. Click here to view an earlier article on this topic. For a more specific performance assessment on a given mob of cattle, consult with your preferred custom feeder.