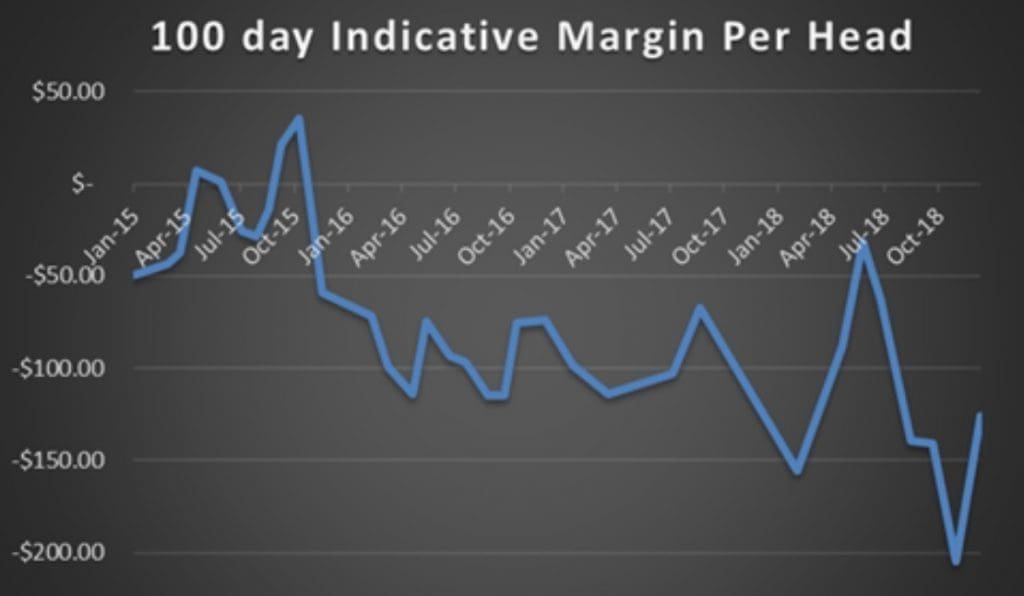 EASING feedgrain prices and a stronger forward-price market for finished grainfed cattle have improved the outcome in Beef Central's latest 100-day grainfed trading budget calculated this morning.
In our final budget for the 2018 year, our standard set of variables (see list at base of page) has produced a negative $125 result on our typical 450kg flatback feeder steer, entering a downs feedlot today and exiting after 105 days in early April.
The result is a considerable improvement from our previous breakeven calculation back on November 8, when we posted a record $208/head loss, on the back of record high grain prices
Feeder steers lift to 310c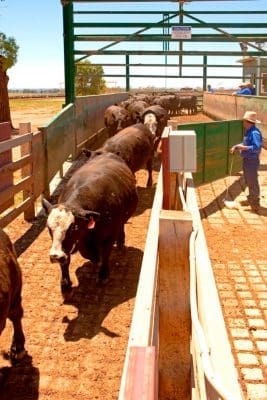 While there are bids in the market this week between 310c and 320c, the majority of trade in heavy feeders this week (450kg, ex Darling Downs) is close to the lower end of that scale. At 310c, that's a 5c rise on our previous budget six weeks ago, and 30c/kg higher than an October budget, due to general tightening in supply of heavy feeders.
Today's feeder price of 310c/kg values our 450kg feeder at $1395, a sharp $135 rise from early October prices.
There's a widely held expectation among grainfed supply chains that the feeder market will firm slightly higher early next year, assuming that seasons improve in NSW and Queensland, and numbers on feed start to ease off current record highs.
Ration prices ease to $450/t
The immediate impact on feedgrain price from recent rain in NSW and Queensland has prompted an adjustment in feedlot ration price for this report. Current representative ration prices in downs custom feedlots is $450/tonne – down from $470/t five weeks ago in our previous report and a record high of $500/t in our report back in August, which came at a time when swirling public opinion about the drought was fuelling pricing sentiment. That's a $50/t improvement over four months.
Downs wheat was being quoted by traders this morning at around $441/t, down close to $15/t on our previous report, due to harvest pressure, with barley a little easier at $400-$405.
Ration quotes from Darling Downs feedlots this week remain in a broad range, depending on ration ingredients and location.
What's been ironic in the 2018 feedgrain market, more heavily reliant on 'imports' from WA and SA, has been that Darling Downs feedlots – closest to the Port of Brisbane – have had the cheapest grain, whereas for the previous ten years, the dearest grain in the market is typically the downs region.
The easing ration price quoted today has seen the total feeding cost per beast in our calculation ease a little to $705 a head, down $35 from our November 8 budget, but still $55 more than our early July budget figure, when total feeding cost was still only $650/head, based on rations worth $415/t before the worst of the grain price rises hit.
Cost-of-gain in our latest calculation is 336c/kg, down 15c/kg from last month's report and 38c/kg less than the all-time record ration price in August. For better-performing animals gaining at 2.2kg/day instead of our standard 2kg ADG, cost of gain in today's budget drops to 300c, and takes 20c/kg off the breakeven price.
All that gives a total production cost per beast (using the variables listed at the base of this page) of $2207, down $9 from November, factoring in both higher feeder cost and lower ration cost.
Breakeven 626c/kg
All the above variables deliver a breakeven in today's trading budget of 626c/kg – little changed from our early November calculation, because of the counterbalancing effect between feeder steer price (5c higher) and ration price ($20/t lower). Breakeven on better-performing cattle gaining at 2.2kg/day this week is 606c/kg.
One of the considerations in feeder cattle performance this year has been compensatory gain, due to nutritional stress caused by drought. We'll discuss this point in a separate article being prepared to appear tomorrow.
Forward slaughter prices jumps 20c
Southern Queensland processors competing for grainfed 100-day cattle today are offering forward contract prices for slaughter early April next year ranging from 580c-600c/kg, depending on the operator. We've selected the mid-point of 590c/kg for this week's calculation, up 20c from our previous November report.
That's evidently due to processors seeking to shore-up supply during the early stages of the 2019 slaughter season, and the distinct likelihood that slaughter cattle supply will be very tight at that time, if there is any sort of return to normal seasonal conditions in coming months.
In essence, it signals that come April, processors believe that 'expensive' slaughter cattle will be   than no cattle at all.
The forward price figure continues to edge up towards the all-time high in this report series of 600c/kg seen back in July 2016, when supply got critically tight very tight.
As we indicated in our introduction, a 590c/kg forward slaughter price for early April next year suggests a loss of $125 on our 100-day grainfed program. To suggest that a $125 trading budget loss is a 'lot better' than November's record $205 a head loss might sound a little perverse, but it reflects just how tough conditions have been for lotfeeders during the 2018 trading year.
As the graph published above shows, we've recorded losses ranging from a low of $32 to a high of $205 this year, as feedgrain prices have spiralled out of control, coupled with high drought turnoff pressuring the meat market. It's been arguably the worst 12-month trading period since this report sequence started back in 2011.
On better performing cattle gaining at 2.2kg/day, the current projected loss eases to $57/head.
Spot price versus forward contract on current kills
Cattle that went onto feed in August, closing-out for slaughter this week, were contracted forward at around 550c/kg. The breakeven on those cattle was 589c/kg, which is close to the current spot price for 100-day grainfed ox of around 580c. It means processors who forward-bought today's grainfed kill earlier at 550c are 30c/kg in the money (worth around $107/head), compared with today's spot market, on the back of rain and tightening of supply.
Beef Central's regular 100-day grainfed breakeven scenario is based on a standard set of representative production variables, ex Darling Downs. It is built on a feeder steer of 450kg liveweight, fed 105 days; 356kg dressed weight at slaughter; ADG of 2kg; consumption 15kg/day and a NFE ratio of 7.5:1 (as fed); $25 freight; typical implant program. Bank interest is included. It is important to note that variations exist across production models (feed conversion, daily gain, mortality, morbidity, carcase specification); from feedlot to feedlot; and between mobs of cattle. Equally, there can be considerable variation at any given time in ration costs charged by different custom-feed service feedlots. Click here to view an earlier article on this topic. For a more specific performance assessment on a given mob of cattle, consult with your preferred custom feeder.