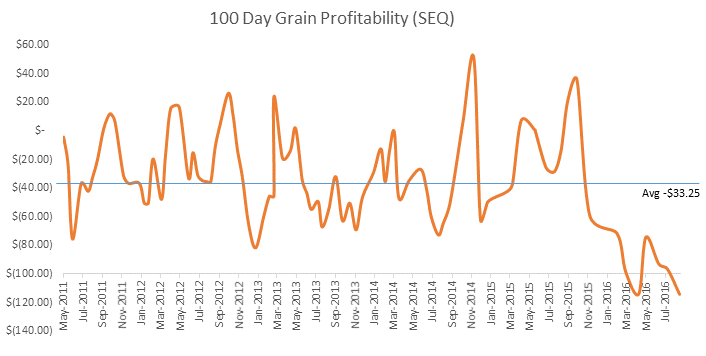 LOSSES forecast in Beef Central's latest 100-day grainfed trading budget calculated this morning remain at record-equalling levels, suggesting a red-ink figure of $114 on a typical feeder steer going on feed today and exiting the feedyard after 105 days in mid-January.
It matches the previous record loss reported in our last breakeven calculation made back on September 1, and an earlier forecast back in April.
The graph published here, plotting profitability in our regular 100-day trading forecasts dating back to 2011, shows a dramatic turn of events in terms of forecast outcome since September last year. Losses forecast since September last year have averaged above $95/head.
This morning's result is built around our standard set of variables, accessible at the base of this page, based on 450kg flatback feeder steer entering a typical Downs feedlot today, and closing-out for slaughter after 105 days on January 10.
In today's report, major variables are little-changed since our previous September 1 trading budget. Rain continues to have a bearing on feeder supply, as well as putting a stop to earlier declines in feedgrain prices.
Feeders steady at 355c/kg
Feeder steer pricing applied in today's report remains unchanged at 355c, still heavily influenced by underlying supply challenges based on herd reduction, together with recent logistics problems caused by widespread rain. Numbers on offer have been significantly reduced across Victoria, NSW and southern Queensland over the past two weeks, through both direct consignment and saleyards channels.
Today's nominated figure – just 5c shy of our all-time record – values our typical 450kg flatback feeder at $1597. This time a year ago, the feeder market was certainly on the march, but was still sitting at about 300c/kg, or at least $245 cheaper than today.
Lack of global meat competitiveness
With cattle going onto 100-day programs now not due for kills until mid-January, it's looking increasingly like that forward pricing will start to reflect the huge gap that's emerged between feeder price and what can be extracted from the global market for beef.
Put simply, Australian beef continues to be significantly over-valued on a global basis, with traction being lost in key markets like Japan and Korea (where competitively-priced US exports are growing rapidly) and China (where cheap Brazilian beef has rapidly stolen much of Australia's earlier share).
Worth looking at are 90CL manufacturing beef prices in the US currently, versus 12 months ago.
While in general terms the slaughter price in Australia today for most cattle is fairly similar to where it was this time a year ago, 90CL price in US$ terms has in fact declined about 18pc over the same period (US230c/lb versus US189c/lb).
That's partly reflected in the graph published below, presented by MLA's chief analyst Ben Thomas to a producer audience in Biloela this morning. It plots 90CL price (yellow line) against medium cow price in Australia (green).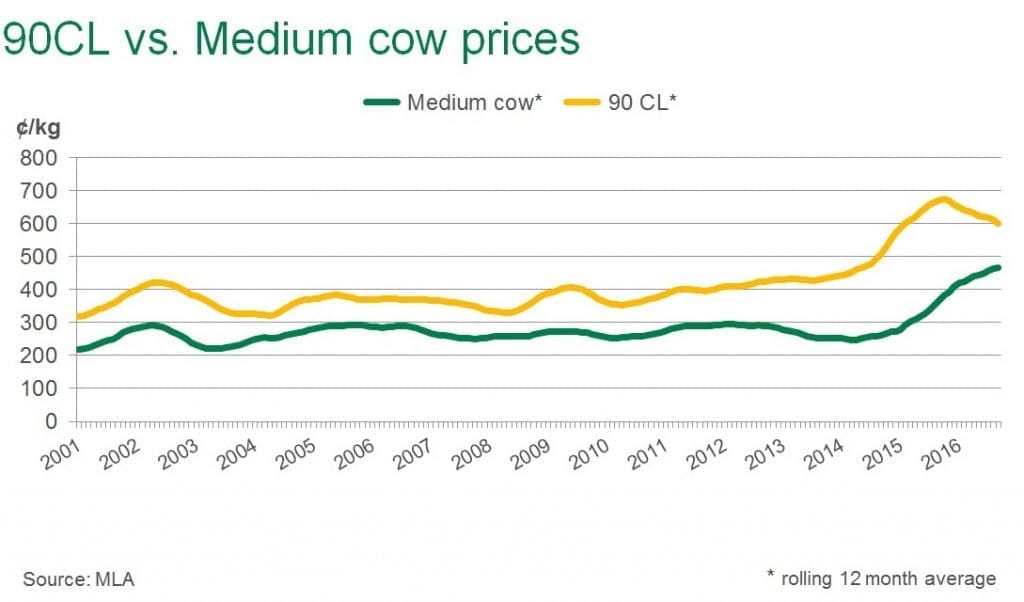 The Eastern Young Cattle Indicator currently bears no resemblance to the slaughter market, being driven completely by store market restocker sentiment, but in reality, our current slaughter cattle price is more or less the same as time last year, while the meat price has declined dramatically.
Processor conversations earlier this week suggested losses on slaughter cattle are currently worth somewhere between 70c/kg and 100c/kg, given the meat market they are trying to push product into. It suggests something has to give.
Unfortunately Australian cannot push meat prices higher, because they can now buy the same product from elsewhere. So Australia's store prices and fed cattle prices must eventually adjust, to reflect the global market. The impact of the extraordinary seasonal cycle can only last so long.
Feedlot numbers in decline?
With September about to close, attention will now start to focus on the third-quarter cattle numbers on feed figures, which will be released about mid-October.
Anecdotally, it now appears that many feedlots are lightening off numbers considerably, in the face of very poor profitability in feeding, and an abundance of competition for available cattle from grass fatteners with a sea of green in front of them. One large multi-site feedlot operator told Beef Central a week or so ago that their inventory was now back 18 percent.
Custom-feeding appears to have wound-back significantly over the past few months. There appears to be some domestic feeding continuing for some clients, but export-driven custom-feeding – excluding Wagyu, obviously – appears to be significantly reduced at present, compared to where it sat 6-12 months ago. Company-owned program beef business is really providing the core of the nation's feeding activity at present, both domestic and export.
Ration price holds
Grain prices over the past three weeks have stabilised somewhat, halting the sustained falls seen earlier. While there is still a very big crop in front of many growers, equally there is more uncertainty now over harvest in many areas, due to weather.
APW1 wheat delivered Melbourne yesterday was quoted at $233/t, only marginally lower on a fortnight ago, but about $50/t down on May-June.
As a result we have ration price in today's budget at $290/t, unchanged from our last report in early September, but still back $30/t on early August figures. Reducing demand from feedlots as numbers on feed ease may also be a contributing factor. It's the lowest ration cost we have seen since April 2013.
The $290/t ration price in today's budget delivers a total feeding cost of $454, and a cost of gain at 216c/kg. At today's nominated feeder steer purchase price, total production cost is $2160, down $71/head since an equivalent report we published in late July.
Breakeven sits at 612c
The variables described above deliver a breakeven figure in today's budget of 612c/kg – a drop of 20c from our record high recorded two months ago.
Heavy grainfed forward price grids from large grainfed processors this week for delivery in January, week two, are currently around 580c/kg, more or less where they sat for our previous report a month ago, but back 25c/kg since our late July budget.
The above summary means that today's trading budget delivers a loss on our current proposition of $114 a head. It's equal to the worst result ever recorded last month, and again in late April, when the market was driven hard by a deteriorating slaughter prices and weather conditions at the time.
Spot market comparisons
Looking at 100-day grainfed cattle heading for slaughter this week, forward contracts written on those cattle back in June were priced around 580c/kg (a sharp rise form only 520c a few weeks earlier).
Compare that with the spot market this week for 100-day grainfeds, which is in a wide range from 580-610c/kg, for prompt delivery. Teys Beenleigh this morning has a grid offering 605c for MSA grainfed or 100-day Angus, less 5c for non-Angus. Bindaree's offer is 610c for Angus. Some of those figures, as well as other grainfed grids, might have a bit of wriggle-room.
What that means is that lotfeeders who elected to roll-the-dice and take today's spot money, as opposed to forward-selling those 100-day cattle back in June, are perhaps marginally in front, but perhaps not materially.
But it should be pointed out that those processors in the market this week at 600-610c, are still not getting a lot of subscribers.
Beef Central's regular 100-day grainfed breakeven scenario is based on a standard set of representative production variables, ex Darling Downs. It is built on a feeder steer of 450kg liveweight, fed 105 days; 356kg dressed weight at slaughter; ADG of 2kg; consumption 15kg/day and a NFE ratio of 7.5:1 (as fed); $25 freight; typical implant program. Bank interest is included. It is important to note that variations exist across production models (feed conversion, daily gain, mortality, morbidity, carcase specification); from feedlot to feedlot; and between mobs of cattle. Equally, there can be considerable variation at any given time in ration costs charged by different custom-feed service feedlots. Click here to view an earlier article on this topic. For a more specific performance assessment on a given mob of cattle, consult with your preferred custom feeder.